Turkish foreign Minister Hakan Fidan visits Ukraine's Zelenskiy in Kyiv
Ukraine's President Volodymyr Zelenskiy and Foreign Minister Dmytro Kuleba met with Turkish Foreign Minister Hakan Fidan as Russia's attack on the country continues. Both parties emphasized the importance of the Black Sea grain corridor.
Reuters
Ukrainian President Volodymyr Zelenskiy met Turkish Foreign Minister Hakan Fidan in Kyiv on Aug. 26, and discussed the Black Sea grain export deal that Russia quit last month.
"Many important issues were discussed. (Ukraine's) Peace Formula. Preparations for the Global Peace Summit (planned by Ukraine). Risks posed by the Russian blockade of the Black Sea grain corridor," Zelenskiy wrote on the Telegram messaging app.
The deal brokered by Turkey and the United Nations had allowed the safe Black Sea export of Ukrainian grain. Ankara has been trying to persuade Moscow to return to the agreement.
Foreign ministers say Black Sea deal must be renewed
The Turkish and Ukrainian foreign ministers said on Aug. 26 that other solutions to the export of Ukrainian grain than the Black Sea grain deal, which ended after Russia quit last month, were less optimal.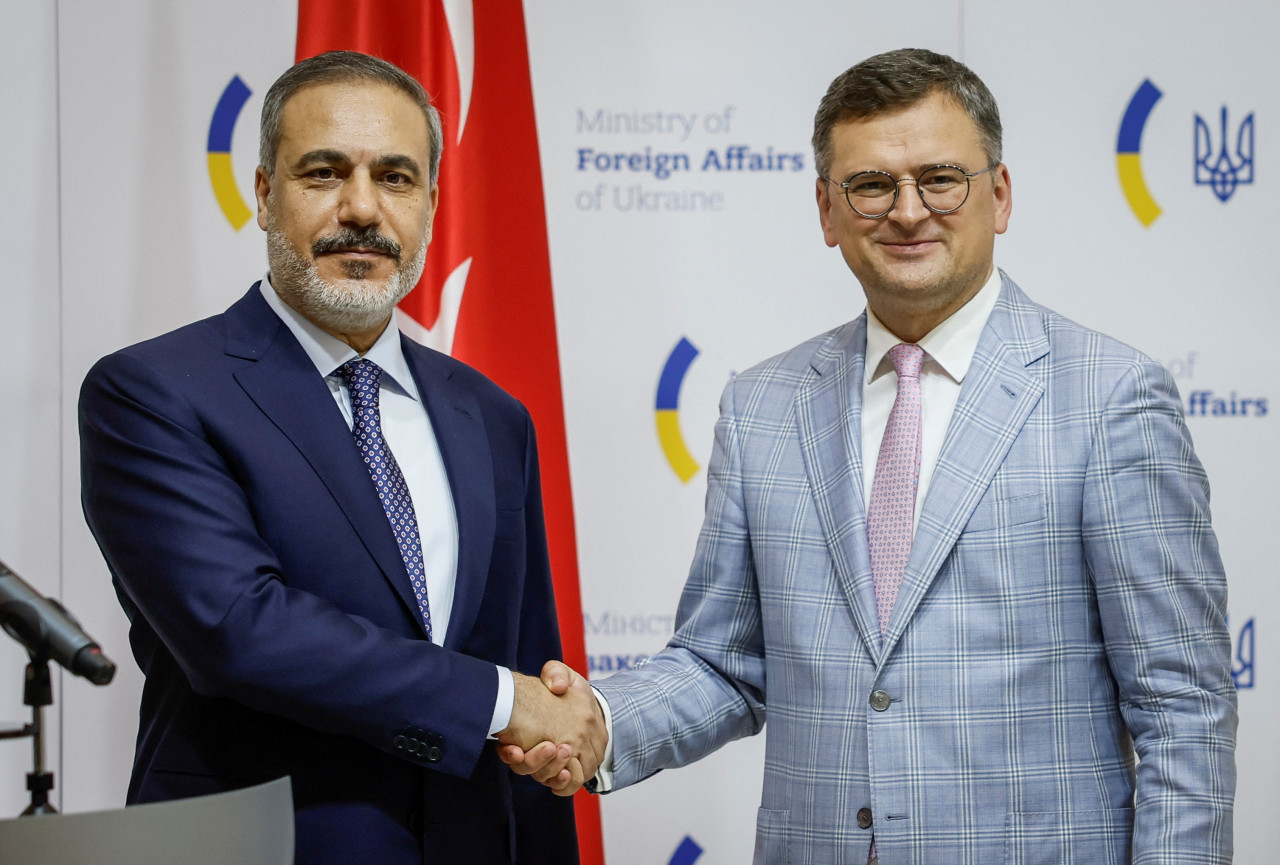 Ukraine announced earlier this month a "humanitarian corridor" in the Black Sea to release cargo ships that have been trapped in its ports since Russia launched a full-scale invasion of Ukraine on Feb. 24, 2022. The first vessel that used the corridor arrived in Istanbul last week.
In a news conference during his visit to Kyiv, Fidan said renewing the grain deal was a priority for Ankara and that Russia must be included in the equation for a functioning agreement.
"Reviving this initiative is a priority for Turkey... I hope we'll get a successful result," he said, adding that alternative solutions would not be effective in replacing the deal.
"I have been thinking from the beginning that Russia should be included back into this equation," Fidan added.
Ukrainian Foreign Minister Dmytro Kuleba said Kyiv is working on alternative routes but that the Black Sea grain deal was the optimal solution.
"We are working on alternative routes … but objectively speaking the functioning of the Black Sea route is an optimal solution from all points of view," he said.
"We will be able to substantially expand the transportation of grain via land corridors, but the blockade of the Black Sea must end," Kuleba added.