Turkish Islamist party holds press conference with Hamas executive at parliament
Turkish government ally, radical Islamist HÜDA-PAR General Secretary and lawmaker Şehzade Demir held a press conference with a Hamas executive at the parliament. Demir called on the AKP government to "take a clear stand on the side of the Palestinian resistance."
Duvar English
The government's radical Islamist ally Free Cause Party (HÜDA-PAR) on Oct. 11 held a press conference at the parliament with a Hamas executive.
Our Secretary General Mr. Şahzade Demir, together with the former Palestinian Minister of Health Basim Naim, made a press statement at the Grand National Assembly of Turkey.#HUDAPAR pic.twitter.com/cB3Jvh3tw5

— HÜDA PAR English (@HudaParEnglish) October 11, 2023
HÜDA-PAR General Secretary and Gaziantep Lawmaker Şehzade Demir held a statement with Basim N. M. Naaim, and said Israel is "dropping bombs on the people in Gaza, regardless of any borders, including women, children and the elderly."
"The Zionist regime also cut off Gaza's electricity and water. The last operating power plant has also been closed as of today. Intensive care units of hospitals are not working. A humanitarian aid convoy departing from Egypt was also hit. These are clearly war crimes," he added.
He said more than 2.5 million "of our brothers and sisters" in Gaza have been "imprisoned in the world's largest open-air prison."
Demir also deemed the "passive attitude of Islamic countries… shameful," regarding the latest conflict between Israel and Hamas.
"This war is not a war between Hamas and Israel, nor is it a war between Israel and Arabs. The Zionist regime has declared war on the entire Islamic community and our sacred values," he said.
Lastly, Demir called on the ruling Justice and Development Party (AKP) to "leave its attitude of keeping an equal distance from both sides and take a clear stand on the side of the Palestinian resistance."
After the conference, HÜDA-PAR chair Zekeriya Yapıcıoğlu greeted five Hamas executives at the parliament.
Genel Başkanımız Sayın Zekeriya Yapıcıoğlu, HAMAS Temsilcisi Dr. Musa Akkari, Filistin Eski Sağlık Bakanı Dr. Basim N. M. Naaim, Dr. Sadık Şehitoğlu, Abdallah M. H. Abdulwahed ve Dr. Zahir Elbek'ten oluşan Filistin heyetiyle TBMM'de görüşme gerçekleştirdi. #HÜDAPAR pic.twitter.com/XABUKSkNkL

— HÜDA PAR (@HurDavaPartisi) October 11, 2023
In the early 2000s, Hizbullah started to reorganize itself quietly under a number of foundations, associations and other entities in Turkey. Several members of the group established the HÜDA-PAR as a political party in December 2012 with the support of the current government, which green-lighted the party's entry into politics.
Islamist opposition Felicity (Saadet) Party leader Temel Karamollaoğlu also met with Basim N. M. Naaim and Hamas Turkey representative Musa Akkari on Oct. 11.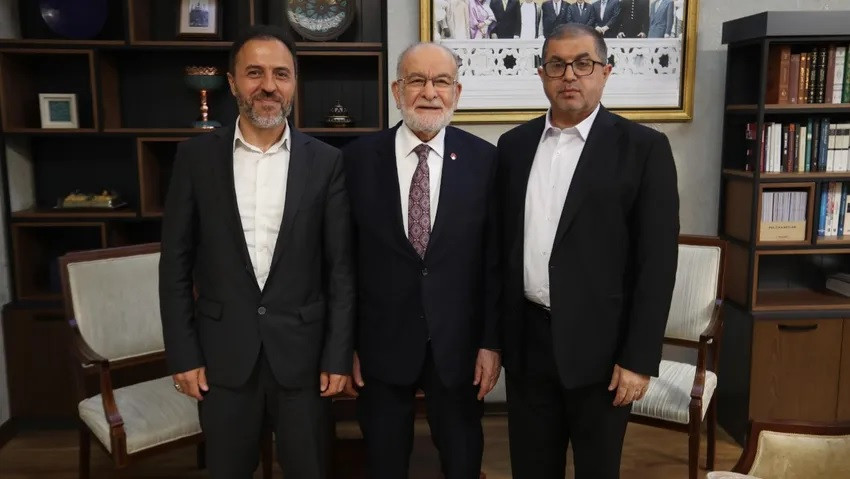 HÜDA-PAR, and opposition Islamist Felicity and Future parties are planning to hold a joint rally in Istanbul on Oct. 15 in support of Palestinians.
President Recep Tayyip Erdoğan and the Turkish government have used conciliatory language regarding the latest conflict between Hamas and Israel, especially in the beginning, calling on the parties to act with restraint and emphasizing that they could play a role in a possible ceasefire. Erdoğan also condemned the killing of civilians on both sides and urged the formation of an independent Palestinian state.
On the other hand, Turkish opposition parties, in general, declared their support for Palestinians. Main opposition Republican People's Party (CHP) leader Kemal Kılıçdaroğlu said they "are always with the Palestinian people" but they never want a war.