Turkish opposition MP's Twitter account suspended following criticism of Erdoğan, Israel
A Turkish main opposition lawmaker's Twitter account has been suspended after he posted a tweet that criticized Erdoğan and Israel. In his tweet, CHP MP Ali Fazıl Kasap recalled a speech of Erdoğan delivered on Jan. 2, 2016 when he said, "We should admit that we need a country like Israel."
Duvar English
Twitter has suspended the account of a Turkish main opposition lawmaker after he criticized Israel and President Recep Tayyip Erdoğan in the same tweet, recalling that Erdoğan had said in 2016, "We should admit that we need a country like Israel."
"As the Israeli cruelty is increasing every day in the Eastern Jerusalem, Al-Khalil, Ramallah, Jericho and Gaza, those who say 'We need Israel's friendship' are only imposters and hypocrites," Republican People's Party (CHP) MP Ali Fazıl Kasap tweeted on May 10.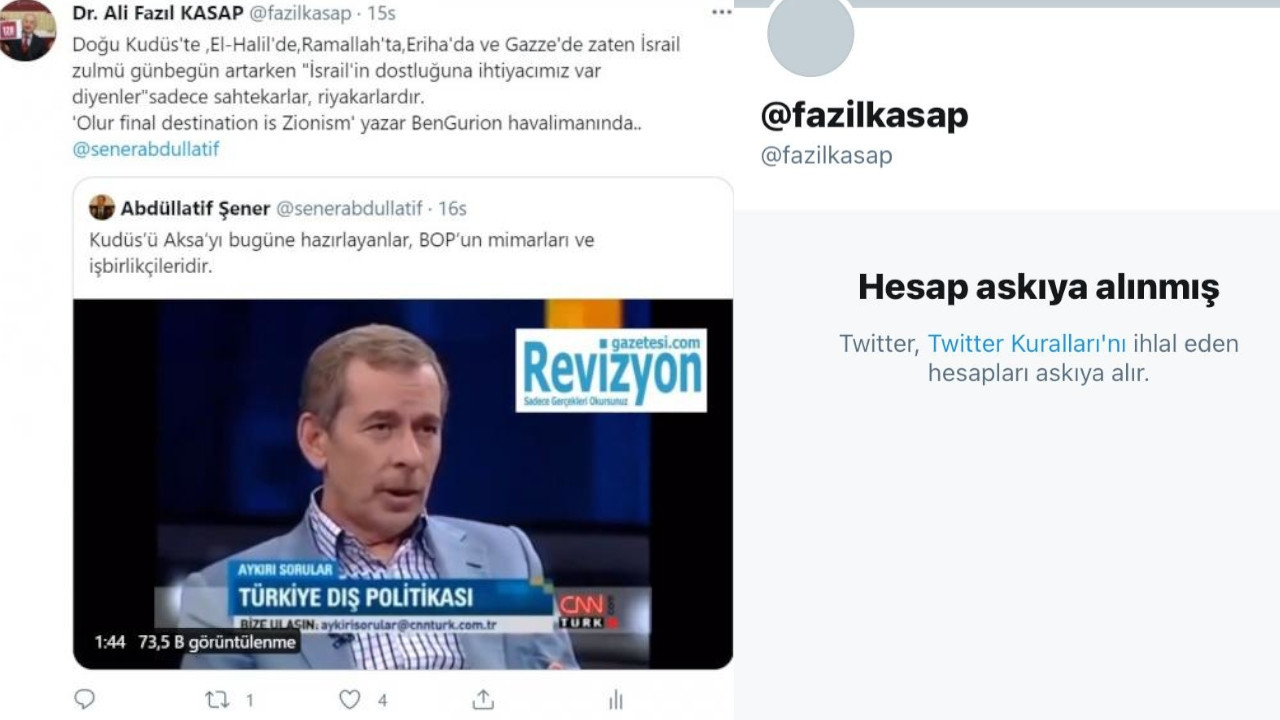 Kasap said that he does not know whether Twitter decided to suspend his account on its own initiative, or received such a demand from the Turkish presidency's communications directorate.
"Our policies with regards to Israel were always wrong, and there was silence with regards to their oppression. The phrase of 'We need Israel's friendship' in my post is a sentence uttered by Tayyip Erdoğan," Kasap said.
In the same tweet, Kasap also shared a video footage of CHP MP Abdüllatif Şener from 2012 – a founding member of the ruling Justice and Development Party (AKP) who later turned into a sharp critic of Erdoğan – in which Şener says Erdoğan is partially responsible for Israel's declaration of Jerusalem as its capital.
"There is an agreement between Israel and [then] Prime Minister [Erdoğan]. When he is shouting, they grant him the right to shout, but when its comes to doing business, the Prime Minister is implementing the Israeli policies in all the works he conducts," Şener is heard saying in the 2012 video.
In 2016, Erdoğan said Turkey must accept that it needs Israel, as the two countries were seeking to thrash out a deal on normalizing ties. "Israel needs a country like Turkey in this region. We, too, should admit that we need a country like Israel," Erdoğan had said on Jan. 2, 2016.