Turkish parliament commission to debate Sweden NATO bid
Turkish Parliament Committee on Foreign Affairs met to discuss Sweden's NATO membership bid on Nov. 16, marking a significant step toward expanding the Western bloc after 18 months of delays that have caused frustration among some allies and led to certain concessions. The committee decided to have further talks and did not have a final decision.
Duvar English & Reuters
Turkish Parliament Committee on Foreign Affairs on Nov. 16 meet to discuss several issues including Sweden's NATO membership bid after 18 months of delays that frustrated some allies and extracted some concessions.
Chairman Fuat Oktay said the commission, which is controlled by President Recep Tayyip Erdogan's ruling party, will hold further talks and may bring the bill back on its agenda next week - but he did not set a clear timeline.
"For all of our lawmakers to approve Sweden's NATO membership, they need to be fully convinced. We will discuss all of these in our (next) commission meeting (on the issue)," Oktay said after hours of debate.
The commission can pass bills by a simple majority. It may invite the Swedish ambassador to brief lawmakers if needed and if parliament's regulations allow it, Oktay added.
Although the ruling Justice and Development Party (AKP) has the majority of votes alone, the late inclusion of the membership bid in the commission's agenda was interpreted as slowing down the process.
Up until Nov. 16, opposition nationalist Good (İYİ) Party that has two members at the committee and pro-Kurdish People's Equality and Democracy Party (HEDEP) that has three numbers have disclosed that they will vote no for the bid. AKP alone has 14 members in the committee.
In May 2022, President Erdoğan raised objections to both Swedish and Finnish requests to join the military alliance. The Nordic states made the bids in the face of Russia's invasion of Ukraine.
Turkey ratified Finland's bid in April but, along with NATO member Hungary, has kept Sweden waiting, demanding that Stockholm take more steps to crack down on what it sees as terrorists in its jurisdiction.
Here is a guide to what Stockholm, Helsinki, Washington and other NATO members have done to address Ankara's concerns, marking what analysts say are geopolitical victories for Erdoğan even as he has strained Turkey's Western ties:
What concessions have Sweden and Finland Made?
At a NATO meeting in Madrid in 2022, Turkey struck an agreement with Sweden and Finland in which they would lift arms embargoes and take measures against members of the outlawed Kurdistan Workers' Party (PKK), and the separate so-called Gülen movement that Ankara holds responsible for a 2016 coup attempt.
In 2022, Stockholm reversed a ban on exporting military equipment to Turkey, without revealing details of companies or products.
In June, it introduced a new anti-terrorism bill that makes being a member of a terrorist organization illegal, saying that it had upheld its part of the deal.
In recent months, a top Swedish court blocked the extradition of two Turks that Ankara says are Gülenists, while an appeals court upheld the conviction of a man for attempting to finance the PKK, which is also deemed a terrorist group by the European Union and United States.
Separately, in response to criticism in Turkey and other majority Muslim countries, Justice Minister Gunnar Strommer said Sweden was examining whether it could change the law to stop people burning the Muslim holy book the Koran in public.
Finland, for its part, agreed last year to consider granting arms export permits to Turkey on a case-by-case basis. After nearly a year wait, Ankara said Helsinki had won its blessing.
What have other NATO members done?
When Erdoğan signaled at a NATO conference in July that Sweden would eventually get the green light, NATO member Canada quietly agreed to re-open talks with Turkey on lifting export controls on drone parts, including optical equipment.
The Netherlands lifted restrictions on arms deliveries to Turkey.
Also in July, following a meeting between Turkish and Swedish leaders, Secretary-General Jens Stoltenberg announced NATO would establish a special coordinator for counterterrorism. In October, he appointed Assistant Secretary-General Thomas Goffus to the post.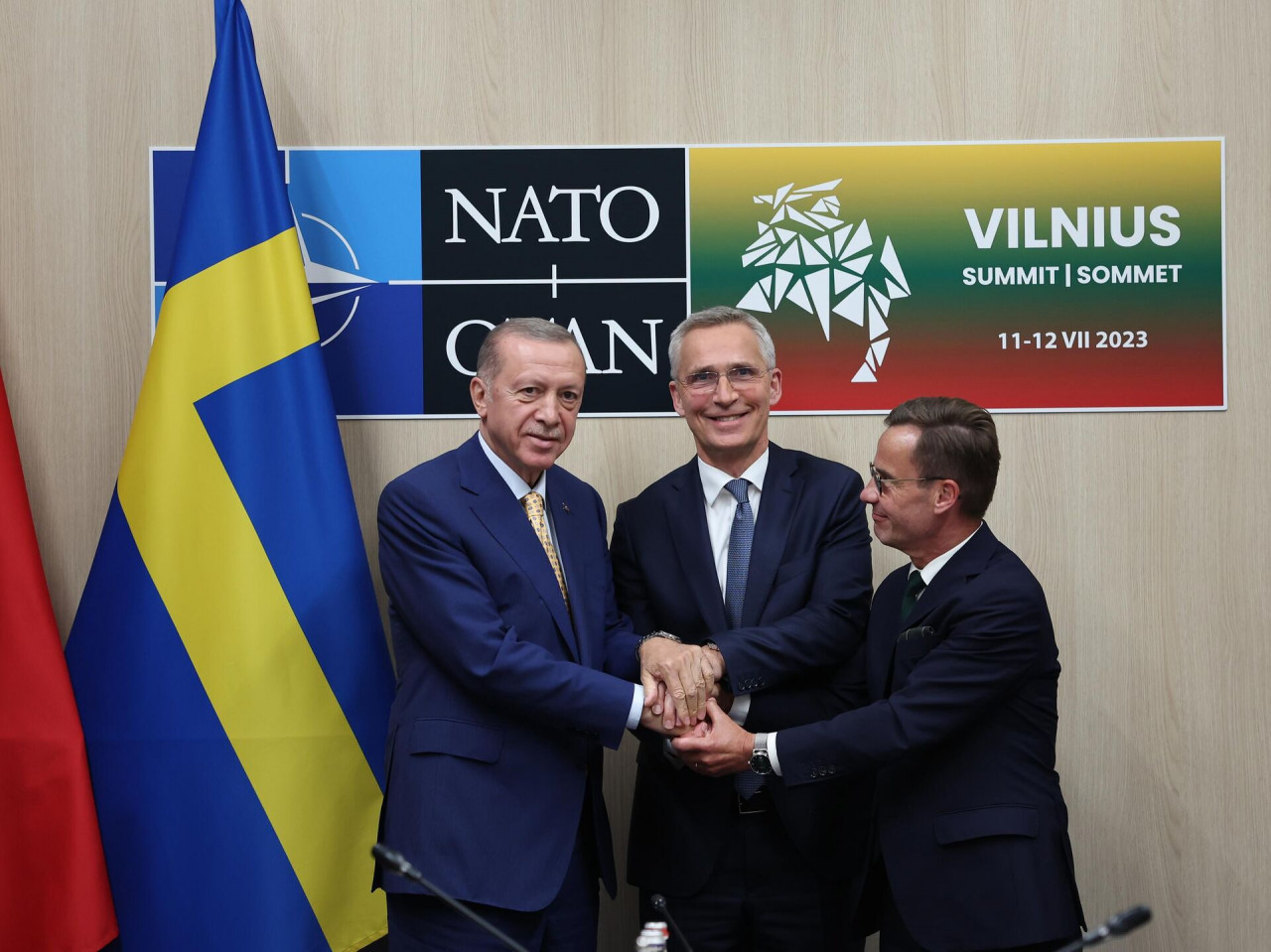 Sweden go-ahead for US F-16 fighters?
Overhanging discussions has been the question of Washington's endorsement of Ankara's request to purchase $20 billion worth of F-16 fighter jets and 79 modernization kits.
A day after Erdoğan gave the green light for Sweden to join NATO in July, the White House said it would move ahead with the transfer of the F-16s to Turkey in consultation with Congress.
In October, Erdoğan sent Sweden's NATO bid to Turkey's parliament for consideration. But he has said Washington was linking the F-16s ratification with that of Sweden.
Ankara made the F-16 purchase request in 2021. But it has faced objections in the U.S. Congress over Turkey's delaying NATO enlargement and its human rights record.
What is the current state of Sweden's bid?
If parliament's foreign affairs commission backs Sweden's membership bill, Turkey's full general assembly would hold a vote, possibly within days or weeks.
NATO foreign ministers will meet in Brussels on Nov. 28-29. Hungary has also not yet ratified Sweden's bid.
The speaker of Turkey's parliament - where Erdoğan's alliance has a strong majority - told his Swedish counterpart on Nov. 14 they were hoping to complete ratification "as soon as possible."
Since submitting the bill to parliament in October, Erdoğan has said he will try to facilitate ratification but added that Stockholm still had not taken enough action against Kurdish militants.
Israel's war against the militant group Hamas in Gaza could strain U.S.-Turkish ties and complicate NATO enlargement, analysts say.
After Erdoğan said Hamas was not a terrorist organization but a liberation group fighting to protect Palestinian lands, 47 U.S. Congress members urged the administration to hold Turkey accountable for its role in supporting Hamas.