Police attack, tear gas Boğaziçi students protesting Erdoğan's rector appointment
Istanbul police on Jan 4. attacked and tear-gassed Boğaziçi University students for protesting and condemning the appointment of rector Melih Bulu. "The appointment of a rector is a complete dismissal of the university's will and is political," noted a press statement by the students. The police also handcuffed the gates of the university to prevent students from entering the campus.
Hacı Bişkin / DUVAR
One of the largest group of protesters Istanbul's Boğaziçi University has seen in recent years gathered outside the institution's main campus on Jan. 4 to resist the appointment of rector Melih Bulu and urge his resignation.
The students' protest however faced harsh resistance from the police. Not only did the police officers set up a barricade in front of the campus, but they also fired tear gas and plastic bullets at students, detaining at least two of them.
Police officers were also seen handcuffing the gates of the university to prevent students from entering the campus.
A ruling Justice and Development Party (AKP) candidate in previous general elections, Bulu replaced the last Boğaziçi rector on Jan. 1 upon the order of President Recep Tayyip Erdoğan.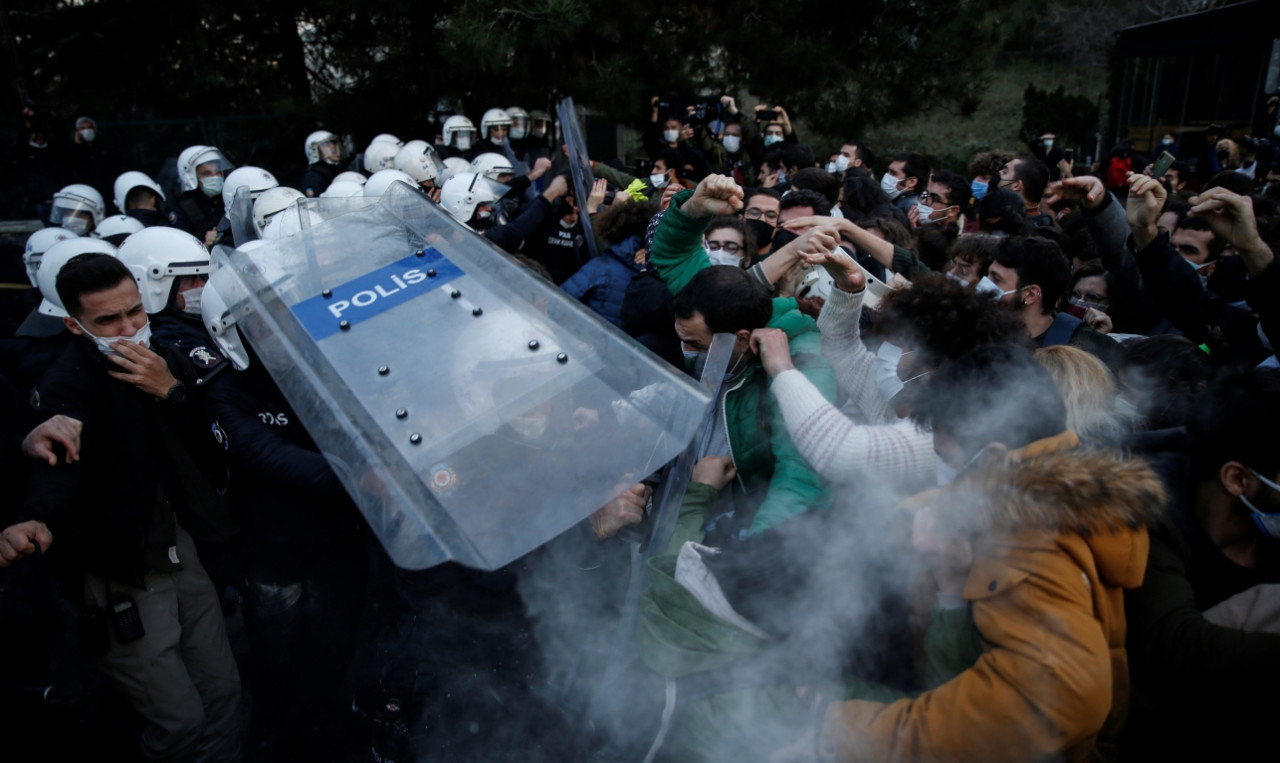 The appointment sparked outrage not only among Boğaziçi affiliates, but nationwide, as the new rector's appointment to one of the country's top higher education institutions has raised concerns about academic freedom.
"The universities are ours, they will remain ours," "the universities will be liberated with us," "we don't want a trustee rector," "Melih Bulu is not our rector" were among the slogans chanted by the crowd.
The rector's appointment indicated a dismissal of democratic practices, the students said in a press statement, and urged Bolu to resign immediately.
"The appointment of a rector through the complete dismissal of the university's will is political," the statement noted. "It is indispensable that universities do not become political tools."
While protesters noted that rectors and department heads are chosen through elections, a hashtag which translates to "Boğaziçi wants rectorial elections" started trending on social media.
"As members of Boğaziçi, our primary fight is for academic liberty. University administrations are the only ones who can provide that. We reject this intervention into our university's decision-making mechanism," the students said in a press statement.
The students also "sealed" the rectorial office building by hanging a sign that read "This building has been sealed by Boğaziçi University students because of the appointment of Melih Bulu as rector."
The Boğaziçi protesters called for the resignation of all rectors who have been appointed, not elected, and they have received support from other higher education institutions for their cause.
"We will not bow down to a government which is trying to transform our universities, and we will not let the pro-government rector through," said an official message of solidarity from the Middle East Technical University (ODTÜ).
Speaking at a news conference after an AKP meeting chaired by Erdoğan, a spokesman for the party, Ömer Çelik, denied rector Bulu's appointment was a blow against academic freedom and said "There is no shame in having a political identity in democracies."
Çelik accused people critical of Bulu's appointment of engaging in "political fanatism." "Those who are emphasizing the rector's political identity are in fact trying to cover their own political fanatism. They are trying to turn the valuable students of Boğaziçi University into their own politics' logistical element," he said.
Istanbul Mayor Ekrem İmamoğlu has joined the discussion on the controversial appointment of rector Bulu, saying he "stands by the rightful struggle of Boğaziçi University students and academics."
"When we eradicate partisanship from everywhere, we will be a very powerful country. The country's most beautiful minds will not go abroad. The youth from every opinion will then work together for our future," he wrote on Twitter.