Turkish police bar HDP co-chair Pervin Buldan from holding press conference in Van
Turkish police on Feb. 22 blocked HDP co-chair Pervin Buldan from holding a press conference at the Kapıköy border gate in the eastern province of Van, citing the COVID-19 pandemic as the reason for the ban. Buldan said that the police's action was "shameful for Turkey's future and democracy."
Duvar English
Police on Feb. 22 blocked Peoples' Democratic Party (HDP) co-chair Pervin Buldan from holding a press conference at the Kapıköy border gate in the eastern province of Van. The police cited the COVID-19 pandemic as the reason for the ban.
Buldan was in Van on Feb. 22 to hold meetings with citizens and to listen to their problems. Buldan and the accompanying delegation then attempted to go to Kapıköy border gate connecting Van with Iran, however, they were stopped 20 km away to the Turkish-Iranian frontier.
The police prevented journalists from taking images of this incident.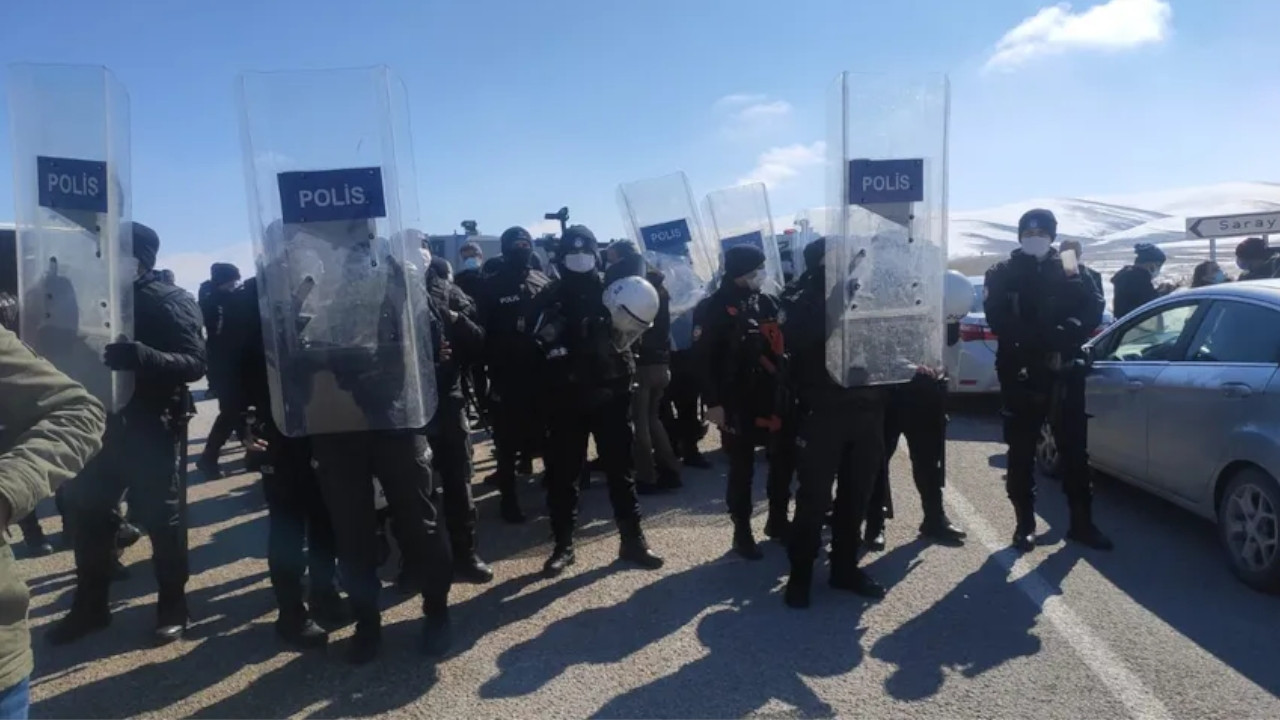 Buldan made a short statement here saying that the police's action was "shameful for Turkey's future and democracy."
"We know who is behind this instruction and who is not allowing us to hold a press meeting. But we promise that we will never give credit and bow before those who are pushing you to fulfill this instruction," Buldan said.
The HDP co-chair said that the Kapıköy border gate is an important means of livelihood for Van residents and passage through this gateway has been disrupted for many years now under the ruling Justice and Development Party (AKP). She wanted the government to reopen this border gate under COVID-19 security measures.
As the police blocked journalists from recording Buldan's statement, the HDP members took their cameras and started recording Buldan.
Basın emekçilerinin çekim yapmasının engellenmesi üzerine, Milletvekilimiz Murat Sarısaç gazetecilerin kamerasını alarak Eş Genel Başkanımız Pervin Buldan'ın Van'daki programından canlı yayın yapıyor.https://t.co/4NujWMFVH2

— HDP (@HDPgenelmerkezi) February 22, 2021
As President Recep Tayyip Erdoğan is stepping up pressure on the HDP, experts say that he is trying to divide the opposition by criminalizing the HDP, even forcing its closure.
It is a quite known tactic of the ruling Justice and Development Party (AKP) to accuse the HDP of having links to terrorism whenever it seems to be losing support in the polls.