Turkish police intervene lawyers' protests for unfurling LGBTI+ flag
Turkish police intervened in the press statement organized by the İzmir Bar Association on Trans Day of Remembrance claiming a ban on "LGBTI+ flags" even though there is no such a law in the country.
Duvar English
Turkish police on Nov. 20 intervened the press statement organized by İzmir Bar Association in front of the association building within the scope of Trans Day of Remembrance because the group was "unfurling LGBTI+ flags."
The police told the group, "This flag is forbidden, I cannot allow the flag. You should also consider the sensitivities of the society... This is about that piece of cloth, you cannot set a bad example to the society."
Despite the police officers' claims, Turkey did not ban any of the flags that are used by the LGBTI+ community. There is also no official ban on LGBTI+ symbols even though some state institutions have been trying to impose a de facto ban due to government's crackdown on the marginalized community.
Although the president of the Bar Association said that there was no such ban, a brawl broke out between the lawyers and the police due to the insistence of the police on the existence of ban.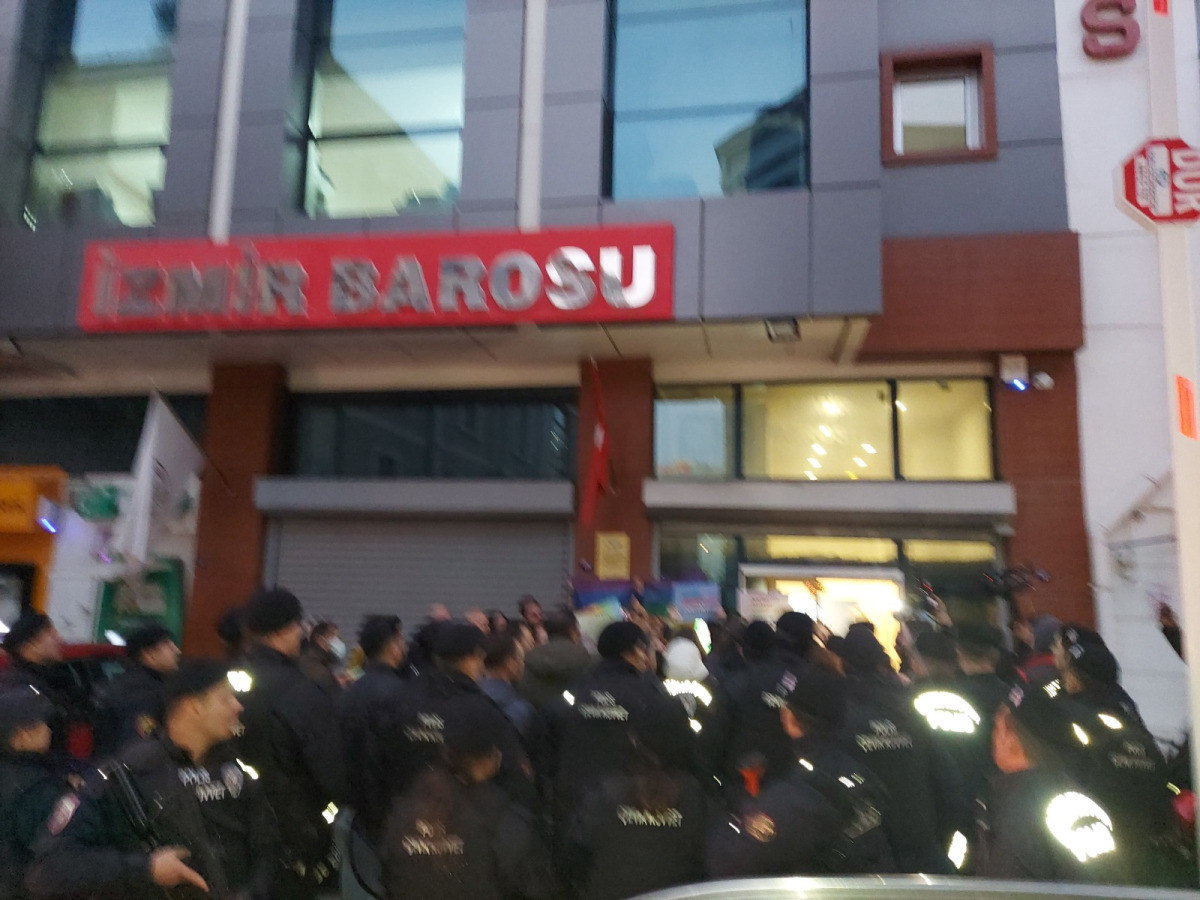 After the brief brawl, the lawyers read the press statement and said, "It is the common responsibility of all of us to work together to put an end to hate crimes, to build a violence-free society and to work together so that each individual can live freely and fulfill their potential."
In southern Mersin province, the police also attacked trans activists carrying flags and attempted to detain them. The other participants of the march saved the activists who were facing police brutality, according to reporting of LGBTI+ magazine KaosGL.
Trans Day of Remembrance is an annual observance held on Nov. 20 to honor and remember the lives of trans individuals who have lost their lives due to acts of transphobic violence.
Turkey's LGBTI+ community is often targeted by hate speech of government officials including President Recep Tayyip Erdoğan and radical Islamists. While the crimes committed against them go unpunished, many LGBTI+ individuals say that the country is getting more and more difficult to live in.
According to Transgender Europe's (TGEU) Trans Murder Monitoring project, 65 trans individuals were killed between 2008-Sept. 2023 in Turkey.
The ruling Justice and Development Party (AKP) had a particularly firm stance against LGBTI+ communities since the Gezi Park protests of 2013 and the coup attempt of 2016. The annual LGBTI+ pride parade in Istanbul and other major Turkish cities has been banned since 2016, and those that have marched regardless have been met with police violence.
Islamist groups have been organizing anti-LGBTI+ hate rallies and marches with state support since 2022 in order to ban "LGBTI+ propaganda."