Turkish pro-gov't newspaper blurs opposition leader's face on front page
Turkish pro-government daily Takvim has blurred İYİ Party chair Meral Akşener's face on its front page, amid a visible rise in President Erdoğan's targeting of the opposition leader.
Duvar English
Pro-government daily Takvim has targeted İYİ (Good) Party leader Meral Akşener, blurring her face on its front page in its Nov. 11 edition.
The move came as the ruling Justice and Development Party (AKP) has been repeatedly bringing to the foreground the issue of İYİ Party lawmaker Lütfü Türkkan's use of profane language towards a protestor last week.
President Recep Tayyip Erdoğan has even suggested that Türkkan should be expelled from the parliament, referring to him as a "shameless, rogue" person and "a so-called deputy" during a speech earlier this week.
In the face of Erdoğan's comments, prosecutors have prepared a summary of proceedings seeking to have Türkkan's immunity lifted for him to stand trial, and have sent the proposal to the Justice Ministry.
Amid the ongoing discussion, Takvim, on its front page, asked rhetorical questions in the style of a multiple-choice manner, suggesting that the answers pointed to Akşener.
"The group deputy chairman swore at the martyr relative, but he/she supported him. Who is this person?" one of the questions read, with the multiple-question answers being as follows: "Pınar Dilşeker, Britney Spears, Meral Akşener, Brad Pitt."
Another question read, "He/she said 'I will be the prime minister,' but then swore at people from whom he/she is seeking votes. Who is this person?"
Along with the questions, the daily used a phrase meaning "Everything has come to an end."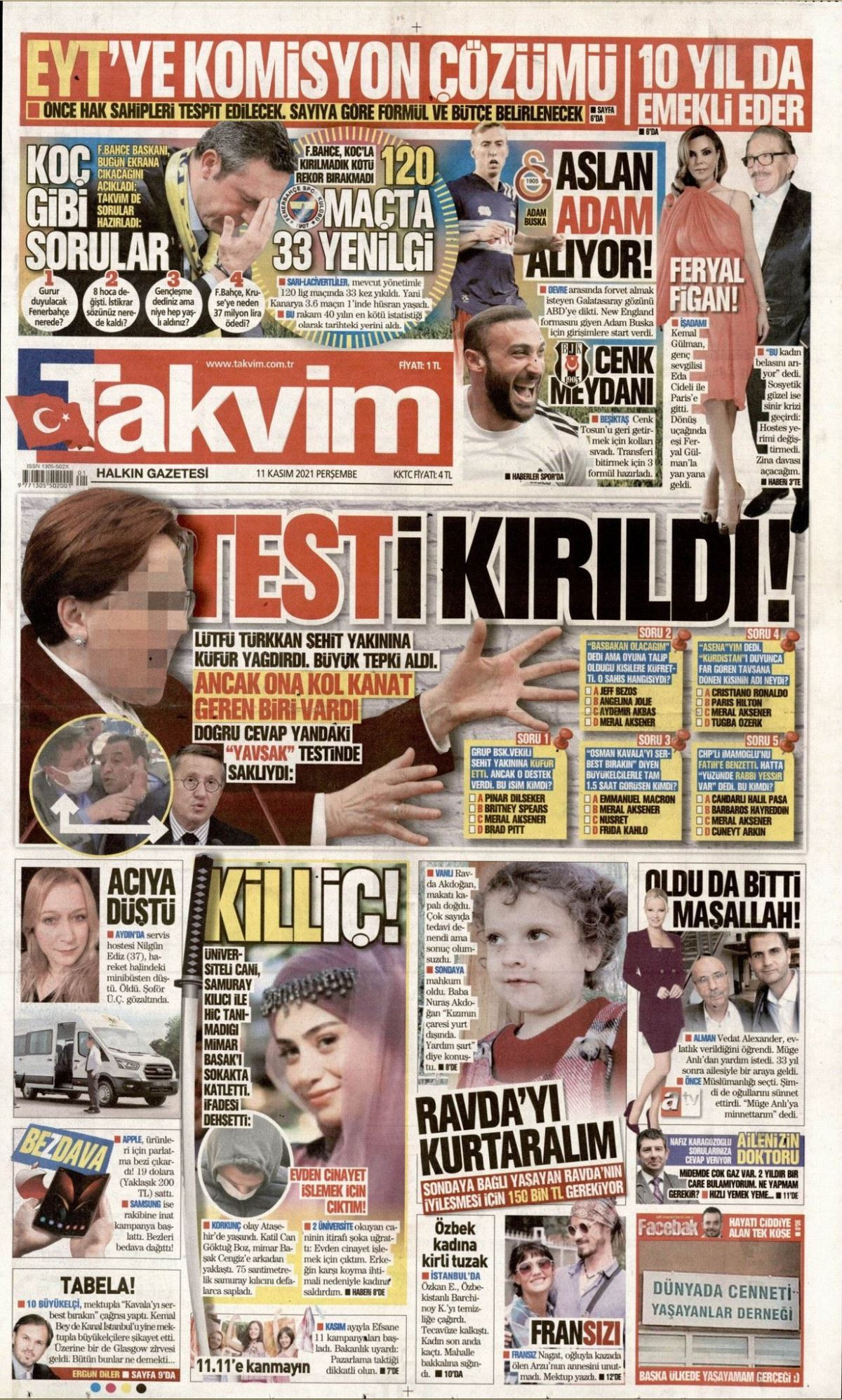 İYİ Party lawmaker Aytun Çıray slammed the newspaper's headline, saying: "Such allegations and accusations are a pile of crap. We are finding it unnecessary to even answer them. The Turkish nation sees the truth."
Amid a dwindling support of the ruling coalition, Erdoğan has recently increased his targeting of Akşener and even praised attacks against her.