Turkish rights group slams 'unauthorized assembly' charges against Saturday Mothers
Members of the Saturday Mothers – a group that has been holding vigils for their relatives who disappeared or were killed in suspicious circumstances in the 90s – have every right to gather at Istanbul's Galatasaray Square, said the İHD's Diyarbakır branch on March 24. The statement came a day before the first hearing of the trial against 46 group members who are facing charges over their 700th gathering.
Duvar English
The Diyarbakır branch of the Human Rights Association of Turkey (İHD) held a press conference ahead of the first hearing of the criminal case against 46 members of the "Saturday Mothers" activist group, who have been gathering in Istanbul since 1995 to demand justice for their relatives who were allegedly disappeared and killed by undercover units.
"[Istanbul's] Galatasaray Square, [Diyarbakır's] Koşuyolu Memorial belong to all of us. We will continue to give a struggle of rights and justice at those squares," İHD Diyarbakır branch head Abdullah Zeytun said on March 24.
Forty-six Saturday Mothers members are facing charges of "unauthorized assembly" for holding their 700th weekly vigil on Istanbul's İstiklal Avenue in 2018.
In August 2018, the ruling Justice and Development Party (AKP) banned the Saturday Mothers from gathering in Istanbul's Galatasaray Square. On the 700th vigil, the police violently intervened in the group's demonstration and swooped in with tear gas. They detained dozens of protesters, including one of the pioneering Saturday Mothers, 83-year-old Emine Ocak, who is Maside Ocak's mother.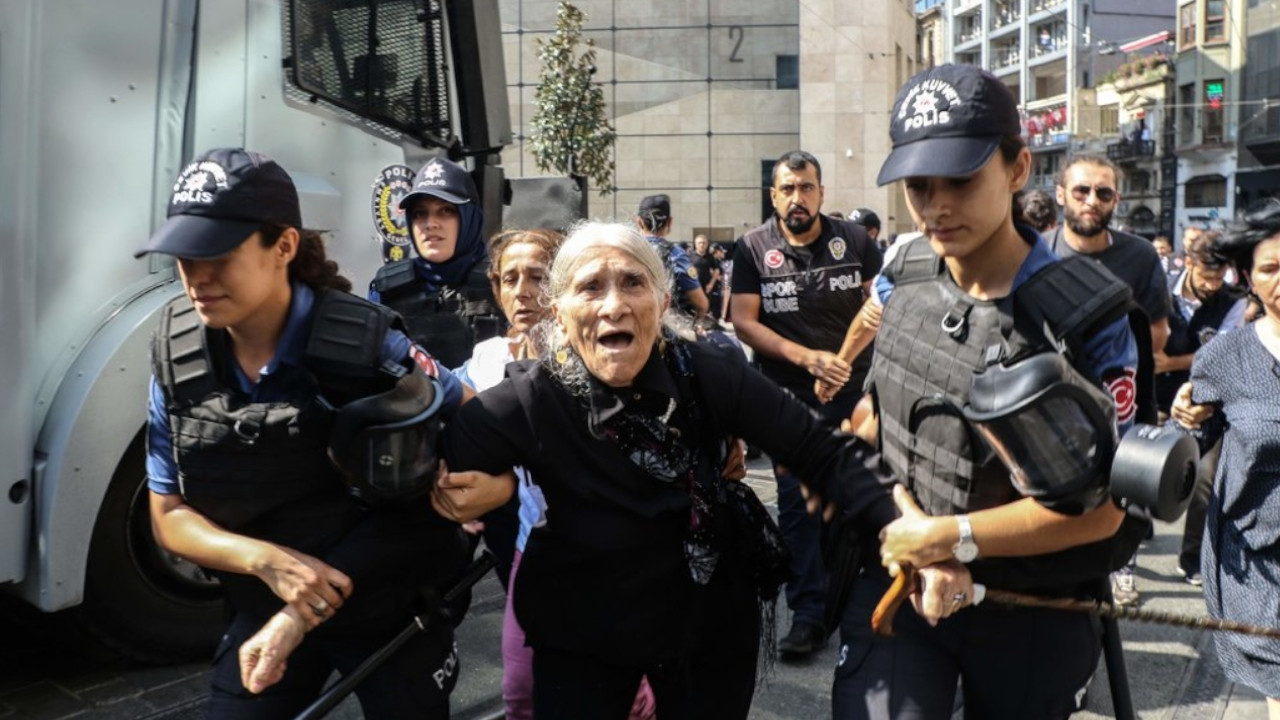 And now the Saturday Mothers and some of the group's allies are being sued for their participation. Terms of up to three years being sought for 46 people in the indictment prepared by the prosecutors.
Since the 700th gathering, the group has been holding their demonstrations in front of the İHD's Istanbul office. Due to the coronavirus outbreak, the group started to hold their vigils online last year.
İHD Diyarbakır branch's Gurbet Yavuz said that Saturday Mother members have been demanding information about their relatives since the 1990s despite being exposed to oppression and obstacles.
"In many instances, they were subjected to the police forces' disproportionate violence, torture and ill-treatment. They were dragged on the ground, clubbed [by the police], detained, got into prison but never gave up their struggles," Yavuz said.
Yavuz recalled that the Turkish Constitution's Article 34 guarantees the right to organize peaceful, unarmed meetings and demonstrations.
"It is obvious that these peaceful demonstrations [of Saturday Mothers] which have been going on for several years now, are not in violation of the Law on Meetings and Demonstrations," he said, adding that the İHD will continue to stand by the "rightful struggle" of Saturday Mothers members.