Turkish satirical magazine features presidential contender on cover: 'Muharrem İnce in Wonderland'
In its latest edition, Turkish leading satirical magazine LeMan has featured a caricature of Homeland Party (MP) chairman Muharrem İnce after his claim that he will receive 60 percent of the votes in the presidential race. On its cover, LeMan wrote, "Muharrem İnce in Wonderland," including images of characters from the 1865 English novel "Alice's Adventures in Wonderland."
Duvar English
Turkish leading satirical magazine LeMan's last issue has featured a caricature of presidential contender Muharrem İnce after his ambitious vow to garner 60 percent of the votes in the May elections.
The magazine included Homeland Party (MP) chairman İnce's remarks of "I am being chosen as the president with 60 percent (of the votes) in the second round (of elections)" and wrote, "Muharrem İnce in Wonderland," in reference to the political satire of "Alice's Adventures in Wonderland."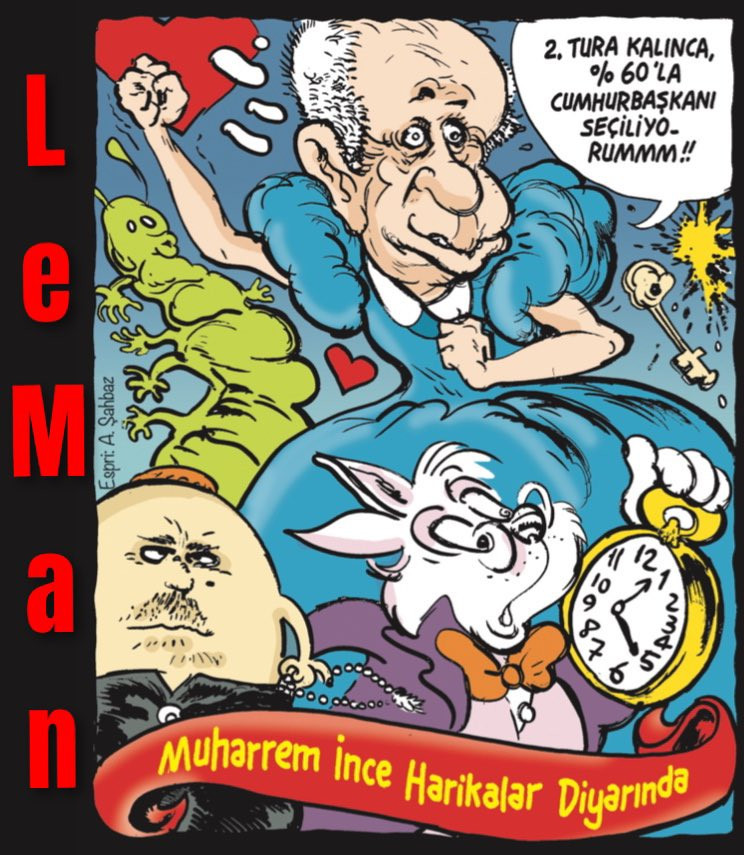 Despite calls on İnce to withdraw from the presidential race in favor of the opposition bloc's candidate Kemal Kılıçdaroğlu, he on March 20 filed his candidacy application to the High Election Board (YSK).
During a speech in front of the YSK headquarters, İnce claimed that he would receive 60 percent of the votes in the elections scheduled for May 14.
In the 2018 elections, İnce had run as the main opposition Republican People's Party's (CHP) presidential candidate and received 30 percent of the votes.