State banks sponsoring pro-gov't newspapers with advertisements, starving critical media of revenues
The Turkuvaz Media Group, led by former Finance Minister Berat Albayrak's brother, received the lion's share of advertisement volume from state-owned banks, whereas newspapers critical of the government were completely starved of these revenues in 2020.
Kenan Şener / DUVAR
Large advertisement budgets of state-run banks are being used by the government to put a financial grip on the media, statics show.
In 2020, pro-government newspapers, such as Türkgün, Sabah, Akşam and Takvim, received a significant volume in advertisements from state banks, while oposition newspapers such as Birgün, Evrensel, Karar, Cumhuriyet, Millî Gazete, Sözcü, Yeniçağ, Yeni Asya and Yeni Mesaj received none.
The following table shows how much advertising space in square centimeters state-owned banks placed in each newspaper in 2020.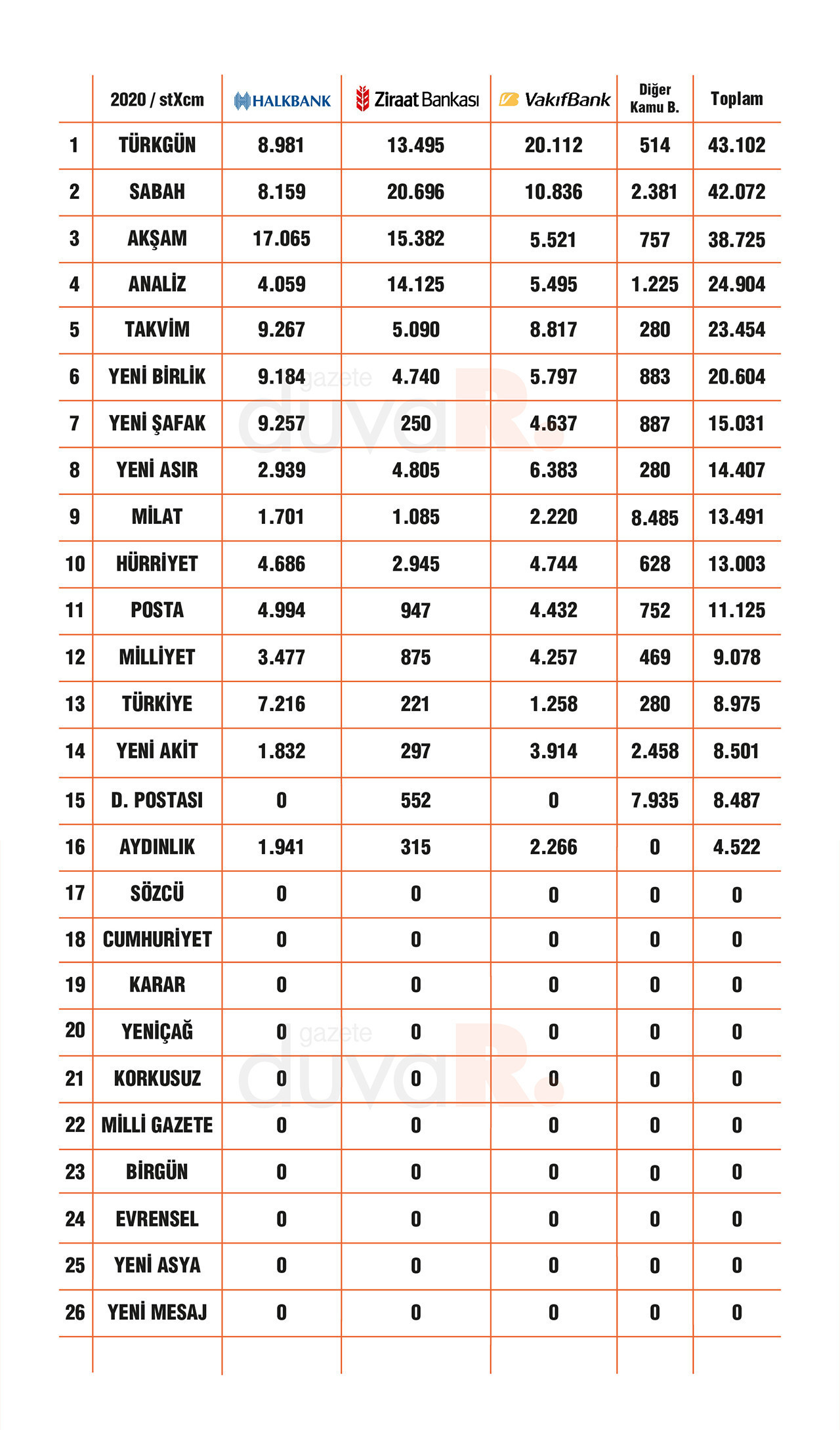 Accordingly, three newspapers of the Turkuvaz Media Group, Sabah, Takvim and Yeni Asır, have been given about 80,000 square centimeters of space in advertisement by state-owned banks.
One might think that the reason why these newspapers are receiving more of the lion's share is that they have more circulation, but then they should also receive a substantial amount of advertisement similarly from the private banks. The statics suggest otherwise.
In 2020, private banks placed only 16,200 square centimeters of space in these three Turkuvaz Media Group newspapers, giving rise to the question of what state-owned banks saw in these three newspapers.
The CEO of the Turkuvaz Media Group is Serhat Albayrak who is the brother of former Finance Minister and President Recep Tayyp Erdoğan's son-in-law Berat Albayrak.
The newspaper that got the highest volume of advertisement space from state-owned banks was Türkgün in 2020, known to be the media organ of the Nationalist Movement Party (MHP).
Again, with the same logic, if Türkgün was among the highest-circulation newspapers in Turkey, it would have been also on the radar of private banks. But, private banks placed only 747 square centimeters of advertisement in this newspaper, whereas this figure was 43,102 square centimeters for public banks.
The statistics once again prove that advertisement is one of the ways of the government to stop the media from publishing critical stories as opposition newspapers are starved of revenues.