Turkish state broadcaster deletes Instagram photo for including rainbow colors
Turkey's state-run broadcaster Turkish Radio and Television (TRT) has deleted a photo of a pinata from its Instagram account after some users commented on the fact that the pinata was adorned in rainbow colors. Ankara recently banned the sale of rainbow and Pride apparel to minors, the latest in a string of homophobic moves from the government.
Duvar English
Turkey's state-run Turkish Radio and Television's (TRT) entertainment channel TRT2 deleted a photo of a pinata from its Instagram account after some followers commented on the rainbow colors of the pinata.
The TRT2 account posted a photo of a rainbow-colored pinata along with a description of the game that read "Children who have their eyes closed will try to find the clay or cardboard puppet that's filled with candy."
"Careful, the rainbow colors might cause you problems," wrote one of the channel's followers, while another said, "Look at this perception [manipulation]" with an emoji of a shocked face.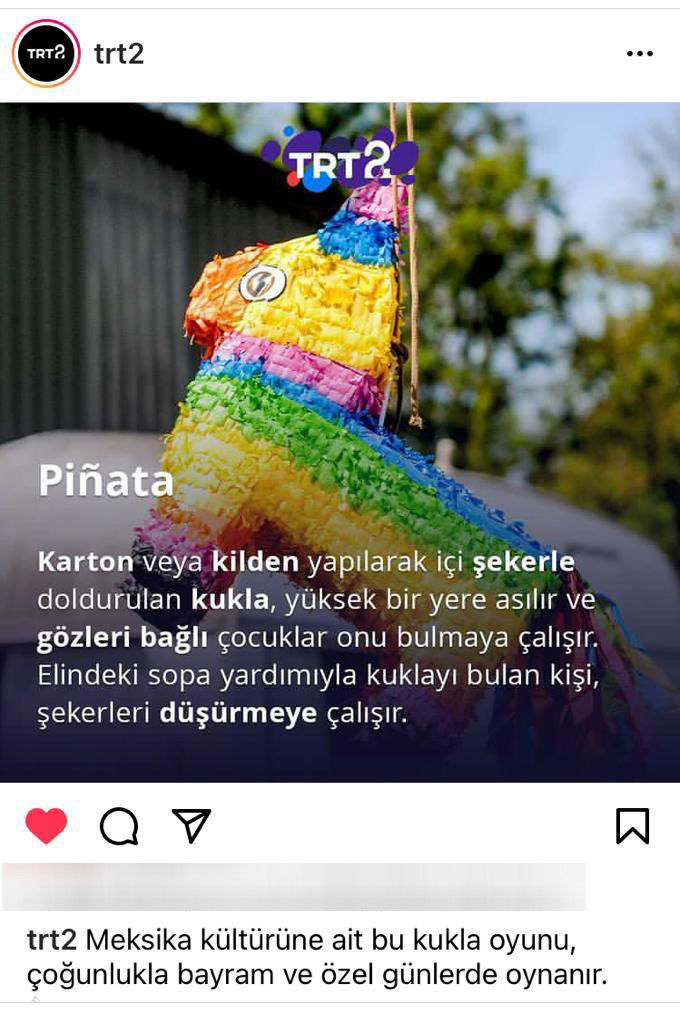 The photo's caption by TRT2 read "This puppet game, unique to Mexican culture, is mostly played on holidays and special occasions."
Ironically, TRT2's mission statement was "All colors of life, from culture to arts, literature to history, cinema to music and philosophy."
The Turkish government passed legislation in December that banned the sale of rainbow apparel to minors on the grounds that it encouraged homosexuality, legislation that represents the ruling Justice and Development Party's (AKP) homophobic practices.
Most recently, police officers brutalized a group of attendees at a LGBTI+ Pride Week picnic event at Istanbul's Maçka Park on June 22, detaining one person and breaking the arm of another.