Two weeks left until Turkey's historical elections: United opposition against Erdoğan's 20-year rule
There are two weeks left until Turkey's parliamentary and presidential elections, which will be held in the centennial of the foundation of the republic. An (almost) united opposition under the leadership of Kılıçdaroğlu, who has promised to bring the parliamentary system back with a hopeful, positive and confident campaign, is racing against the far-right coalition of President Erdoğan's AKP, who has once again adopted highly polarizing and discriminatory rhetoric.
Alperen Şen / Duvar English
Turkey's parliamentary and presidential elections will be held on May 14 in the centennial of the foundation of the republic.
The main opposition bloc Nation Alliance, under the leadership of Republican People's Party (CHP) chair Kemal Kılıçdaroğlu, is trying to end President Recep Tayyip Erdoğan's 20-year rule and bring the parliamentary system back. Kılıçdaroğlu has adopted a hopeful and confident campaign as an antidote to Erdoğan.
Meanwhile, Erdoğan and ruling People's Alliance executives have once again adopted a polarizing rhetoric, accusing Kılıçdaroğlu and the opposition bloc of "making deals with terrorists," "LGBT supporters," "being under the auspices of foreign powers" in a move to set the agenda in identity politics instead of economic distress.
The campaign of Erdoğan
After the devastating Feb. 6 earthquakes, President Erdoğan and his Justice and Development Party (AKP) had reportedly decided not to hold any rallies for the elections. Possibly in a move to bolster and revive support for himself, Erdoğan has been holding rallies and attending opening ceremonies.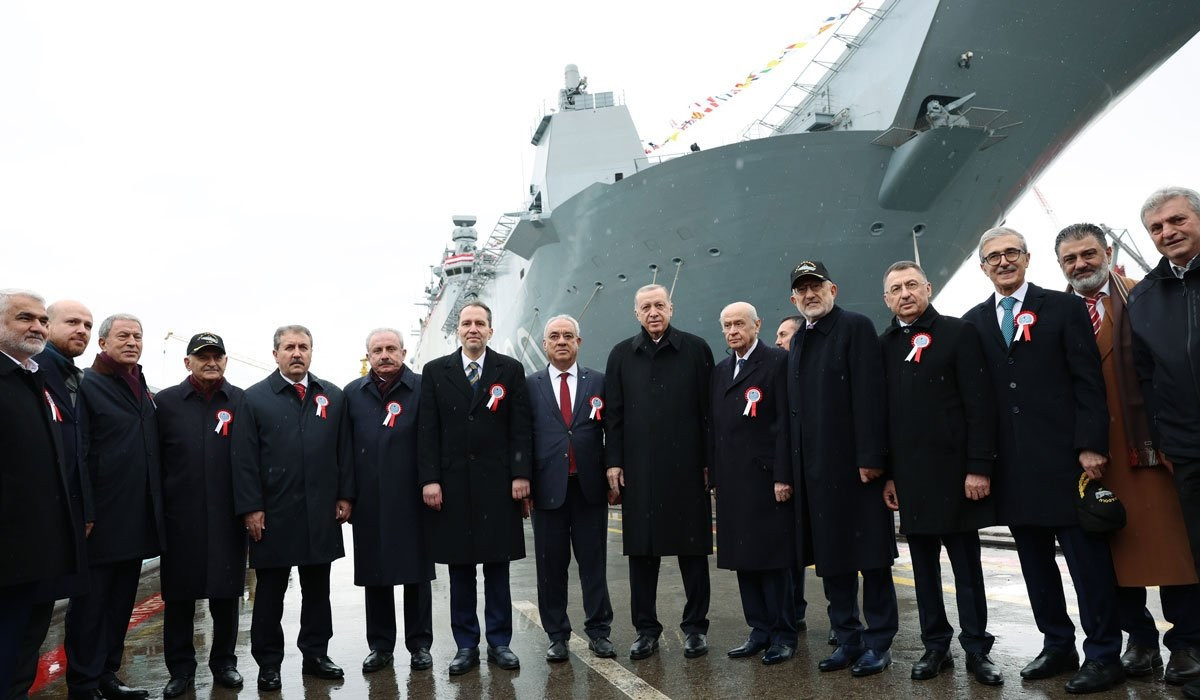 However, Erdoğan had to give a break from his election campaing for a few days after he cut short a live interview due to an upset stomach on April 25.
His main strategy has been to regain undecided voters who previously voted for the AKP but distanced themselves mainly because of the non-stop economic crisis.
As usual, Erdoğan and AKP executives have been using highly polarizing and discriminatory rhetoric against opposition figures and minority groups, including Kurds and LGBT+s.
"85 million citizens of this country are members of the same big family, regardless of their origin or belief," Erdoğan started a sentence during a rally held in the western province of Denizli on April 19. "The CHP and HDP, the parliamentary extension of the terrorist organization, support LGBT. Campaigns aimed at destroying the institution of the family in the world and in our country and targeting our children and young people with deviant ideologies gained momentum," he continued.
Erdoğan has sometimes accepted and sometimes rejected that there is an inflation problem in Turkey. When accepting, he said it is because of their huge investments in construction and defense sectors, including Turkey's first indigenous electric vehicle brand TOGG, Baykar's drones, in a move to make citizens feel that their economic distress is for a greater cause.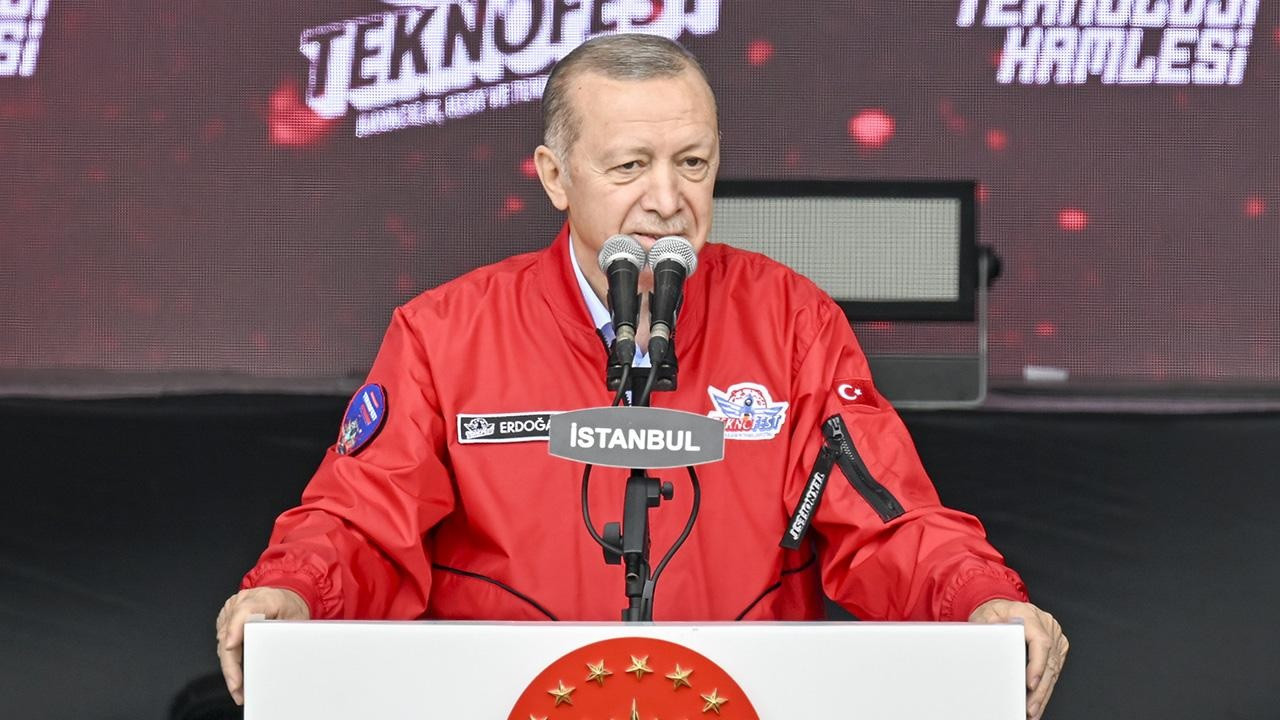 He also mocked Kılıçdaroğlu's references to expensive onion prices, by saying "We know how to smash an onion with our fist and how to eat it. In this country, there is no (expensive) onion, potato or cucumber problem."
He and AKP executives said that the price of onion is not important while they have been investing in drones, ships, bridges, cars, buildings.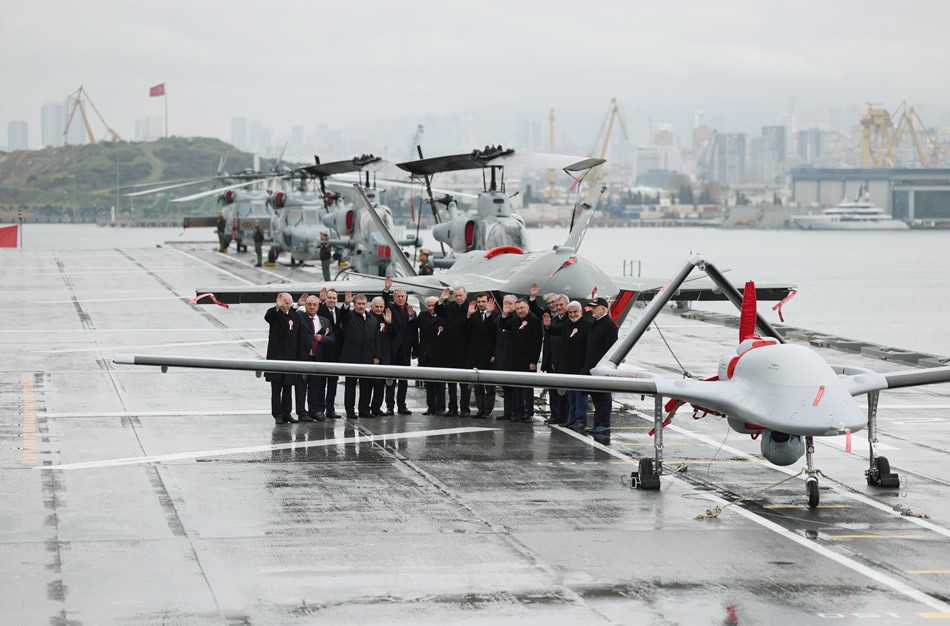 However, in the face of declining support, he announced that the government will provide free natural gas for household consumption up to 25 cubic meters monthly for one year and that limitless natural gas for all household consumption will be free for one month after he flicked the switch on Turkey's first delivery of natural gas to an onshore plant from a reserve discovered in the Black Sea.
Before the campaign process, Erdoğan, on several occasions, called Kılıçdaroğlu to announce his candidacy for the office. These remarks were regarded as Erdoğan thought he can win more easily against Kılıçdaroğlu.
Meanwhile, the AKP government has not hesitated to use public resources in their favor during their election campaigns, including state media, ministries, governor's offices, media watchdog RTÜK, creating a heavily unfair election process for the opposition parties.
Municipality staff and civil servants have been forced to attend Erdoğan's rallies, whereas top public employees, including ministers, governors, ambassadors, propagandize the AKP and Erdoğan in their meetings.
Justice Minister Bekir Bozdağ said "There will be one of the two pictures in Turkey on May 14 evening. There will be those who will either pop up champagne and will celebrate this (election win) until the morning, or there will be those who will praise God by putting their clean forehead in sajdah (position) for gratitude."
Interior Minister Süleyman Soylu said "May 14 (the election date) is a political coup attempt by the West. It is a coup attempt that can be initiated by bringing together each of the preparations to purge Turkey on May 14."
All of these remarks have once again raised concerns for the safety of the elections as they will both serve as ministers on the election day and run for the parliamentary elections.
Meanwhile, the AKP government has increased crackdown on opposition parties, especially pro-Kurdish HDP, and detained hundreds of members. Some of those who were detained were the party's responsible for the election safety in southeastern Turkey, including lawyers.
It is a matter of question how the economic turmoil and failure to manage the post-earthquake period will affect the votes of Erdoğan and his AKP.
The parties of the ruling People's Alliance submitted their own lists for the parliament, including the AKP, Nationalist Movement Party (MHP), Great Unity Party (BBP) and New Welfare Party (YRP). AKP's all allies are far-right parties.
The campaign of Kılıçdaroğlu
Nation Alliance's joint presidential candidate and CHP leader Kılıçdaroğlu has achieved something unique in the history of Turkish politics, that is to unite different ideological parties towards one common goal.
The main opposition bloc will enter the May 14 parliamentary election under the Republican People's Party (CHP) and Good (İYİ) Party lists. The other four parties, Felicity Party, Democrat Party, Democracy and Progress Party (DEVA), and Future Party, nominated 71 deputy candidates from the main opposition CHP list in a move to be advantageous under Turkey's electoral system.
The alliance aims to gain at least the majority in the Parliament which has 600 seats.
DEVA and Future parties were founded after the 2018 election as AKP-breakaway movements, whose leaders (Ali Babacan and Ahmet Davutoğlu) were top AKP executives in the near past.
Six leaders of the alliance have officially met for 15 times since February 2022 and prepared a constitution draft, offering strengthened parliamentary system instead of today's hyper-presidential regime.
İYİ Party leader Meral Akşener, Felicity Party leader Temel Karamollaoğlu, Democrat Party leader Gültekin Uysal, DEVA Party leader Ali Babacan and Future Party leader Ahmet Davutoğlu will be vice presidents should Kılıçdaroğlu assume power. The leaders of the alliance spent the first day of Eid al-Fitr with the earthquake-victims in southeastern Turkey.
Moreover, CHP Istanbul Mayor Ekrem İmamoğlu and Ankara Mayor Mansur Yavaş will assume the same role. İmamoğlu will be responsible for urban and disaster planning, whereas Yavaş will be responsible for social economic policies.
In his campaign, Kılçdaroğlu has adopted a hopeful, confident and positive rhetoric with several references to the coming of the spring and the promises he made.
He has been able to break the agenda setting power of Erdoğan with the daily videos he has been posting on his social media accounts. In the videos, Kılıçdaroğlu has sometimes about his economic development projects under the title of "Mr. Kemal's Board," and also talked about minority groups in Turkey, including Alevis which he belongs to.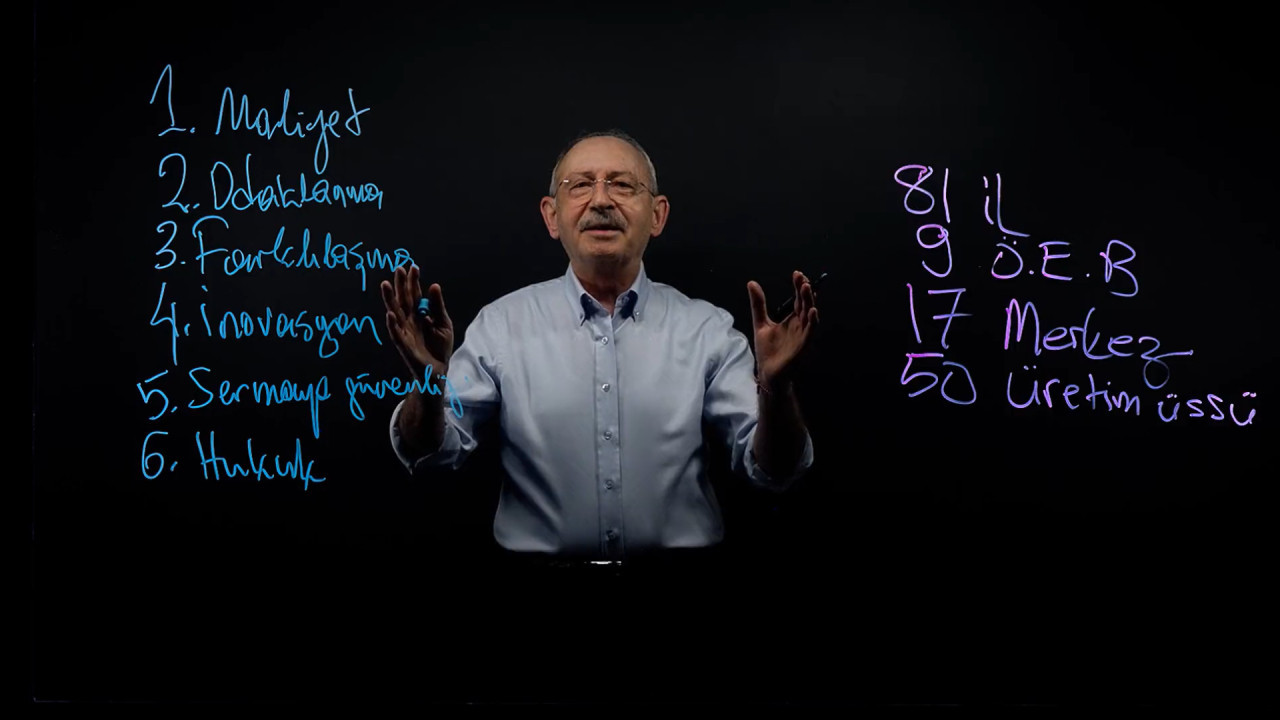 Recently, Kılıçdaroğlu and other leaders in the alliance shared brief videos where they say some hopeful mottos in front of a blossom tree.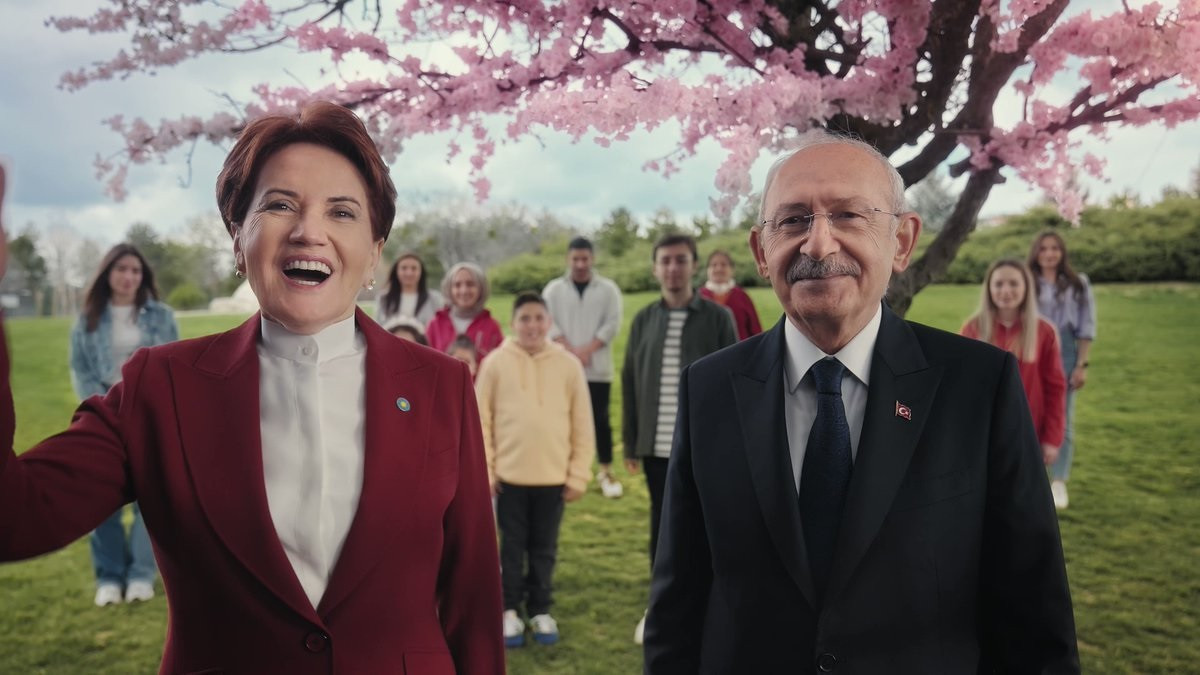 Before his candidacy, there were some arguments within the opposition, claiming that Kılıçdaroğlu would not get the total support of Sunnis in Turkey because of his Alevi identity. With the video where he openly expressed that he is an Alevi, he challenged the taboo of "Alevis cannot govern Turkey."
Kılıçdaroğlu, İmamoğlu and Yavaş have held dozens of rallies so far, most of them were joint, visiting two or three different provinces in a day. Especially İmamoğlu has been the most energetic member of this team with his several visits and meetings in different provinces during a day.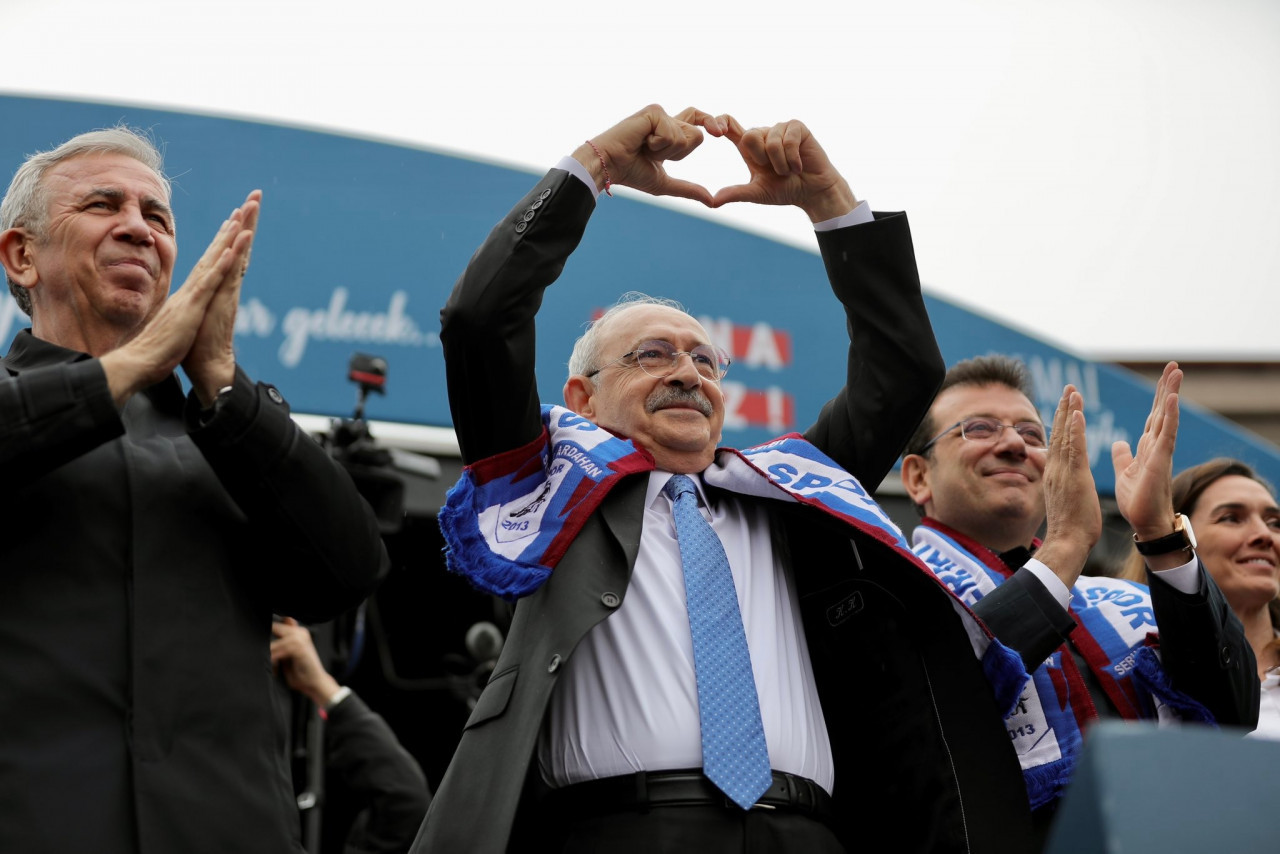 Other party leaders in the alliance also joined some rallies of Kılıçdaroğlu, and three-four figures took the stage in order.
In the rallies, the leaders imitated Kılıçdaroğlu and tried to make a heart sign with their hands, sometimes ending up in a failure.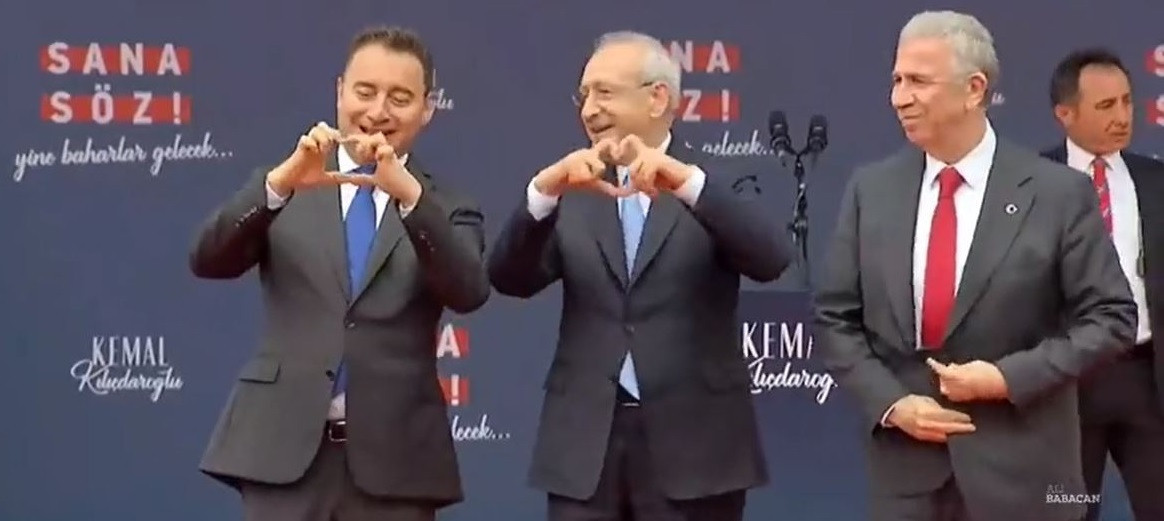 Kılıçdaroğlu also posted special videos for the TikTok platform in a move to show his support for young people.
It is a matter of question if Kılıçdaroğlu's cheerful and inclusive style of campaign as opposed to his rival Erdoğan will be enough to make him the President. Kılıçdaroğlu is regarded as the exact opposite of Erdoğan in terms of characteristics.
As an old-bureaucrat who challenged corruption, the 74-year-old leader was able to transform the CHP from a Kemalist nationalist party into a more inclusive and embracing one during his 13-year leadership. He initiated a movement where he asked for the "blessings" of those whom the old ideology "victimized," including conservatives and Islamists. By seeing his determination, the Felicity Party, which has the same roots with the AKP, staunchly supports Kılıçdaroğlu's candidacy.
In a tweet, for example, he said "They insult who says onion. In the past, these (insults) were made by those from us. The poor were mocked. Fortunately, we managed to get them away from us. It was very difficult, but we succeeded. The (AKP) got very rich though. Now they make fun of the poor. Onions, cheese, oil are funny things to them. Thank God we have changed."
Çok zor oldu ama başardık, vallahi de billahi de. Biz halkçı olma mücadelesi verdik ve kazandık. Saraylılar ise zenginleşti. Çok zenginleşti. Artık fakirle fukarayla alay ediyorlar. Soğan, peynir, yağ onlar için komik şeyler. Allah'ımıza şükürler olsun ki, biz değiştik.

— Kemal Kılıçdaroğlu (@kilicdarogluk) April 25, 2023
Getting support from a wide range of ideologies, including socialists, liberals, conservatives, nationalists, Islamists, social democrats, Kılıçdaroğlu vows to change Turkey in a similar way, and put an end to polarization and corruption.
The Labour and Freedom Alliance
Turkey's second biggest opposition bloc Labor and Freedom Alliance includes the Peoples' Democratic Party (HDP), Green Left Party, Workers' Party of Turkey (TİP), Labor Party (EMEP), Social Freedom Party (TÖP), Workers' Movement Party (EHP) and Socialist Assemblies Federation (SMF). The Green Left party is the HDP's back-up party in the upcoming elections over closure risk.
The leftist alliance did not field any candidate for presidency and officially announced their support for Kılıçdaroğlu.
Instead, they decided to focus on increasing their vote share in the parliamentary election.
In the 2018 elections, the HDP was able to get 11.70% of the votes, making them the third biggest party after the AKP and CHP. This result allocated 67 seats in the Parliament for them (out of 600).
Elected from other parties, the TİP currently has four deputies in the Parliament.
The alliance aims to get at least 15% of the votes in this election and increase their influence in Turkish politics and in the Parliament.
In a possible Kılıçdaroğlu victory, the Parliament might be an important medium to address the Kurdish problem.
However, the crackdown does not make it easy for the alliance to carry out their election campaigns.
Moreover, the HDP and TİP members have occasionally fallen apart from time to time. The TİP refused to join the election under the former's list which resulted in a competition to attract each other's voters.
This problem is less visible for the Nation Alliance. Either the CHP or İYİ Party nominated candidates in 16 provinces out of 81, supporting the others' candidates.
Meanwhile, jailed HDP co-chair Selahattin Demirtaş's frequent tweets have been quite helpful to give morale to the voters and to keep the alliance together.
İnce and Oğan
The CHP-breakaway Homeland Party leader Muharrem İnce's candidacy has been quite controversial so far. In the 2018 elections, İnce had run as the CHP's presidential candidate and received 30 percent of the votes.
Now, he argues that Turkey needs to get rid of both the government and the main opposition. However, his campaign is mostly focused on criticizing Kılıçdaroğlu and the Nation Alliance instead of Erdoğan.
İnce said he did not support the idea to form an alliance with AKP-breakaways like Babacan and Davutoğlu and argued that he will make them be prosecuted if he assumes power.
Some polls suggested that his hype is decreasing as the elections approach. His party is also not likely to pass the seven percent threshold as it is not included in any alliance.
Far-right ATA Alliance's candidate Sinan Oğan has prefered to criticize the government more. The ATA Alliance is known for its strict anti-refugee stance.
The vote shares of the both figures will be decisive for the presidential election to end in the first round.