Major mosque construction project in Istanbul's Levent district continues 24/7, sparks criticism
The permission given by Istanbul governor's office to a construction company to work 24/7 on building a mosque in the district of Levent sparked criticism among residents of the area. The neighborhood administrator told Duvar that the permission, which allows the construction to continue through the night, makes it difficult for people to stay at home at a time when the government is advising everyone to do so amid the coronavirus spread.
Hacı Bişkin / DUVAR
Despite of the coronavirus outbreak resulting in high numbers of new cases in Turkey every day, major construction projects continue full speed ahead in Istanbul, such as a mosque on a large and valuable piece of land in the city's Levent district, an area with numerous skyscrapers and shopping malls.

The construction of the mosque, which is being built on a piece of land over 18,000 square meters in size and is among the most valuable land in Istanbul, due to its central location and proximity to luxurious residential and office buildings. The construction began at the end of February, when the pandemic was spreading across the world and just two weeks before the first case was officially announced in Turkey.

The neighborhood administrator (muhtar) of the area Atacan Türk, said that the Istanbul governor's office gave the company permission to work 24/7 which makes it difficult for residents of the area to stay at home.

In a period where massive economic support packages are being given by governments fighting coronavirus, 159,738,000 TL is being spent to build the mosque. The tender was won by ASL Inşaat, a construction company owned by former ruling Justice and Development Party (AKP) deputy Abdullah Kart from the province of Rize, where President Recep Tayyip Erdoğan hails from.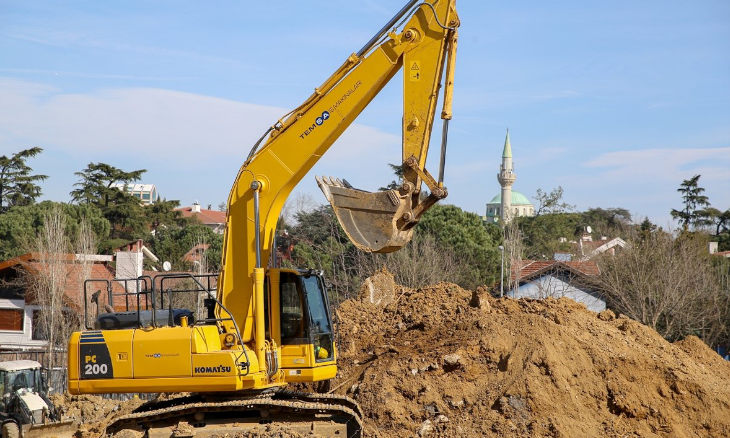 The mosque is slated to have a capacity of 20,000 people, and will also include a four-story parking garage that can house 900 vehicles. Nine elevators and two multi-purpose facilities are also being built in the complex.

Despite calls from authorities for people to stay at home as coronavirus cases continue to increase daily in Turkey, people living in Levent have become very uncomfortable due to the constant noise at the mosque's construction site.

"We are not against the construction of a mosque. There are many people in our neighborhood who are over the age of 65. While people are trying to stay at home due to coronavirus, they are unable to because of the construction noise. They can do construction during the day. But they shouldn't at night and during the weekend," Türk said.