Activist plays legendary singer Ahmet Kaya's song to protest arbitrary detentions in Azerbaijan
An Azeri young activist has protested the arbitrary police detentions in his country by climbing onto the roof of his house and playing legendary Kurdish singer Ahmet Kaya's "Başkaldırıyorum" song, which translates as "I revolt."
Alper Budka / Duvar
An Azeri activist has protested the arbitrary police detentions in his country by playing a song of Ahmet Kaya, a popular dissident singer of Kurdish descent who was exiled from Turkey for advocating Kurdish rights.
Giyas Ibrahimov played Kaya's song named "Başkaldırıyorum," which translates as "I revolt," at the roof of his house. "If the police had not stopped me, I was also going to play 'Yorgun Demokrat' and 'Başım Belada,'" Ibrahimov said, referring to other two songs of Kaya, which translates respectively as "Tired democrat" and "I am in trouble."
Kaya, a symbol of rebellion, was forced to flee Turkey because of his music. He died in exile in France in 2000. He was one of the strongest oppositions artists of his time.
Ibrahimov told Gazete Duvar that Kaya was a symbol of resistance for leftist groups in Azerbaijan. "Ahmet Kaya is loved by everyone. There is a saying, 'Ahmet Kaya is the only artist who is listened to loudly by leftists, in a low voice by conservatives and in a secret way by nationalists.' And with his political identity, he is known in the whole world, including in Azerbaijan, and is a symbol for us beyond his artistic identity," Ibrahimov said.
The purpose of Ibrahimov's demonstration was to draw people's attention to arbitrary detentions that took place in Azerbaijan during the coronavirus lockdown.
On June 7, police detained a person who had gone outside during the lockdown to take out his trash. Neighbors protested the incident, as many whistled and threw their garbage from windows onto a police car. A day later, police returned to the apartment complex and detained 11 residents by forcibly dragging them outside. This incident was slammed by several activists who demanded that the police apologize for their actions.
Ibrahimov found the solution by climbing onto the roof of his apartment building on June 9 with a loudspeaker and hanging a huge poster that read "Don't be silent, speak out." Shortly after this protest, the police appeared at Ibrahimov's place and detained him. After spending one night in police custody, Ibrahimov was released on June 10.
"You know that we [Azerbaijan] live in an oppression regime. Instead of issuing a monetary fine to people who went outside to take out their trash, the police took them to the station and inflicted torture. Everything started at this point," Ibrahimov told Gazete Duvar.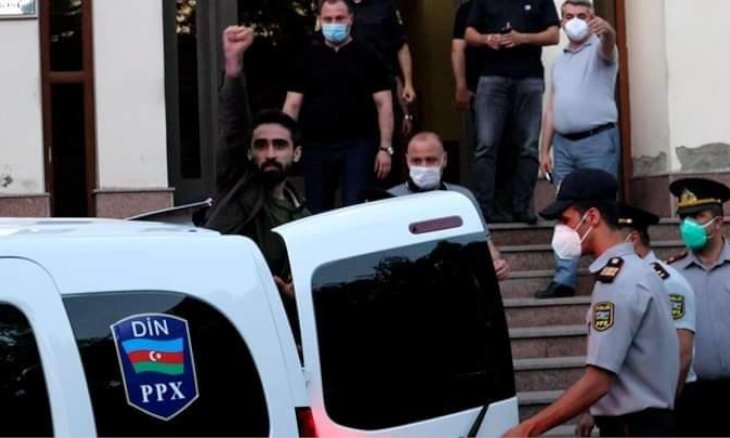 "Since there is no law here, the state is taking a brutal vengeance. The police acted as if they were raiding a hot bed of terrorism. They went into people's bedrooms and detained them without even letting them put their clothes on, in a demonstrative way and then put the videos on the internet. That was a show. And I thought that although we cannot leave our houses [due to the lockdown], we can respond to this oppression from our houses, and I undertook this action."
Ibrahimov is also known for having served a sentence between 2016-2019 for spraying graffiti on a statue of the former President of Azerbaijan, Heydar Aliyev.
Ibrahimov had been in fact sentenced to 10 years in prison, but received a "presidential pardon" in 2019 and was released.
The European Court of Human Rights (ECHR) condemned Azerbaijan in February for convicting Ibrahimov in the graffiti case and ordered the country to pay 36,000 euros in damages. The court said in its ruling that there had been a violation of several articles of the European Convention on Human Rights — in particular Articles 3 (prohibition of inhuman or degrading treatment) and 10 (freedom of expression).