Ahead of Feminist Night March, police barriers placed on Taksim Square and side streets
Ahead of International Women's Day on March 8, police barriers have been brought to Taksim Square and the side streets leading to Istiklal Avenue and metro stations have been closed. Last year, thousands gathered for the Feminist Night March despite the ban, police attacks, and detentions.
Duvar English
In Istanbul, the Feminist Night March will be held in Beyoğlu district on March 8 for the International Women's Day like every year.
Nonetheless, police barriers have been brought to Taksim Square and the side streets leading to Istiklal Avenue where the march will take place.
In the statement made on Metro Istanbul's Twitter account, metro stations near Taksim Square have been closed in line with the decision taken by the Istanbul Governorate.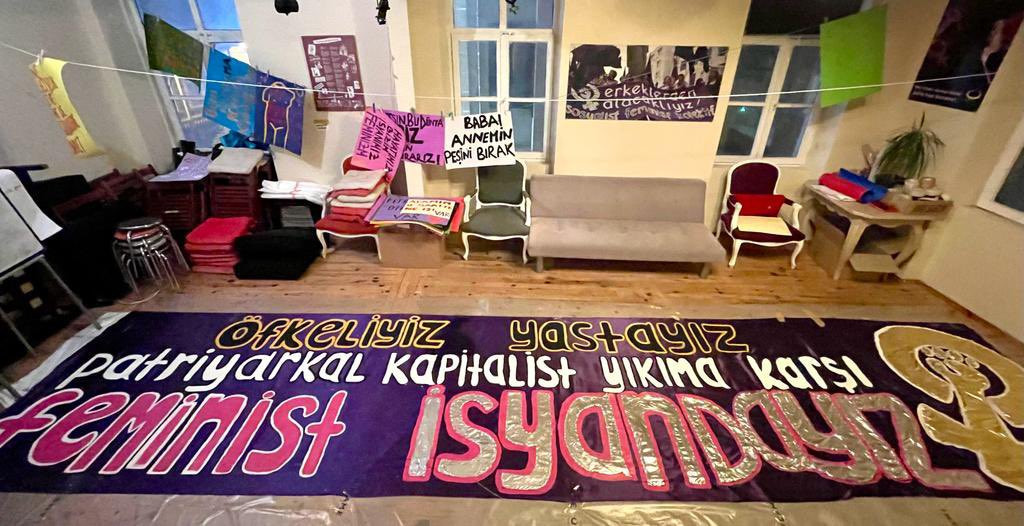 It is not yet clear whether the Feminist Night March and the women's statement will be banned by the authorities as in the previous years.
The Istanbul Governor's Office is expected to make its decision on March 8. If the march is banned, Taksim Square and Istiklal Street will be completely blockaded and the streets will be closed.
The call for the march, which will be held for the 21st time this year, reads, "The Night March is made possible every year again by the struggle of all of us, it is the expression of the rebellion of all of us. In other words, we, the individual people who make this march happen, everyone who participates, determine how that night will take shape. But this year our situation is different. None of us are well after the earthquake. We are trying to make each other better, to be better together. The thought of being side by side tomorrow at the Feminist Night March gives us strength and hope."
Last year, a complete blockade was imposed in the Beyoğlu district and those who tried to attend the march faced intense police violence. Some 39 protesters got detained on the road to the protest while 12 women were detained from their homes two days after the march on charges of insulting the president.