Armenian ban on Turkish products casts shadow on possible trade revival
Recent revelations of a decision by the Armenian government from Oct. 20 banning the import of Turkish goods spoiled optimism that emerged after Turkish President Erdoğan's statements which suggested the opening of border gates to Armenia as a possibility. "Goods of Turkish origin will be banned effective December 31, 2020," noted the Armenian government's decision.
K. Murat Yıldız / Duvar English
Hopes of renewed trade relations between Turkey and Armenia following Turkish President Recap Tayyip Erdoğan's remarks about potentially reopening the shared boarder fell apart after a previously unknown Armenian ban on Turkish goods was widely circulated.
On Dec. 10 following a visit to Baku, President Erdoğan announced that "Turkey could open its border gates to Armenia if Yerevan takes positive steps toward regional peace" following its 44-day conflict with Azerbaijan. The Turkey-Armenian boarder has been closed since 1993, so such optimism was welcome by Turkish and Armenian businesspeople.
However, this optimism faded away as many became aware of a decision made by the Armenian government banning the import of Turkish goods starting Dec. 31. The decision, which was announced by the Armenian government on Oct. 20, went unnoticed because of the lack of formal communication channels between the two governments.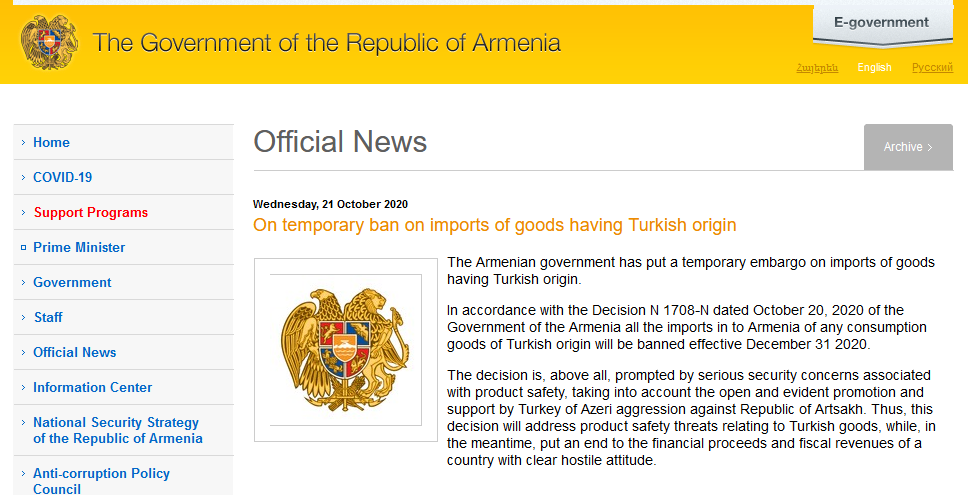 "Goods of Turkish origin will be banned effective December 31, 2020," stated the Armenian government's decision.
Despite the closed border between the countries since 1993, trade between Armenia and Turkey has never ceased.
Georgia's role
Georgia has historically played a vital role in the transportation of goods and the movement of people between Turkey and Armenia.
"My father used to go to Artvin, Rize, and Trabzon buy food, detergents, and hygiene products with his old car and sell them in Georgia when the Soviet Union collapsed. For many years, we have been doing this on a larger scale not only to Georgia, but also Armenia," a Georgian businessman told Duvar English.
"On one hand, the opening of borders between Armenia and Turkey could hurt our business, but as we already have contacts in both countries so it could also make things easier for us. We currently have to deal with a lot of bureaucracy and paper work. Sometimes we need to bribe officials to get the job done," the businessman added.
According to the Armenian Statistics Institute, Turkish exports to Armenia amounted to over 2 billion USD in the last 10 years. Yet, experts point out that in reality the total import of Turkish goods, especially with clothing, includes the so called 'luggage trade' of Armenian citizens buying textile products in Turkey and selling them back at home.
Win-win situation
"When you go to an ordinary grocery or clothing store in Armenia you see a large number of Turkish products that come via Georgia," Nurhan Çetinkaya, a Turkish-Armenian businessman, told to Duvar English.
"Armenia is also a door into the Iranian market. The country has certain trade agreements with Iran, which also could benefit Turkey. The Iranian and Georgian governments charge 600-700 USD per truck going from Turkey to Armenia. That's a huge amount of money. If 50,000 trucks go to Armenia from Turkey each year, just multiply it by 700 USD and you will see what I mean," he continued.
Çetinkaya concluded giving his projections for trade relations between the two countries saying, "Once the differences are solved I believe that trade volume between the two countries has the capacity to increase radically. Armenia has many products it could sell in the Turkish market. It would be a win-win situation for both sides."
Not everyone is as optimistic about the prospect of deepened Turkish–Armenian trade relations. An Armenian economy professor from the Armenian State University in Yerevan spoke to Duvar English, saying that he supports the idea of improved trade relations between Turkey and Armenia. However, he expressed his weariness regarding the likelihood of improved relations saying he, "would love to believe it just as a child wants to believe in Santa."
The professor underlined that in the past Turkey's relations with Armenia have always been "tied to the Karabakh issue. However, after the Azerbaijani military success, there is no reason for Turkey not to extend a hand to Armenia. I believe this hand would not remain unshaken."