Boğaziçi students defy Erdoğan's rector in mass numbers
Students of Istanbul's Boğaziçi University defied President Recep Tayyip Erdoğan's appointment of Melih Bulu as their school's rector for a third day in a row, accompanied by more police officers than the previous demonstrations. Students marched to the ferry docks after a protest on campus, crossed the Bosphorus and joined a crowd of hundreds more in Kadıköy.
Azra Ceylan / Duvar English
Boğaziçi University students defied President Recep Tayyip Erdoğan's appointment of ruling Justice and Development Party (AKP) member Melih Bulu as rector to their school for the third day in a row on Jan. 6, carrying out day-long peaceful protests across the city.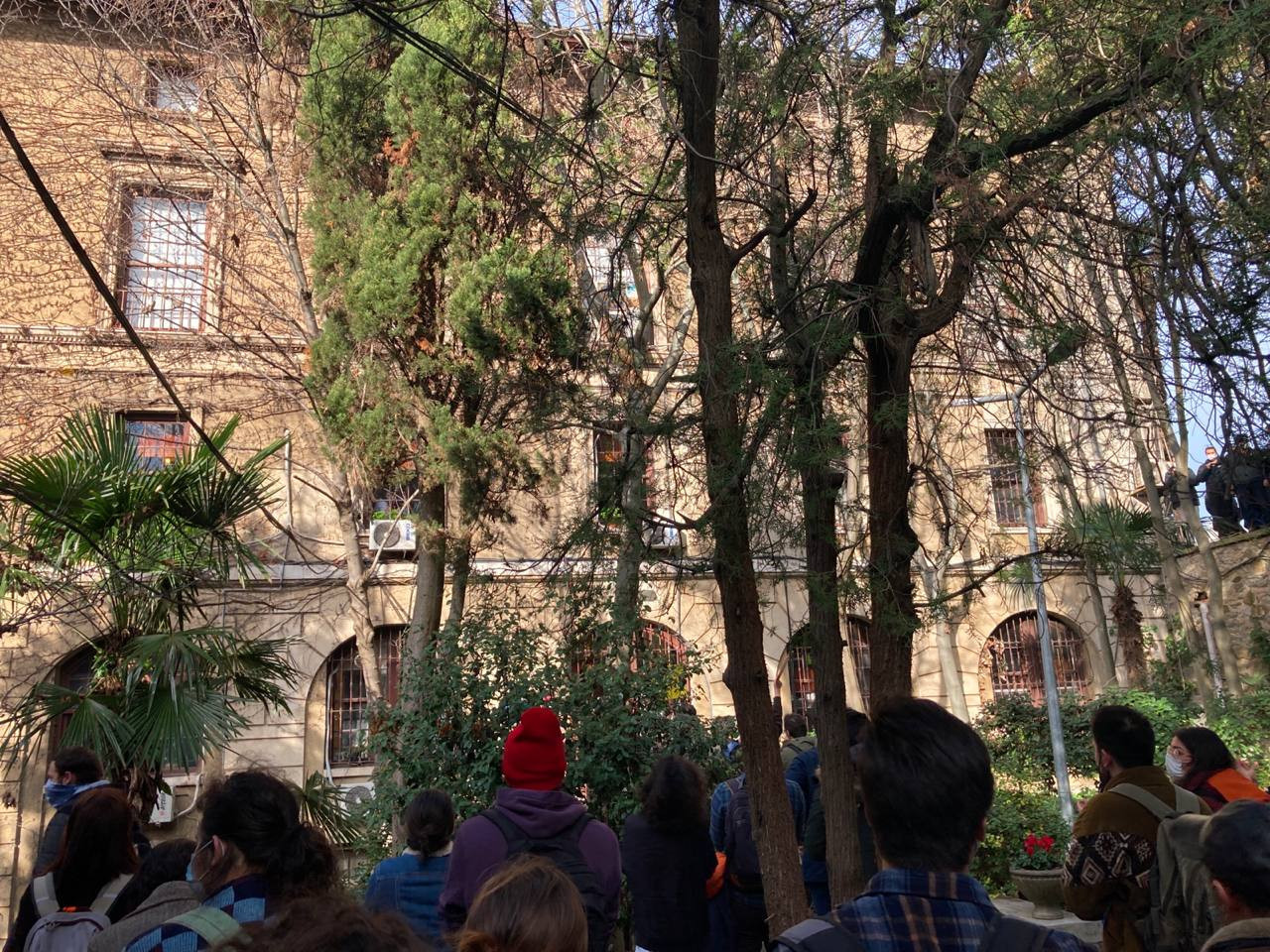 Students gathered in Boğaziçi's south campus around noon on Jan. 6 to once again urge Bulu to resign, as the appointed official continued efforts to win over his critics.
Most recently, Bulu waved at the crowd in protest in front of his newly-minted office, and said that he will drink tea with the students.
Bulu's offer for tea came a day after he attempted to comfort critics that he wouldn't disrupt Boğaziçi's student culture by saying that he is a "rector who listens to hard rock, to Metallica."
In turn, students played Metallica during their peaceful protest in the south campus, an ode to Bulu's self-professed admiration for the band.
Members of the press were not allowed on campus during the student demonstration, as both of the school's main campuses were effectively under a police siege, a continuation of law enforcement's consistently harsh stance against the protesters, academics and students.
Sidewalks leading to the university's main gate were flooded with police barricades, while dozens of officers were piled in front of the school's main gate, and members of the special team forces roamed the streets.
Police teargassed the crowds on the first day of demonstrations on Jan. 4, followed immediately by the detention of over a dozen protesters in home raids at dawn on Jan. 5.
Arrest warrants for at least ten more demonstrators were issued on Jan. 6, with an unknown number detained with home raids at dawn once again.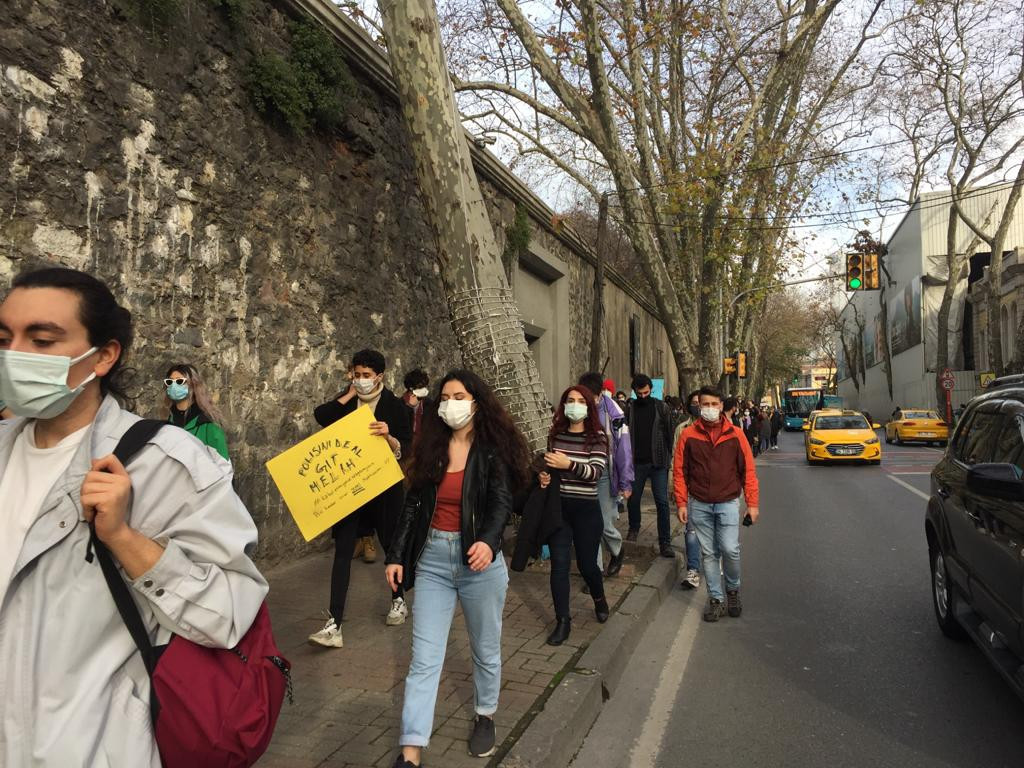 After the protest at the university's south campus, students began marching towards Beşiktaş, chanting "Boğaziçi is ours, it will stay ours. This is only the beginning, we will not stop fighting."
The students were supported by nearby drivers who applauded and blew their horns as they passed the crowd, who eventually arrived in Beşiktaş, where the students took a ferry to head to Kadıköy on Istanbul's Asian side.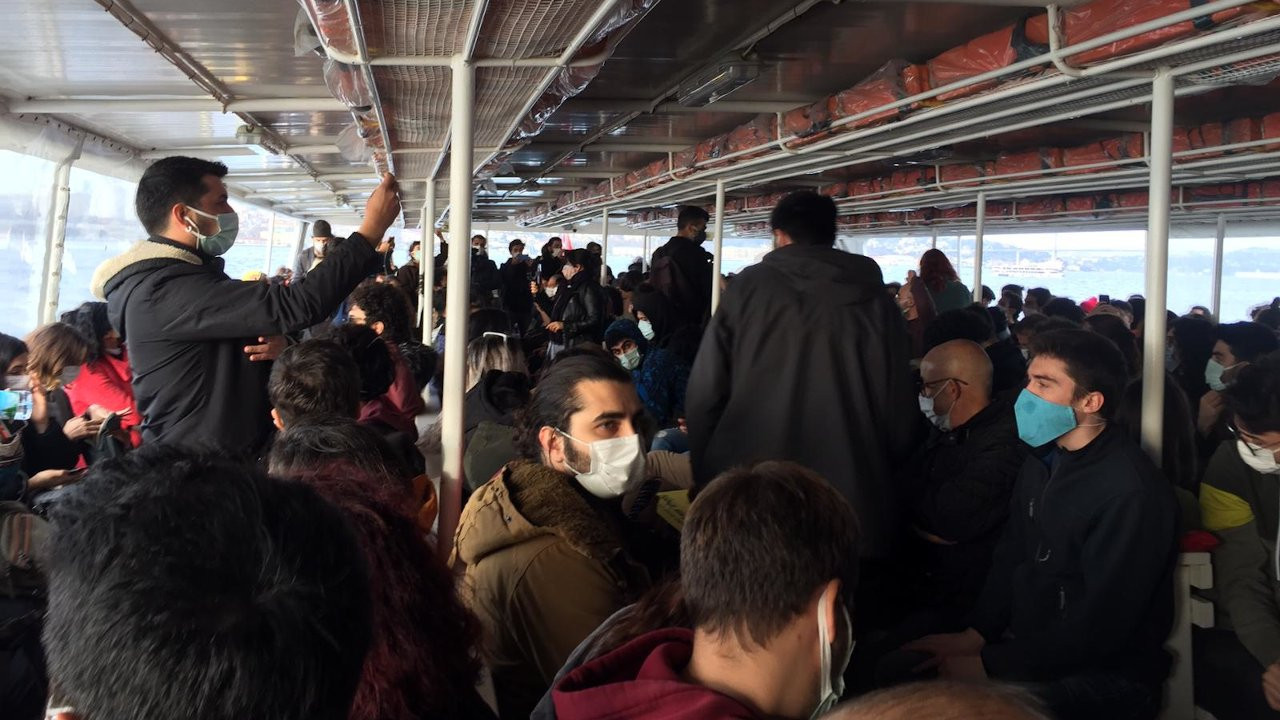 "So it's not surprising that the cause draws large crowds," Senior İsmail Gürler said. "The rector appointed as our head is a reflection of the realities of Turkey. This isn't just an occupation of the university, it's the invasionof the democratic rights of Turkey's peoples."
Ankara replaced almost all of the democratically elected local officials from pro-Kurdish Peoples' Democratic Party in the local elections of March 2019, and appointed rectors to public, and private universities, after the failed coup attempt of July 15, 2015.
"We want our fight to include all of Turkey's peoples. We feel the sensitivities of all of this country's peoples, of everyone in this country who was marginalized and oppressed," Gürler noted.
The students were met with masses waiting for their arrival to protest in Kadıköy, where an estimated 300 students joined thousands to condemn the state's crackdown on those protesting Bulu.
Police detention of dozens of students in Istanbul home raids on Jan. 5 and Jan. 6, as well as during the three-day demonstrations, was one of the two urgent items on the students' agenda.
Students from Boğaziçi University and other higher education institutions in Istanbul were brutalized during their detentions and reportedly exposed to sexual violence and strip searches in police custody.
"We will not stop fighting until the detentions are over. Boğaziçi students will come together time and time again," student Osman Demirbağ told Duvar English.
They condemned the detention of protesters in home raids over the past two days, asking Bulu directly, "Where are our friends?" in press statements, signs and chants.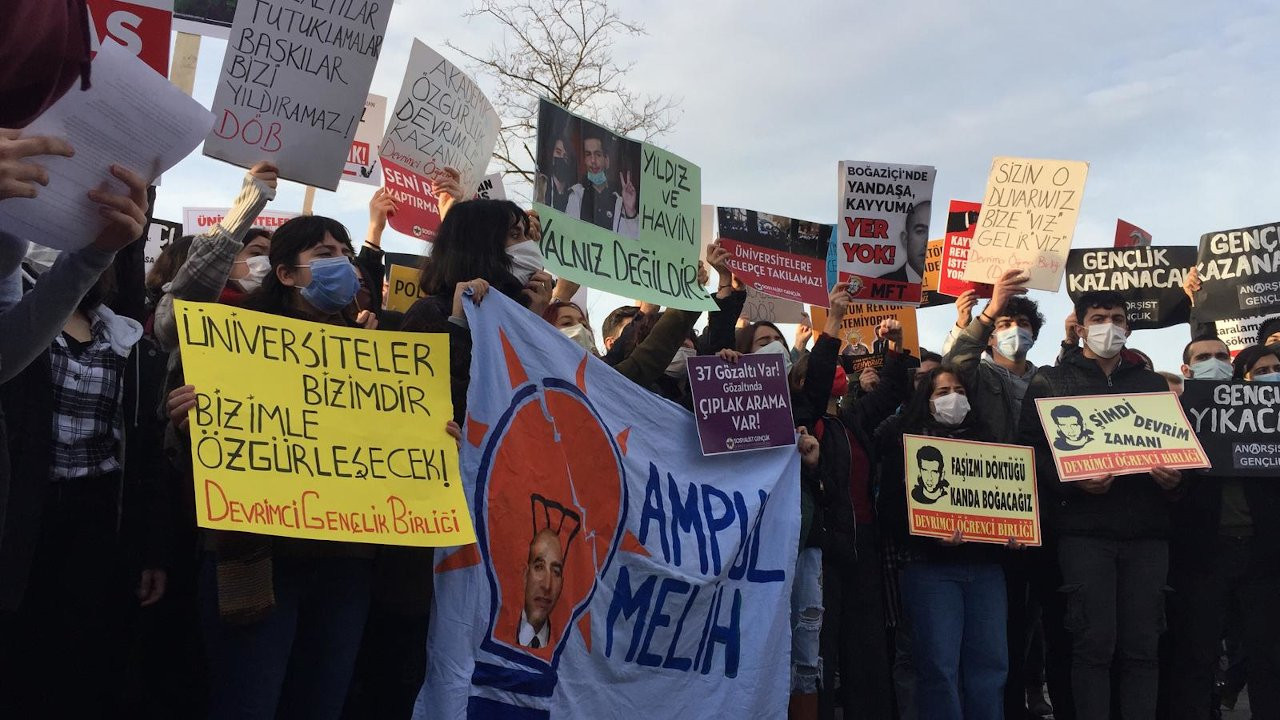 "We are aware that the situation in Boğaziçi is not an isolated event," the students said, noting the appointment of trustee mayors to dozens of municipalities across Turkey.
Although Boğaziçi students led the movement, other institutions' members and student organizations joined them in their resistance including Istanbul Technical University (İTÜ) Solidarity (İTÜ Dayanışması).
"We are here today because we know that this assault isn't just on Boğaziçi. We believe that this is an attack on the youth, so we stand with our friends from Boğaziçi," Damla Gümüş of İTÜ Dayanışması told Duvar English.
İTÜ students were met with serious backlash when they started a boycott of the private sector last semester, Gümüş said, adding that members of İTÜ Solidarity were also slammed with prosecution when they tried to challenge the oppression.
"There are the people who want to limit the scope of the protests to the rector appointment," a student who asked not to be named, told Duvar English. "But that's just the tip of the iceberg."