'Built on lives of hundreds of slain women, Istanbul Convention can't be taken away'
"This convention didn't come out of nowhere. It was built on the lives of hundreds of women who were murdered," says the spokeswoman for We Will Stop Femicides Platform as she rushes to a protest in Istanbul on March 20, where thousands of women are about to gather to tell the president that they simply will not tolerate his withdrawal of Turkey from the Istanbul Convention.
Azra Ceylan / Duvar English
"This convention didn't come out of nowhere. It was built on the lives of hundreds of women who were murdered."
Turkish President Recep Tayyip Erdoğan issued a decree around midnight on March 20 that withdrew Turkey from the Istanbul Convention, prompting thousands of women across the country to take to protest in what one activist described as a "need to get out there."
"Right now, we need women across the country to be out on the streets, telling the president to reverse this decision," Fidan Ataselim, the spokeswoman for We Will Stop Femicides Platform, told Duvar English on March 20, speaking while en route to a demonstration in Istanbul's Kadıköy.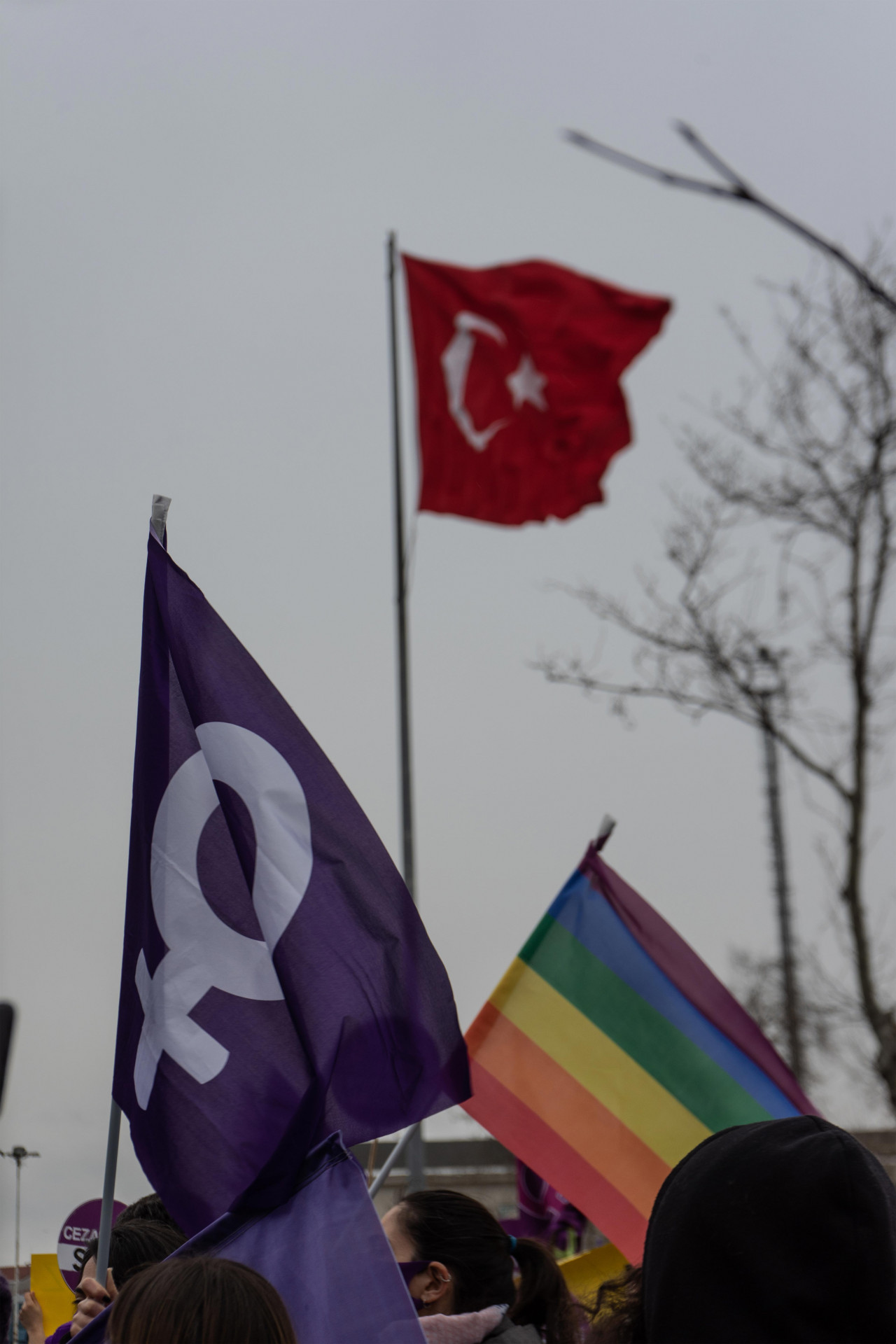 An international treaty that mandates all signatories create legislation to protect women, the Istanbul Convention has been a battleground between Turkey's feminist movement and Ankara for almost a year, with rumors of a withdrawal stirring controversy both in the opposition and in the ranks of the ruling People's Alliance.
Opposition municipalities and non-governmental organizations have been carrying out awareness campaigns about the treaty since the summer of 2020 to combat its antagonization by the government and conservative opinion leaders.
Erdoğan's midnight decree was widely interpreted as an attempt to fortify his links to pious circles prior to the elections, scheduled for 2023 but always open to rescheduling in the volatile political landscape of the country.
Critics oppose the convention for protecting the rights of "all genders," a term that they deem to be encouraging of non-heterosexual orientations and hence threatening the fundamental institution of family.
"This convention didn't come out of nowhere. It was built on the lives of hundreds of women who were murdered," Ataselim said. "They can't just take it away."
As a result of late-night and nationwide organization efforts by We Will Stop Femicides Platform and Women's Assemblies, two times were given for the Istanbul protest for 3 p.m. and 5 p.m.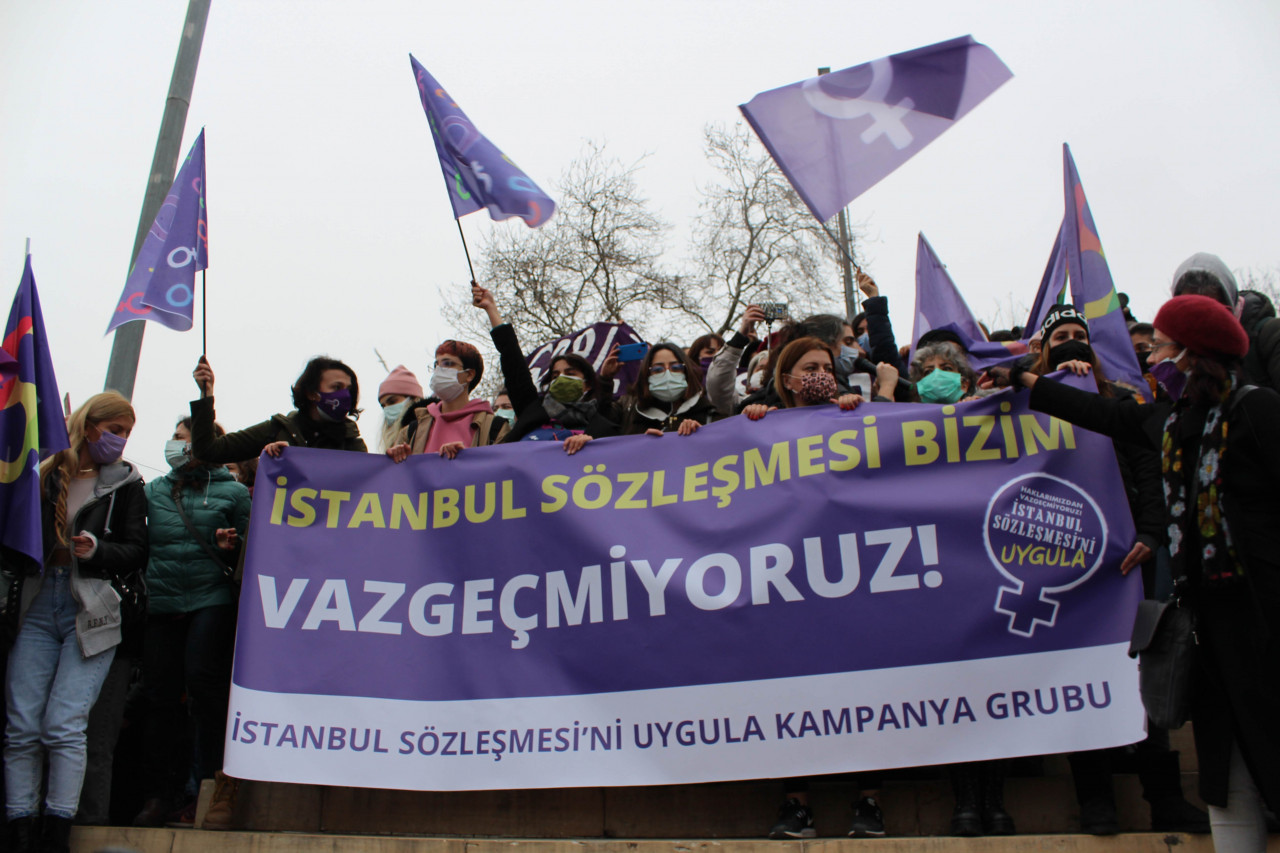 After the first protest, the groups decided to merge their crowds instead of strictly dividing their meetings, holding a rally that started shortly after 3 p.m. and lasted past 6 p.m.
"We are uniting our rallies, and we are uniting our voices," the representatives said through a megaphone over the crowd, as the protesters broke out in whistles, claps, and slogans.
Turkey's Women's Assemblies also organized an in-house protest for the night of March 21, encouraging participants to make noise at their windows at 9 p.m., a tradition from the Gezi protests of 2013 that has been resurrected amid COVID-19 restrictions and curfews.
Urgency of Istanbul Convention ruling pushed women together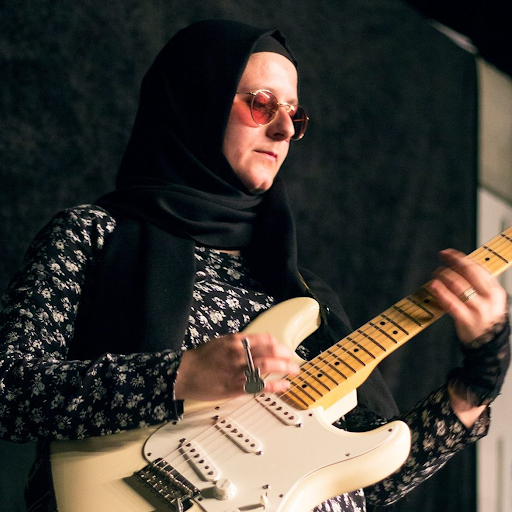 President Erdoğan's sudden withdrawal from the Istanbul Convention was a shock to the Turkish feminist movement and forced women to work together to produce fast solutions to unexpected problems, self-identified Muslim feminist activist Rümeysa Çamdereli of the Havle Women's Association told Duvar English a day after the rally.
"The Istanbul Convention debate has forced women to come together to create fast responses to a variety of issues, which is a problem in itself, waking up and facing a problem we didn't when we went to bed," Çamdereli said.
Erdoğan's move aimed to make a group of men happy, Çamdereli said, adding that she hopes conservative women's opinions will change about Istanbul Convention when they see the groups who rejoice from the withdrawal.
"We always say, you must want to beat your wife if have an issue with Istanbul Convention because it doesn't pose any other barriers. So I hope that women from different circles realize that this enforces men's hands and that we need to have a united resistance."
The feminist movement in Turkey has expanded its diversity in recent years, including Çamdereli's presence at protests, she said, adding that the women's movement has collaborated in more structured ways with the LGBTI+ movement as a result of the challenge to the Istanbul Convention.
"Despite the weather and the pandemic, women were out there past 6 p.m. I think many people, including me, felt a need to get ourselves out there and see a crowd of women, because the news [of the decree] is completely incomprehensible," Çamdereli said of the protests at Kadıköy.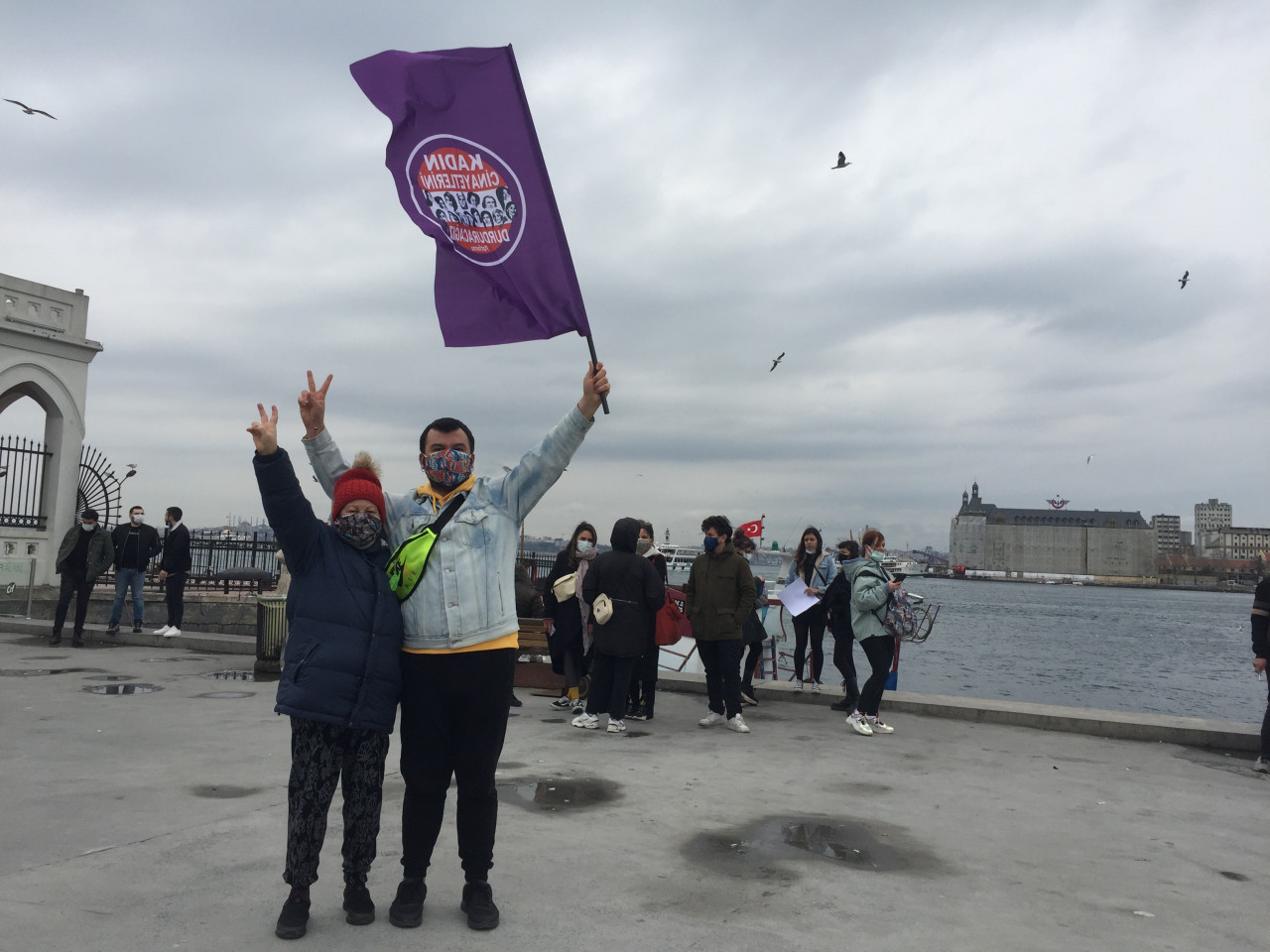 I'm here for the kids: First-time protester
Attending the demonstration with her son, 67-year-old Gözde E. said that she is protesting because she believes in the ideal of freedom, and wants to defend it, even though she is unhappy living in her own country.
"I don't feel safe at all here. They won't even let me feel like a woman. We can be killed anytime, anywhere, we can be raped. Doesn't matter if you're a man or a woman," she said, attending a feminist protest for the first time at 67 years old.
The first-timer wished to keep her last name secret as she fears the government will take away her retirement pension if they hear word of her newfound activism.
"I'm here for the kids, and for friends. Everyone should be able to live however they wish in a country like Turkey."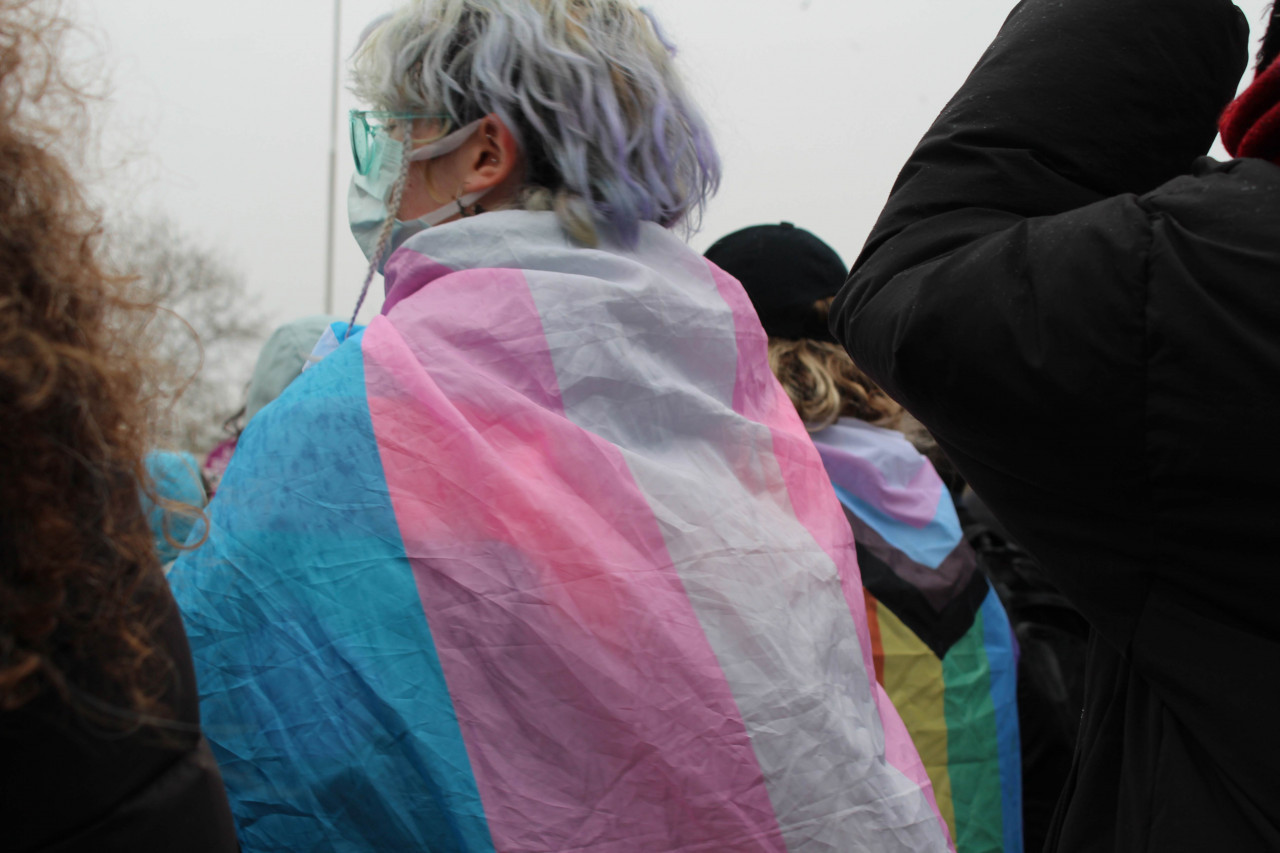 Erdoğan's abrupt decision to quit the convention was widely viewed as a blatant overlook of the country's plague of femicides, but also a categoric rejection of the identities of minorities, particularly non-binary and queer individuals.
"We're here because we want these policies of violence against not just women, but anyone who's trans, who's not a 'man,' to end," said Gözde E.'s son and LGBTI+ activist Deniz, who wished to veil their full name for their safety.
Accompanying the mother and son was Deniz's partner Oktay, who identifies as a Kurdish feminist man, adding that one doesn't need to identify with a cause in order to support it and that "feminist men exist."
"Change and revolution in this country will come about when the people start to stand by those who are different from them and speak out for their rights," Oktay said, withholding their last name to protect their post at a public institution.
To Oktay, Turkey's Kurdish community should be at the forefront of the women's movement, as the former is a group whom he said has been systematically brutalized and ignored by the government.
Possibly an unlikely trilogy of participants, Gözde E., Deniz and Oktay are part of the diversification of the feminist movement in Turkey that Çamdereli noted.
Marching up Kadıköy's narrow, winding roads on a rainy Saturday, a mosaic of women and men from all ages, backgrounds and affiliations came brought together their voices in a unique way to say that they simply will not stand the president's decree, and will instead hold on to the fruit of years' work by the Turkish women's movement.