Business owners burn chairs, tables to protest Ankara's COVID-19 policies
Business owners in Central Anatolia's Konya province burned tables and chairs in protest of Ankara's COVID-19 policies on March 18. Considered a higher risk area in the Health Ministry's data, Konya has not yet allowed the reopening of businesses like much of the rest of the country.
Duvar English
Business owners in Central Anatolia's high-risk Konya province burned tables and chairs to protest the ongoing closure mandate in the city on March 18.
Turkey's Health Ministry is lifting restrictions gradually across provinces based on the number of cases, and Konya remains under stricter regulation due to the number of high cases in the city.
A deputy of the main opposition Republican People's Party (CHP), Faik Öztrak, met with business owners in Konya during their protest, where they asked why restrictions on them endured while the government was holding mass events.
The ruling Justice and Development Party (AKP) held provincial congresses across Turkey before and during February, causing a massive spike in cases in the areas where the events were held.
President Recep Tayyip Erdoğan had boasted at one congress that the hall was filled to the brim, effectively making a mockery of pandemic restrictions.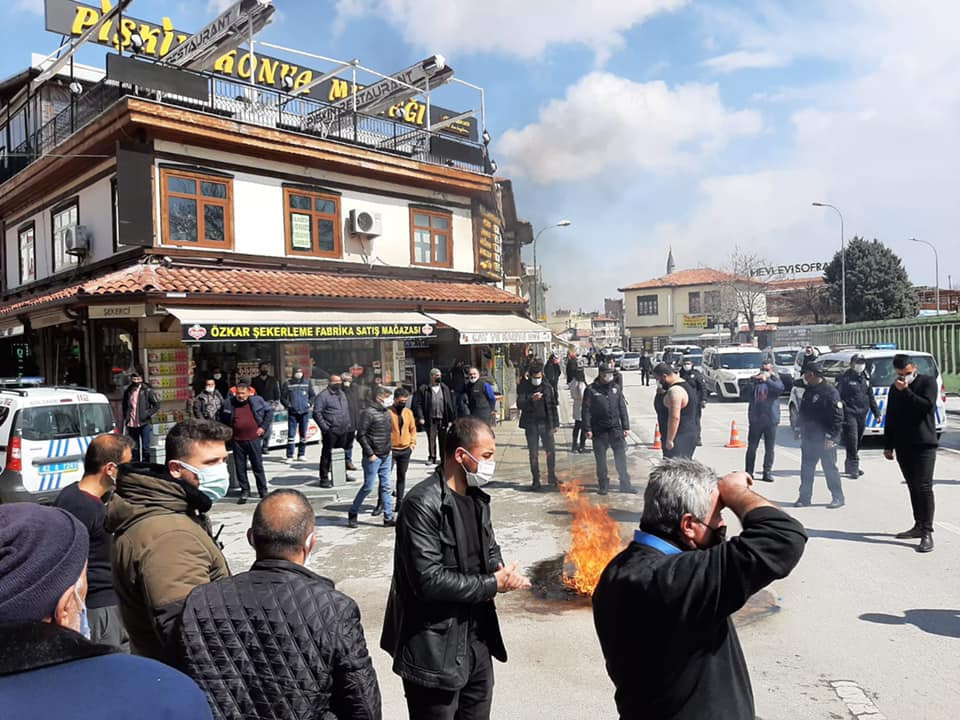 "The people want to know: Does the virus only apply to businesses, since AKP congresses are 'filled to the brim?'" tweeted Öztrak, along with a video of himself speaking with a business owner.
Memleketin dört bir yanında esnafın acı haykırışları yükseliyor.
Konya Mevlana Meydanı'nda toplanan lokanta esnafı masa sandalye yaktı.
Esnaf soruyor: AK Parti Kongreleri lebaleb doluyken, virüs sadece esnafa mı var? pic.twitter.com/gnQUPPGLhv

— Faik Öztrak (@faikoztrak) March 18, 2021
Police reportedly sprayed business owners with teargas as they tried to speak with the mayor and governor of Konya, and were dispersed before they had a chance to meet with the officials.
Some 250 restaurant owners in Konya have reportedly had to shut down their businesses because of the pandemic, and dozens more risk bankruptcy, Good (İYİ) Party Konya deputy Fahrettin Yokuş said.
"Those who hold congresses 'filled to the brim' ignore our business owners' struggles and blames their problems on them," Yokuş said.