CHP leader Kılıçdaroğlu visits protests in Akbelen Forest
Turkish main opposition Republican People's Party (CHP) leader Kemal Kılıçdaroğlu has visited villagers and activists who resist the cutting of trees for a coal mine in southern Akbelen Forest, facing harsh gendarmerie attack.
Duvar English
Main opposition Republican People's Party (CHP) leader Kemal Kılıçdaroğlu on July 28 visited the resistance of villagers and activists against the cutting of trees in Akbelen Forest for the expansion of the coal mining site in Muğla province's İkizköy district.
Kılıçdaroğlu first listened to the complaints of people, Cihan Başakçıoğlu from Gazete Duvar reported.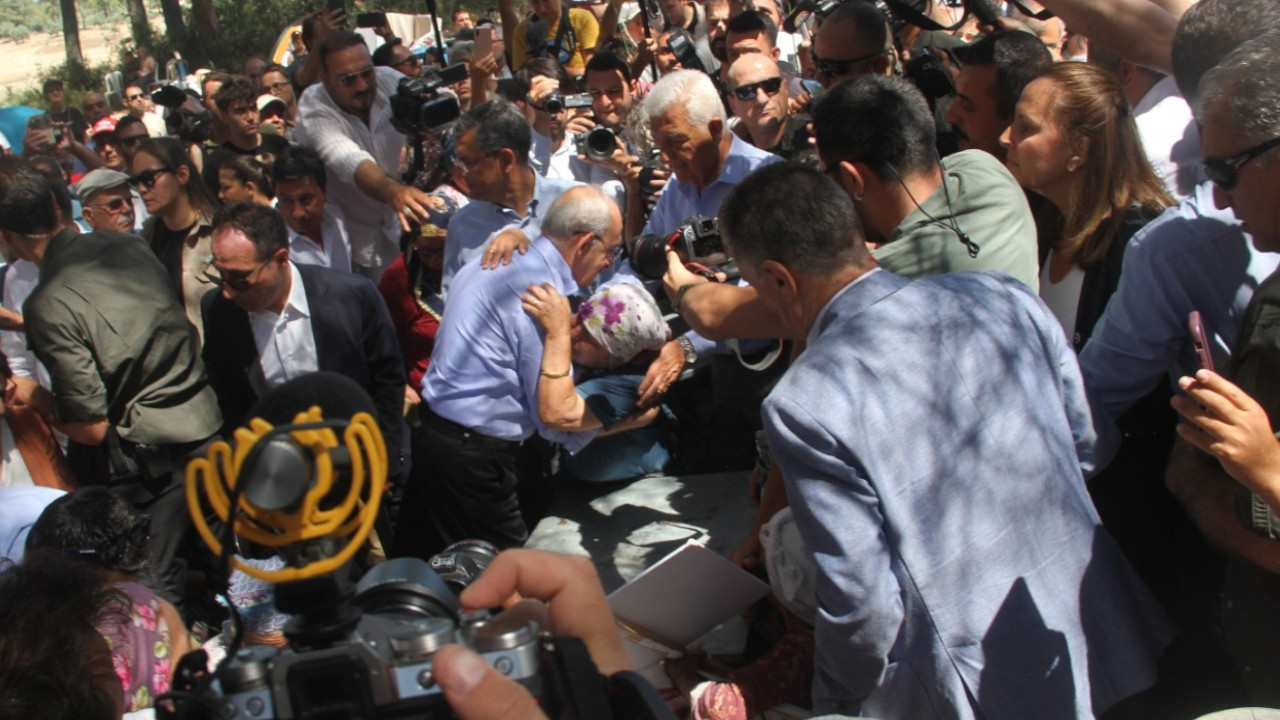 Necla Işık from İkizköy Environment Committee emphasized that they want the cutting to be stopped and said, "Isn't the Agriculture and Forestry Ministry obliged to protect these forests? Does it have to sell them to greedy companies? Call the minister. If Akbelen is lost, Kazdağları will be lost, the country will be lost. We have become so tired in five days."
Esra Işık said "You don't know what they've (gendarmerie) been doing us for four days. They pepper spray and batter 80-year-old people. People who have been producing in these lands for years see this treatment. What crime do we have other than defending our land? We will continue to stand up against oppression and violence, just as we have not been discouraged for four years."
Another villager said the number of cancer patients has been increasing in their village, and the expansion of coal mines around dries water supplies.
After listening to them, Kılıçdaroğlu said the Akbelen Forest belongs not only to the villagers, but to 85 million people living in Turkey. "I am with you. Your struggle is not an ordinary struggle, it is a struggle for rights. You want your rights. The struggle for rights is not an individual, but a collective struggle. I promise you, I will follow this case to the end. We will also appoint lawyers and deputies on this issue."
The people protested Kılıçdaroğlu when he did not go to the tree cutting area and shouted slogans of "not to the car, to the barricade."
Upon the reactions, Kılıçdaroğlu went to the tree cutting area. While the gendarmerie allowed Kılıçdaroğlu and his delegation to enter, they attacked the people who wanted to enter behind them with batons and pepper spray. Three people were detained after the attack.
On the other hand, a quarrel broke out between CHP Urfa Lawmaker Mahmut Tanal and one of the protestors.
In footage spread on social media, Tanal was seen saying to an activist that "You are an AKP provocateur. We are not in power because of people like you."
Later on, Tanal claimed on social media that "Members of some political organizations, who were uncomfortable with the presence of the CHP Delegation headed by Mr. Kemal Kılıçdaroğlu in Akbelen, accused me of 'advocating for the military and the police'."
KAMUOYUNA AÇIKLAMA:

Bugün Muğla İkizköy halkının direnişine destek için gittiğimiz Akbelen Ormanı'nda tatsız bir hadise yaşadık.

Şöyle ki: Yetkililerle, jandarmayla görüşerek, demokratik eylem hakkını kullandığı için gözaltına alınan doğa aktivistlerinin serbest… pic.twitter.com/ZGsQJtVKf6

— Av.Mahmut TANAL (@MTanal) July 28, 2023
Similar to Tanal, CHP Mersin Lawmaker Ali Mahir Başarır also argued with activists. Başarır said, "Don't yell at me" and shook his finger at activists.
Both lawmakers' quarrel stirred a huge reaction against them on social media.
What had happened?
Since 2019, the 740-decare Akbelen Forest and the İkizköylü village have been threatened by plans to extend coal mines. In 2021, the locals filed a lawsuit against the company YK Energy, a joint affiliate of IC Holding and Limak Holding, which is known to have close ties with the Turkish government, for the annulment of the project.
During the judiciary process, courts have several times ruled for the suspension of the coal mine project, but the company rejected to abide by these court rulings.
This week, the tree cutting process has been accelerated and those who protest against it saw the harsh attack of the gendarmerie teams regardless of their age.
The gendarmerie have been attacking activists and villagers by using pepper spray in the faces of them from close range and firing gas cartridges in the forested area during scorching heat.