EU's top diplomat in Turkey warns relations moving backward, not forward
In an exclusive interview with Duvar English, the Head of the EU Delegation in Turkey Ambassador Christian Berger reflected on prospects for 2020. "We are not moving forward, we are actually moving backward," told Berger. Referring to tensions between Turkey and Cyprus in East Med, he reminded that there needs to be unanimity among member states to end negotiations with Turkey. Such an agreement is not there today.
For Ankara it has been a year full of tensions with key Western partners who - for different reasons - now all have some legal frameworks ready to bring economic sanctions against Turkey. The rift with the United States over the purchase of Russian S-400 missile system would probably lead to the use of "Countering America's Adversaries Act" soon after the 2020 kicks in despite unwillingness from President Trump. Meanwhile another train crash is in the horizon with the European Union because of the oil drilling battle in the Eastern Mediterranean between Turkey and Cyprus. The European Council decision is very clear, however we do not know yet how the member states will play this game while President Erdoğan threatens to open the borders to let Syrian refugees into the EU territory. Turkish judiciary's complacency and de facto refusal to abide by the European Court of Human Rights (ECHR) decisions, as lately seen in the case of Osman Kavala, make it hard for anyone in Brussels to defend a different and fairer approach to deal with Turkey.
I thought it would be useful to do a year's end political stocktake with the Head of the EU Delegation in Turkey Ambassador Christian Berger in order to reflect on to prospects for 2020. Ambassador Berger was kind of to receive me in his office in Ankara last week for this lengthy interview. Although he mentioned that in terms of relations 2019 was better than the previous year, in between his diplomatic messages you will find that "full membership" for Turkey has already become a very distant end goal. Ambassador Berger's use of the phrase"in or with the EU" struck my attention. Although he reminded that this was always an open-ended process for Turkey, I fear in 2020 the relationship more and more will drift towards "with the EU" which implies Turkey is rather considered as a partner nation than a prospective member state.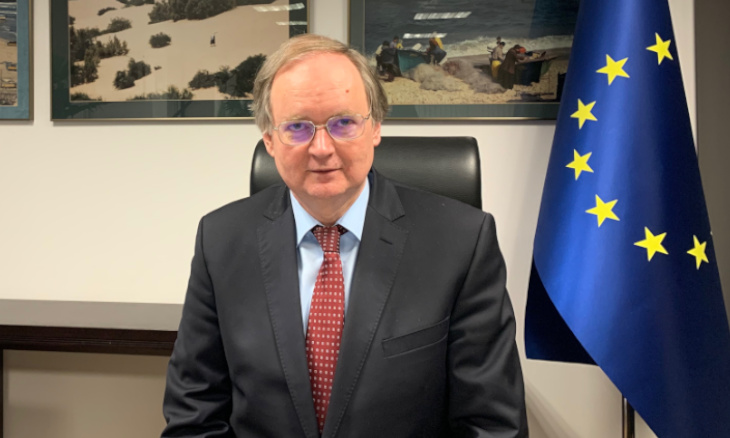 WE ARE ADCTUALLY MOVING BACKWARD, NOT FORWARD
-What is your overall assessment of the state of play in Turkey - EU relations by the end of 2019?

When you look at 2019 and if you look further back...I came here in 2016 at a very low moment in the relations. I always joke saying that I had started collecting newspapers with negative headlines about the EU. Every day there were several articles. I ended up with a newspaper pile with negative headlines reaching 1.5 meters. But that started to change with the beginning of 2017 when high level contacts were re-established. We said we needed to talk to each other we need to engage. But if you want to characterize the relationship as of today, it is a very complex relationship. Because on the one hand you have political difficulties but on the other hand it is very clear that the European Union and Turkey need each other. Just looking at the map, you will see the Turkish neighborhood is also the European neighborhood in the end and we need to deal with common issues. Spillover from Syria, spillover from other fields. There are many aspects of the relationship we cannot ignore in order to move forward.
We have seen a change in the leadership of the EU on Dec. 1. We havea new Commission, with a new President, Vice Presidents and new High Representative, a new European Parliament. I am sure you followed that the new President of the Commission, Ms. Ursula von der Leyen, on her the first day in office called President Erdoğan. Executives for migration came here in the first week they were in office.
Of course you will be aware that there were also negative developments throughout the year, mainly regarding within the concept of 'good neighborly relations'. There has been the whole controversy about the Eastern Mediterranean and gas drilling around the island of Cyprus. Latest is the story of the Turkish-Libyan agreements. This makes the relationship very complex. On the one hand we know that we need to live with each other and work together, but on the other hand there are things we are simply not happy about. We are not moving forward, we are actually moving backward.

When you look it within the bigger picture of accession 'good neighborly relations' is an important component of that. A country trying to be in the EU, needs to work on its relationships with its neighbors.
IDLIB IS A HUGE SECURITY RISK FOR BOTH EU AND TURKEY
-You named Eastern Mediterranean, Syria and Libya as problematic areas within the context of 'good neighborly relations'. The EU has been very clear in objecting to Turkey's 'Operation Peace Spring' in Syria. And you keep mentioning 'good neighborly relations'. Is it because you do not see the Turkish policies vis-a-vis these countries as 'good neighborly'?
Well, we listen to the arguments and we understand but not necessarily agree with the legal arguments being brought forward. We understand the political and security arguments as well. We always said we respect Turkey's security concerns. At the same time
Turkey and EU long agreed on many of the key aspects in Syria. One, we need a political solution, not a military solution. This was one of the concerns expressed at Turkey's latest operation in Syria because this was a military operation. Because we want a political solution, we don't want anything to undermine the process launched by the United Nations. This coincided with the first meeting of the Constitutional Committee in Geneva. We also have humanitarian concerns because people were displaced again. There are all sorts of negative stories in the press about the potential of population replacement.
EU in the statements also said what should happen in a positive sense. We want a political solution. I have been saying this for a long time; we see Turkey as a very close ally in the Astana process. We think Turkey very much represents what we want, namely finding a political solution. At the same time we also understand that the risk is not only in the NE of Syria. You have big risks in the northwest, in Idlib where you have 3 million people. In that area there are people collected from other parts of Syria, members of terrorist organizations. Turkey and the EU are also facing a huge security risk. If a terrorist ends up in Turkey, he may well end up in the EU.

-Is it the EU assessment that the intention of Ankara is apparently to keep a military presence in Syria for a long time?

I don't think we have an assessment on that. We see what is happening. Ultimately, Turkey insists on the territorial integrity of Syria.

-Does the EU have a position on the representation of the Syrian Kurds in the Constitutional Committee?

It depends who you are talking about, which Kurds. Our position is that we need an overall agreement of Syrians in this committee so of course they all need to be included in that. But they are represented in one way or the other. It is not that they are not there at all. Some of them are not there. Some groups are not there but Syrian Kurds are there.

-And that is enough for the European Union?

I don't think we have said much. We want a political solution that in the end succeeds in setting up a political system in Syria that allows the conflict and the civil war to end.

I DID NOT HEAR THE GOV'T SAYING THEY WON'T IMPLEMENT ECHR'S KAVALA RULING
-The recent ruling of the ECHR on Osman Kavala urges Turkey to release him immediately. If that does not happen, how will the EU respond?

By coincidence the day before the ruling we had a big meeting in Istanbul with the ministers of justice and foreign affairs together with the new Secretary General of Council of Europe. This was the launch of a project that in the end will help coming up with a human rights action plan. One of the topics of discussion was on how the rulings of ECHR will be translated into Turkish jurisprudence. We have done a lot on this together with the Council of Europe. And I must say, by and large, we were successful. We have now many Turkish court judgments that refer to the rulings of the ECHR. The EU issued a statement right after the Kavala ruling came out and we urged the government to respect that ruling. The issue however is broader than just the Osman Kavala case. The broader point is pre-trial detention. This is an issue that we have been discussing with the ministry for a long time. We appreciate this is one of the points they want to take up in the judicial reform strategy. Of course we would expect Kavala judgment to be respected.

-If that does not happen, how would it affect the EU-Turkey negotiations?

It will of course be reflected in the annual report. It also would be reflected in how we see the rule of law being implemented in Turkey. It would not be positive in the way the sense that Convention on Human Rights are being implemented in the country. Something that not only we but also the newly re- established Justice Academy puts a lot of emphasis on. On specific previous judgments the government said they would not implement but I did not hear anything on Kavala yet. All I can say is that recently more and more judgments are being reflected in Turkish jurisprudence. More awareness is created for the importance of these judgments being rendered by the ECHR. I hope it will continue in this direction.
WE WANT TURKEY "DEEPLY ANCHORED" TO THE TRANSATLANTIC SECURITY REGION
-Coming back to 'good neighborly relations' what about the S-400s?

It does not concern the EU directly; there is an overlapping membership with NATO but not all EU countries are members. Given that Turkey and the U.S. obviously being very important partners of the EU, we have no interest in seeing a split between the two. We want to see Turkey deeply anchored in the European or Transatlantic security region. Turkey is saying the same thing all along. Defense Minister, Foreign Minister, even the President have said this. These are important messages. I hope this issue does not have any negative impact on our relationship.

-Do you find it realistic to talk about Turkey keeping troops in Libya?

I have not seen the military agreements so I don't know what they say. In my previous job I worked on the Libyan conflict. It is very complicated with many contradictory foreign interests. It is a country you almost have a proxy war of different powers. For us, given that Libya is the immediate neighbor of two of our member states (Malta and Italy) and a transit route for migrants from Sub-Saharan Africa, we want to work with this country.
SANCTIONS IS NOT A WESTERN THING, LOOK AT RUSSIAN SANCTIONS ON TOMATOES

-We have had many bumps on the road in terms of the last decade of Turkey-EU relations. However, it is the first time EU is effectively talking about sanctioning Turkey because of its drilling actions in the Eastern Mediterranean.

It's 'Targeted measures' (Laughs)

-Well...let's take your characterization and call them targeted measures. Anyhow, this trend goes parallel to the possible sanctions to be introduced by the U.S. for different reasons. Sanctioning Turkey is becoming a Western tool in dealing with the Turkish government.

May I remind you about the Russian sanctions on Turkey, tomatoes and etc. (Laughs) It is not a 'Western' thing. But let me be clear, this has not come as a surprise; in numerous statements of the Council the EU has called on Turkey to change its approach.
THERE IS STILL A WAY OUT IN EAST MED BUT...

-The EU is taking the side of its member state in the Eastern Mediterranean. Could this bring the end of official negotiations with Ankara if this escalation continues?

It is very difficult to predict this for many reasons. You have on the one hand a very strong sense of solidarity with Cyprus. Therefore the European Council agreed on setting up a framework, which could be used for imposing these restrictive measures on Turkey. Though, this is still a framework. So, nothing concrete has been decided in terms of what type of actions against who, what kind of measures should be taken. There is a broad range of things that can be done.

Look at the history of this. It is not like we immediately came to this. We kept saying 'Let's deescalate, let's do something that doesn't lead to some measures'. But now, we have reached a stage where this framework has been agreed. But again it is not the final stage because we still have not imposed any of these measures. There is actually still a way out of this by talking, by negotiating, by saying that we want to find a solution. The way we see it is that you actually have a double problem. There is a dispute regarding the overlapping area the Turkish continental shelf and the Cypriot exclusive economic zone. The international law, convention law and also the customary law say if you have a conflict like that, you need to negotiate and you need to arbitrate. Both sides, Cyprus and Turkey, seem to agree on this. But, because of Turkey not recognizing the Republic of Cyprus, this is not happening.

The other issue is that you have a similar issue because both populations on the island agree that the natural resources need to be shared for the benefit of both sides. But it is difficult. There is always the possibility of finding a solution. Now, if this will end in negotiations, I can't tell you. Because it needs the agreement of all member states. There might be member states, which will not agree with this because of the importance of relationship with Turkey. In several countries you have a big Turkish population. There are some others who have been saying for some time that we should end the negotiations for accession with Turkey. So, there is no agreement on this. You need unanimity among the members. It depends on how the situation develops and how strong the sense of solidarity is among members and whether or not ending the negotiations is an answer to that. I really can't tell you.
-Judging by the immediate response of Turkish President Erdoğan, instead of a negotiation Ankara seems to be getting ready for a fierce fight. Because he said if the EU imposes sanctions on Turkey then Turkey might open the gates to send the refugees to Europe. How do you think this rhetoric of defiance would affect the attitude of member states?

It is more complex than that. And we are talking about two different issues: the situation in the Eastern Mediterranean and migratory pressure. On the first the EU has been clear and on the latter the EU will continue providing support.

IT IS ONLY THE EU GIVING TURKEY MONEY FOR SYRIANS
-Are these statements from the Turkish side poisoning the atmosphere?

Yes, any of these threats are not appreciated. Let's assume this happens. Is it not an invitation to anyone to come to Turkey because they know that their gates are open to the European Union? And
Syrians are not the main issue today. Theree are also Afghanis for example. Syrians, I am not sure what they want. There was a poll I saw which showed that larger part of the Syrian population wants to stay here in Turkey, close to their home.

I understand the frustration in Turkey that they think they are not helped enough. There is a broader picture though. The EU is not only helping Turkey. It is helping Jordan, Lebanon, Iraq and Egypt. We have a massive migration problem coming from Libya. It is often misunderstood in Turkey that the EU is only dealing with migrants coming via Turkey. No! We have migrants coming from everywhere. But the component what we are doing here is important. We understand the problems Turkey is facing. We will not let you alone, we will continue working with you. We may have a different perception on how quickly this money is spent. Because we, very earlier on, agreed said that this would be on the basis of projects. It is not like writing a check of a total of 6 billion euros. It is not spent in one go. But the money is being spent. Actually, to give you one example, we have great success with the 'Kızılay Card'. We give money to the refugees who can then buy what they need locally. This concept, which was developed here is now used internationally: it gives dignity to vulnerable these people, so that they can decide themselves what to do with the money. It is not huge money but it is going straight into the local economy.

Whenever people are complaining, I say that the EU has promised money, the EU is paying money. It is only the EU. I am not sure there is nobody else. How much money has arrived here for the refugees from other countries or other organizations? It is either us or via the UN. Again, I appreciate the view that more money is needed but we are the ones providing and will continue providing assistance.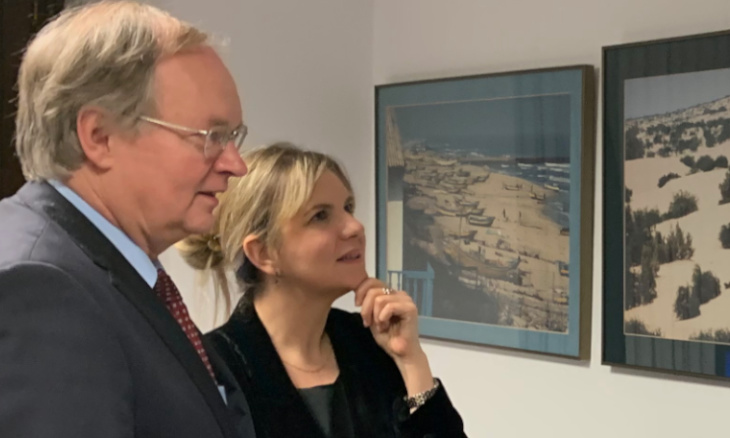 "IN THE EU OR WITH THE EU"
-Although things look very gloomy both for Europe itself and also for Turkey-EU relations, since this is the year's end interview, I would like to ask you whether there is anything left to be hopeful on the future of the relationship.
Despite the "ups and downs" in the EU-Turkey relationship there has always been a way forward; given our interdependence there must be a way forward. We have much in common, ranging from geography to the environment, from security threats to the strong belief in multilateralism and the importance of international structures. A renewed engagement will hopefully help to address difficulties and differences.

I have also seen that what people say about the EU has fluctuated. Often, in meetings with civil society representatives, Turkish deputy FM always asks who among them wants the join the EU. And usually more than 70-80 percent of the Turks in the room say 'yes' Then he asks 'Do you think we will join the EU?'. The same 70 percent say 'no'. When I look at businesses, at universities, they are on the same level as many EU countries. I understand why the larger part of the population sees its future in the EU or with the EU…whatever happens in the process.

-It is interesting that now you officially started to use the phrase 'in or with the EU' in reference to Turkey's process.

Look, it has is always been a 'with' but 'the with could be an in'. (Laughs) You have to be honest about this. Even if tomorrow, we as institutions were to say Turkey has fulfilled 35 chapters of the negotiations, we still will have to go to a referendum in many countries. I don't think I can tell you what the outcome would be. In quite a few countries it will probably be a 'no'. But this has partly to do with the perception of Turkey and partly to do with the enlargement process itself.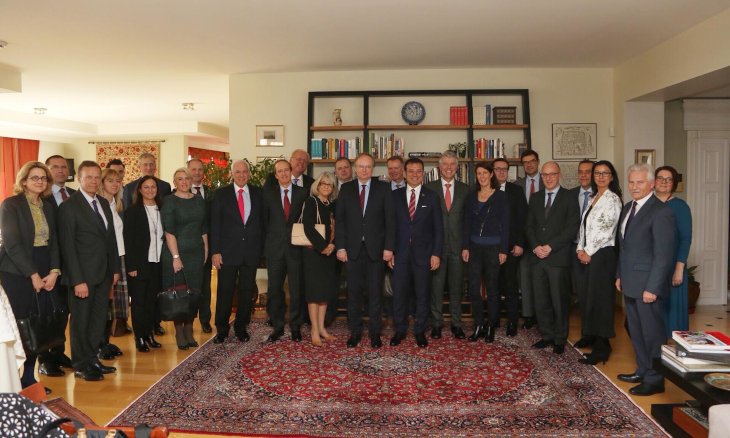 İMAMOĞLU CERTAINLY CATCHES OUR ATTENTION
-In your capacity you do meet a lot of mayors. But your meeting along with ambassadors of the EU members states with Istanbul Mayor Ekrem İmamoğlu got a lot of attention probably because he is a rising figure in national politics as well. He is someone that is being closely watched from outside as well. What was your impression of him? As the EU side, do you have any expectations from the Mayor of Istanbul?
First of all, apart from who the mayor is, Istanbul is a very important city for us. It is bigger than many of our member states. It is the center of business, financial markets, media etc. But also we have many projects and programs in Istanbul from transport to environment, also on refugees. We are building kindergartens, schools in the city under the refugee facility. Regardless of who the mayor is, Istanbul is a very important counterpart for us.

And as for İmamoğlu, given the way he came to office in a repeated election, there is obviously high attention on what he is doing or saying. He is an experienced mayor. He seems to be popular. So, he is certainly a person that catches our attention. But it is not only him. İmamoğlu is a successful mayor of a big city, whatever people say his future may be...(Laughs)

WE WERE NOT INVITED TO FUTURE PARTY'S INAGURATION
-What is your view of the new political parties, one already established and one in the making, Davutoğlu's and Babacan's?

Look...we are all in favor of a pluralistic, democratic development in any of our partner countries. We are following this very closely. Of I don't want to comment any further. It is a domestic issue.
-Did you have representatives at the launch of Davutoğlu's Future Party?

No. I don't think we were invited. I don't know from other colleagues either.

-What was one positive thing about the relations in 2019?

I think what was positive in Turkey-EU relations in 2019 is this repeated statement from the President and other officials that they see their place in the EU. This has been noted and taken on board. And again, maybe it is symbolic for EU-Turkey relations, but this reform strategy is also important for the country. These were important signals after all this negative narrative that we had in the year before.