On drinking rakı at home
One positive outcome, if we can call it that, of the pandemic is that many of us have begun learning new skills. Bread has become the classic example. Yet certain habits are more difficult to satisfy at home. For many friends I know, drinking rakı at a meyhane is one of those experiences that they have missed the most.
The COVID-19 continues to tear through Turkey, leaving an ever-increasing death toll in its wake. Those who can afford to spend more and more time at home. And now the Turkish government has issued a four-day curfew for the country's major cities, which means that this long weekend, even people who don't have the privilege of working from home are trapped within four walls until Sunday at midnight.

One positive outcome, if we can call it that, of the pandemic is that many of us have begun learning new skills. Many of the things we used to waste money on can be made easily and cheaply at home. Bread has become the classic example. From Izmir to Ireland, self-declared sourdough experts across the world are the butt of coronavirus-themed jokes. Yet everyone has their own techniques for battling the quarantine blues. Some have satisfied their longing for live music by learning a new musical instrument. Others find comfort consolation in the habits of their grandparents' generation and have taken up sewing or knitting.

Yet certain habits are more difficult to satisfy at home. For many friends I know, drinking rakı at a meyhane is one of those experiences that they have missed the most since bars and restaurants were shut down in March. The strong, anise-flavored liquor can of course be drunk anywhere. Yet rakı is best enjoyed at the establishments that specialize in the traditional appetizers (meze) that suit the drink and curate the perfect atmosphere for heartfelt, tipsy conversations.

Just as many were overcome by the longing for their favorite drinking establishments, rakı-culture experts Mesut Ergün and Metin Solmaz have published a book arguing that the best meyhane might just be one's own home. Evde Çilingir Sofrası: Meyhane Eve Sığar was released earlier this week as a free e-book. The book was published by Anason İşleri, an online store that has collaborated with talented illustrators and designers to offer adorable (if expensive) rakı-themed products ranging from posters to T-shirts. In this latest offering, the book's editors provide 296 pages of glossy color photos, detailed articles about the history of rakı - and most importantly 91 meze recipes.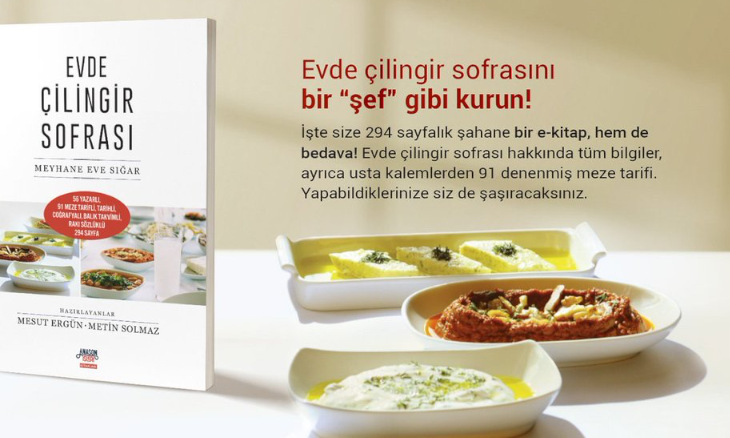 While many of us have long enjoyed preparing meze at home and have developed our own methods of preparation, Evde Çilingir Sofrası pulls back the curtain on how some of the most beloved meyhanes from Istanbul to Bodrum prepare their signature dishes. In these pages, one can learn how the chefs at Asmalı Cavit in Beyoğlu make their delectable kıymalı muska böreği (triangle-shaped meat pastries) or compare how various restaurants prepare that king of rakı dishes topik (an Armenian meze made with chickpeas, cinnamon-infused onions, and pine nuts).

The book also includes a chapter from music critic and Gazete Duvar columnist Murat Meriç providing some suggestions for the perfect soundtrack for your DIY meyhane. Meriç writes that the rakı table "is one of the best places to get to know people and music is an important catalyst for this. However, for the time being, conditions have made it more proper to drink at home." For this situation, he offers some eclectic suggestions for the home-drinking experience. While some would say that the only correct music for drinking rakı is the classical stylings of musicians like Müzeyyen Senar or Zeki Müren, Meriç argues that songs from Bruce Springsteen to Neşet Ertaş, Bob Marley to Sibel Alaş can grace the rakı table. For those more traditionally minded, however, Meriç also offers suggestions from his 2019 book Hayat Dudaklarda Mey, a history of rakı and local music that comes with a 213-song playlist.

Other chapters in Evde Çilingir Sofrası dig into the complex subject of rakı-drinking etiquette. In the geographical area that is today Turkey, rakı has been drunk in its current form at least since the 17th century. Over this long period, particular modes of socializing, conversing, and carrying oneself have developed around the liquor. In his chapter, Feridun Nadir discusses why the place where rakı is consumed is called the çilingir sofrası (locksmith's table). Rakı stimulates deep and sincere discussion among friends, metaphorically unlocking the secrets of the hearts. Yet rakı also requires balance, Nadir argues. The drinker should be neither weepy nor aggressive. It is alright to spill one's heart, but the conversation should never turn into a monologue. Similarly, the ratio of rakı to water, or olive oil dishes to meat dishes, is a matter of balance. The music, too, should neither be too loud or too quiet.

While the best meyhanes have methods for providing this perfect balance, one benefit of being at home is creating the perfect atmosphere for your own locksmith's table. Without needing to wave down a waiter, you can make sure your ice is cold, your bread hot, and the dishes appear right at the perfect moment. One can pass around the phone to ensure the music keeps pace in line with the conversation, or even create a collaborative playlist. And one can re-create the mezes that reminds one of the places one miss or instead invent one's own new creations.

The question of how we enjoy ourselves or blow off steam is not a trivial one. As the pandemic continues to ravage the outside world, it is essential that we find ways to maintain normalcy and allow for moments of shared pleasure.

Yet pleasure, particularly when it comes to food and drink, is never not political. While rakı was once an affordable drink enjoyed by rich and poor alike, the current government's repeated hiking of the special consumption tax and value-added tax (VAT) has pushed rakı further and further from the reach of working people to the point where it has become a luxury product. The price of a standard 70 cc bottle of rakı 72% tax. In 2002 a bottle cost 8.25 Turkish liras ($1.19). Today it is 152.50 ($21.91). Seeking to avoid these exorbitant taxes, some have taken to making "rakı" at home by mixing ethyl alcohol with anise.

Beyond the economics of rakı, there is also a social and emotional dimension to the question of creating a DIY meyhane. While some are lucky enough to live with their favorite drinking partners, others remain isolated at home. Rakı, some would argue, does not taste the same without company. For this problem, the writers of Evde Çilingir Sofrası suggest bringing a tecnological dimension to your meyhane and using video-chatting platforms to virtually meet your friends. The rakı and meze may taste different, but at least you can share the same conversation.

At least, if suffices to hold us over until we can again meet face to face across crowded tables.