Istanbulites ditch public transportation as coronavirus fear spreads
Public transportation ridership is down by 10 percent in Istanbul in the last three days, the municipality announced on March 13. The number of passengers has reduced to around 6.73 million per day from 7.44 million amidst growing concern over the novel coronavirus, the municipality spokesperson announced.
Duvar English
Istanbul Metropolitan Municipality (İBB) announced on March 13 that public transportation ridership dropped 10 percent in the last three days amidst growing concern over COVID-19, more commonly known as the novel coronavirus.
"Due to the risk of epidemic, Istanbul has seen a decrease of 10 percent in the subway, metrobus and bus usage in the last three days," İBB spokesperson Murat Ongun said on Twitter.
"It has been determined that citizens are preferring to hit the road with their private vehicles," Ongun said, adding that the municipality's works to disinfect public transportation vehicles are continuing "non-stop."
Salgın hastalık riski sebebiyle İstanbul'da son 3 günde metro, metrobüs ve otobüs kullanımında yüzde 10'luk düşüş görülmüştür. Vatandaşların özel araçlarıyla trafiğe çıkmayı tercih ettikleri saptanmıştır. Toplu ulaşım araçlarının dezenfeksiyonu aralıksız olarak devam etmektedir. pic.twitter.com/Ih2VBLoRgH

— Murat Ongun (@Mrt_Ongun) March 13, 2020
According to the graphic shared by Ongun, 7.44 million people used public transportation on March 9, whereas this figure dropped to 7.05 million on March 10, to 7 million on March 11 and to 6.73 million on March 12.
Turkey confirmed its first coronavirus infection early on March 11, becoming the last major economy to report an outbreak after taking what the World Health Organization (WHO) described as "vigilant, cautious" measures.
On March 13, officials announced that the number of coronavirus cases had reached five in the country.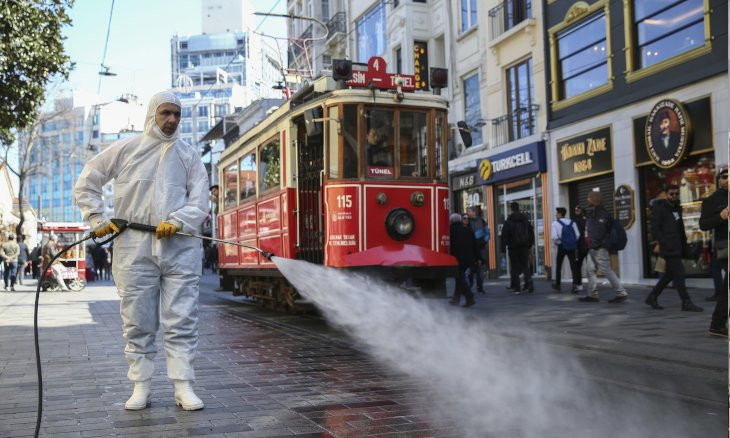 Number of confirmed coronavirus cases rises to 5 in Turkey