Turkey halts flights with nine European countries to contain coronavirus
Turkey is halting flights from and to Germany, France, Spain, Norway, Denmark, Belgium, Austria, Sweden and the Netherlands as of March 14 morning until April 17 as part of efforts to contain coronavirus, Transportation Minister Mehmet Cahit Turhan said on March 13.
Duvar English
Turkey's Transportation Minister Cahit Turan said on March 13 that the country has expanded its existing coronavirus flight bans to include nine more countries: Germany, Belgium, France, the Netherlands, Spain, Denmark, Sweden, Norway and Austria.
The new travel bans will apply as of 8 a.m. on March 14 and are slated to end on April 17, he said.
Turhan said the list could be updated, depending on developments.
Turan made the comments during a press conference along with Health Minister Fahrettin Koca and Justice Minister Abdulhamit Gül.
Turkey had already suspended passenger flights to and from Italy, Iran, Iraq, South Korea and China.
Turkey had previously also closed its land border with Iran. Due to this, a new route has been "formed" through the Georgian border for shipments so that trade relations are not adversely affected, Turhan said.
Following Turan's announcement, the national flag carrier of Turkey, Turkish Airlines, said late on March 13 that it canceled flights from the nine European countries.
"Due to the coronavirus (COVID-19) outbreak in Europe, our flights from Germany, France, Spain, Norway, Denmark, Belgium, Sweden, Austria and Netherlands as departure point are suspended starting from Saturday at 8:00 am [0500GMT] until 17 April," the company said in a statement.
ℹ️

[Update]

Attention to all our passengers! pic.twitter.com/lpGXVaLgOS

— TK HelpDesk (@TK_HelpDesk) March 13, 2020
Late on March 13, Turkey's Interior Ministry issued a circular saying that citizens of the nine European countries would not be allowed into Turkey at all border crossings – starting as of 8 a.m. on March 14. The ban will be also valid for citizens of other countries, if they have been to these nine European countries within the last 14 days.
If citizens of these nine European countries wish to leave Turkey, they will not face "any restriction," but Turkish citizens will be barred from traveling to those countries, the Interior Ministry said.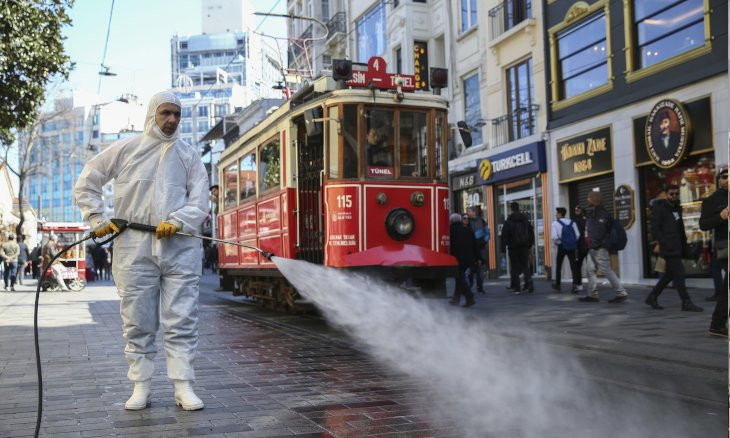 Number of confirmed coronavirus cases rises to 5 in Turkey