Turkey's coronavirus death toll reaches 1,890 with 82,329 cases
Turkey on April 18 confirmed 121 more fatalities from the novel coronavirus outbreak over the past 24 hours, bringing the death toll to 1,890. The total number of registered coronavirus cases surged to 82,329 as 3,783 more people tested positive for the virus, Health Minister Fahrettin Koca said.
Duvar English
Turkey's confirmed coronavirus cases have risen to 82,329, Health Minister Fahrettin Koca said on April 18, overtaking neighboring Iran for the first time to register the highest total in the Middle East.
An increase of 3,783 cases in the last 24 hours also pushed Turkey's confirmed tally within a few hundred of China, where the novel coronavirus first emerged.
Koca said 121 more people have died, taking the death toll to 1,890. A total of 1,822 people have recovered from coronavirus so far, and the number of tests carried out over the past 24 hours came to 40,520, the minister said.
"The number of our recovered patients has exceeded 10,000. We have important advantages in treatment. Despite the increasing number of tests, there is a drop in the number of newly added cases," Koca wrote.
Şifa bulan hasta sayımız 10.000'in üzerine çıktı. Tedavide önemli üstünlüklerimiz var. Artan test sayımıza rağmen yeni eklenen vaka sayısında düşüş var. İki gücümüz var: Tedbir, tedavi. Gücümüzü kullanalım.https://t.co/RVlhe7786O pic.twitter.com/JlmrSmkUyf

— Dr. Fahrettin Koca (@drfahrettinkoca) April 18, 2020
Turkey is currently treating a total of 1,894 patients in intensive care units, according to official figures.
The Interior Ministry also said it was extending restrictions on travel between 31 provinces for a further 15 days starting at midnight on April 18.
Turkey's fresh two-day curfew in 31 major provinces, including Istanbul, took effect at midnight on April 17 to stem the spread of the virus.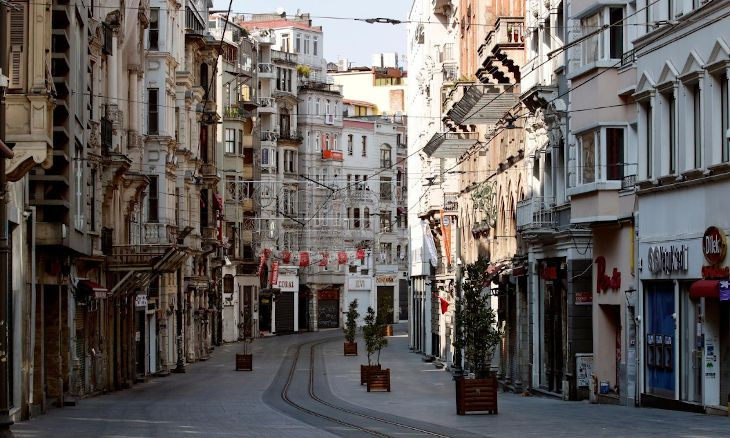 Turkey implements second consecutive weekend curfew in 31 major provinces
Bakeries, hospitals, pharmacies and workplaces producing health products and medical supplies will continue to function during the 48-hour curfew.
Turkey's first lockdown was imposed on April 11 and 12. This first weekend curfew was announced only two hours before its imposition on April 10, causing citizens to rush out in a bout of panic buying.
Several people, including Istanbul Mayor Ekrem İmamoğlu, criticized the way the first curfew was carried out, saying the wave of panic-buying likely caused further contagion. İmamoğlu said he had not been consulted by the government on the decision.
Erdoğan said on April 13 that the government will take the necessary precautions for scenes of "unnecessary chaos" not to arise again.
During the week, the stay-at-home order only applies to those under the age of 20 or over 65. All other citizens are in theory allowed to go out, although authorities urge to them to stay at home if possible.