Distance-teaching in a distant village in Turkey in the time of corona
Pınar Öğünç writes: A young teacher in a village near the southeastern Diyarbakır province, has a different story to tell about social distancing and the COVID-19 outbreak. In that village, many families don't even have phones and some Syrian children live in sheds. Another major problem is the mother tongue which was of course not considered in the government's distance-teaching directive.
Pınar Öğünç / DUVAR
A young teacher in a village near the southeastern Diyarbakır province, has a different story to tell about social distancing and the COVID-19 outbreak. In that village, many families don't even have phones and some Syrian children live in sheds. Needless to say, it is no easy feat to teach from a distance in these conditions. She tells her story:
"I've been teaching in villages for 10 years. Before teaching in a district of Diyarbakır, I taught at a village in Van where there was no transportation. Roads there are closed for six months of the year. Phones are out of coverage.
There are only a few teachers in the school and few students. And as we only have one classroom, we turned one of the teacher's lodges into a classroom. That's a space in which only three or four desks would fit.
Our most important problem is the mother tongue issue. Children here start school behind their national peers. Central authorities do not seem to grasp this.
I have Syrian students whose families have come from the town of Kobani. Because water is scarce here, wells are drilled and families are paid to watch over them. Many live in sheds. Some of these Syrians are Kurdish. Personally, I'm able to understand their children although their language differs from Diyarbakır Kurdish. Despite this, there's inequality amongst my pupils. While all of them are Kurdish, locals see those from Syria as workers whose parents work in the fields of their fathers. Oddly enough, the local pupils do not speak in Kurdish to them. Speaking to them in Kurdish is shunned upon. They don't play together either. There's a hierarchy between them and I struggle to build peaceful relationship between them.
The kids from Syria usually live far away. Since they do not have a shuttle bus, children walk almost 10 kilometers every day. Because the fields are muddy, they pass through them in boots and then they change into their normal shoes on the side of the road. Because of this, they cannot come to school in winter. Even in light rain, they cannot walk this distance.
How could there possibly be distance education in a village school? As teachers, when we received the first directive on distance teaching from the state, we couldn't even explain this to the children. We prepared books and tests, which we distributed to them. In a village school, teachers form one-on-one relationships with parents. We visit their houses, pass by their fields and buy tomatoes and cucumbers from them. While we knew we wouldn't be able to do distance teaching, we were concerned that the Ministry of Education would control whether or not we abided by the directives.
Before I could ever move on to EBA, the Education Informatics Network, I tried reaching them all by phone. At best, I was able to find the uncle or another relative of the pupil I was looking for. They told me they would call back in the evening after they had stopped by their house so I could speak to the pupil in question. I could not reach some of my Syrian pupils at all. I have much trouble explaining the situation to parents.
I set up a WhatsApp group and call those that do not have a phone separately. That's how I share the class material with my pupils. From time to time, I videotape myself and send it to them. Some of them videoed me back. I also recorded the Kurdish version of that video. Some of my Syrian students do not speak any Turkish other than "come", "go", "book" or "orchard".
Of course, the government did not consider the language problem in its distance-teaching directive. In class, I understand from the facial expressions of the pupils that they don't understand. At least the fact that I speak Kurdish is reassuring for the child. Yet that's impossible with education from the television or the Internet. Even if it is interactive, the child does not understand; those at decision-making levels do not seem to understand that.
Besides, some of my pupils suffer from hearing and speaking disabilities. Others have autism. Again, these are issues the government has no taken into account.
I could teach my lesson, send them tests and leave it there. I would be doing my job. But because I care about the children's feelings as much as I care about mine, I can't help but feel despondent.
When you are appointed as a class teacher, you have a poor chance of working in a city center. In Turkey, teachers are appointed through a scoring system, which is highly unequal. For instance, let's say I receive 30 points in a village school. The school I want to be appointed at should not select somebody who has points lower than me. Because teachers of 25 to 30 years of work experience always work at centrally located schools and they do not ask to be appointed any other place, I have no chance of working at a central school. All village schools are not the same either. There are village schools with central heating, shuttle service, generator. One would also receive 30 points a year in those schools.
In the school I teach at, I have to turn on the school's stove myself. This has give has me pharyngitis. We don't have a janitor and have to buy our own wood. There is no shuttle to bring us to the school. The poverty I see at school wears me down. Sometimes, I buy a pair of boots or a coat for some children myself.
I usually stay in touch with my pupils. Very few of them pursue their education at higher levels. The most they attend is high school. I have a student working in construction in Istanbul, another working at a logistics company in Eskişehir, another one is a construction worker in Mardin. They have also been on lock down where they are because of the pandemic. I hear from them that they cannot earn a living and are very worried."
On the day we spoke, it was announced that there were 61,049 cases of coronavirus and 1296 deaths.
How is it possible to 'heal' when we are surrounded by an order rooted in deep inequality, the sexist division of labor, and exploitation in every aspect?
Women, men, workers, civil servants, the unemployed, white-collar workers, blue-collar workers, those saying that the "collar" era has changed, freelancers, those who work at home, people still working, those forced to work, those under quarantine, those who can't see the future, and those worn out from what they have seen are telling their stories.
The reason for having started this series of long articles is for hearing each others' voices and searching for our own strength in those of others.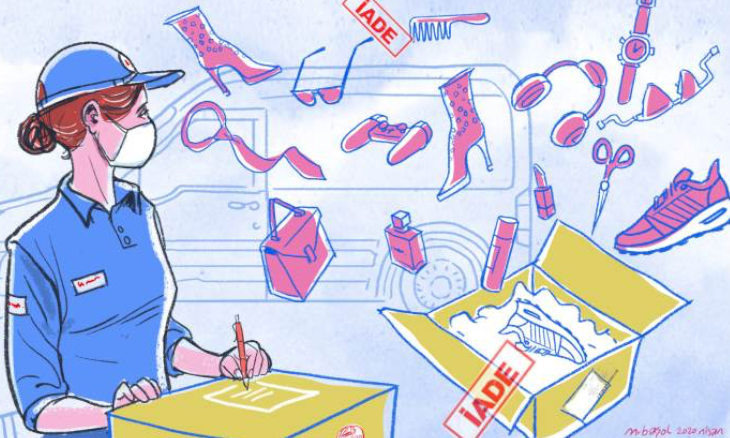 'Online shopping during COVID-19 outbreak reveals the worst in Turkish people'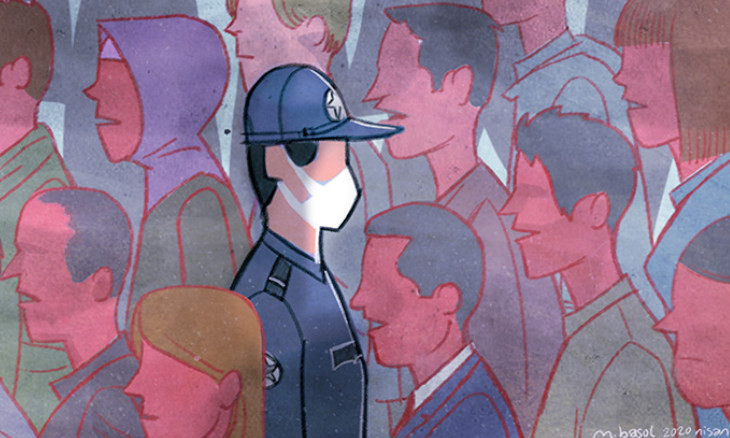 The reflections of a hospital security guard: If I am lucky to find a mask I have to use it for 12 hours