Turkey's top religious authority mandates masks and social distancing for worshippers as mosques reopen
Turkey's Religious Affairs Directorate (Diyanet) mandated facemasks and social distancing inside mosques, which will reopen after months of closure on May 29. The Diyanet also urged congregations to conduct mass prayers outside and visitors to perform ablutions at home, rather than at public sinks in mosques.
Duvar English
Turkey's Religious Affairs Directorate (Diyanet) announced preventative measures for mosques and mass prayers as the country's houses of worship are poised to reopen on May 29 after more than two months of closures.
The Diyanet regulations aim to prevent the spread of COVID-19 in mosques, which have been closed to visitors since March 16.
The Diyanet said that people visiting and attending mosques will no longer be allowed to perform ablutions at public facilities, but will have to do it at home instead.
Worshippers would usually be allowed to use the public sinks in the courts of mosques, but these will be closed, the Diyanet noted.
Visitors in mosques will be required to wear masks, bring their own prayer rugs and keep a safe distance from other worshippers.
The Diyanet mandated that the mass Friday prayers be held in the mosque's court, in an attempt to prevent crowds from filling the mosque's closed space.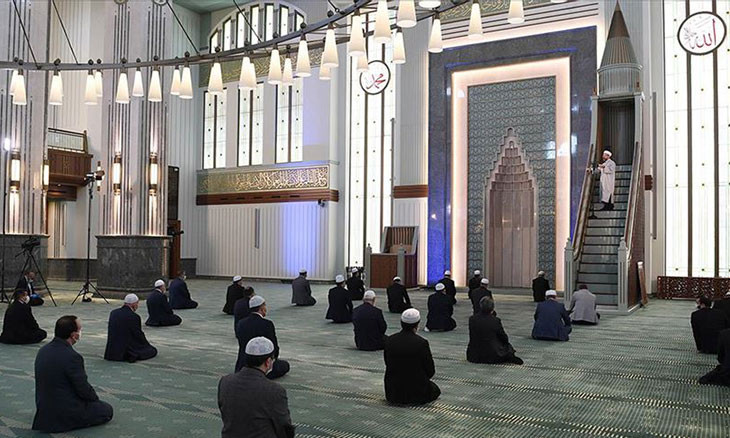 Only Friday prayer in Turkey held at presidential mosque under coronavirus precautions
Imams leading mass Friday prayers will be encouraged to skip their sermon and to keep the ceremony as brief as possible.
However, mosques will be left open for any worshippers who choose to pray alone during mass Friday prayers, as well as during the mass prayers at noon and mid-afternoon everyday.
The directorate also strictly forbade any handshaking, physical greetings after prayer.
Citizens under curfew or in a high-risk group for COVID-19 are encouraged to stay away from mosques.
None of the desks, prayer beads or shoehorns at mosques will be available during this time.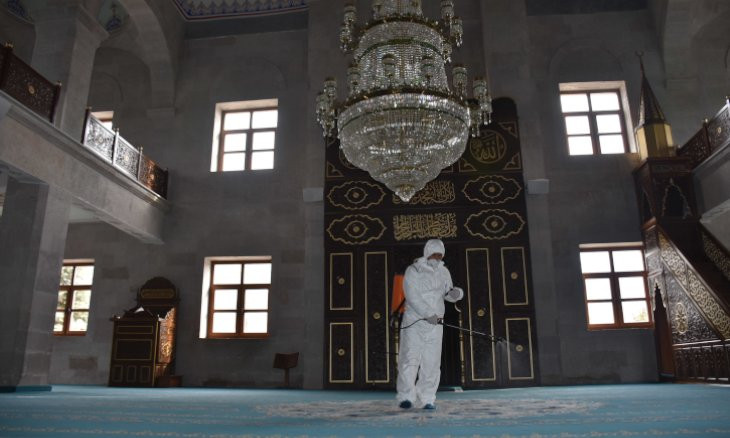 Turkey suspends mass prayers in mosques to halt virus spread
Teachers forced into assisting mass prayers
Meanwhile, the daily newspaper Birgün reported that the Education Ministry's district offices requested educators to assist in the distribution of masks and hand sanitizer to congregations during the first mass Friday prayer after closures on May 29.
Teachers who refused to take part in these efforts were reportedly told that if they didn't volunteer, they would be put on official duty.
The Education Ministry's district offices reportedly commissioned school principals to recruit at least 200 male teachers to work at their local mosques.
In a text that was claimed to be the Education Ministry's official notice which circulated on WhatsApp, teachers were told that they would work for an hour during the prayer to distribute sanitary products and ensure social distancing.
"Any employees who volunteer will be noted in later assignments," said the text which a school principal sent out in the western province of Manisa.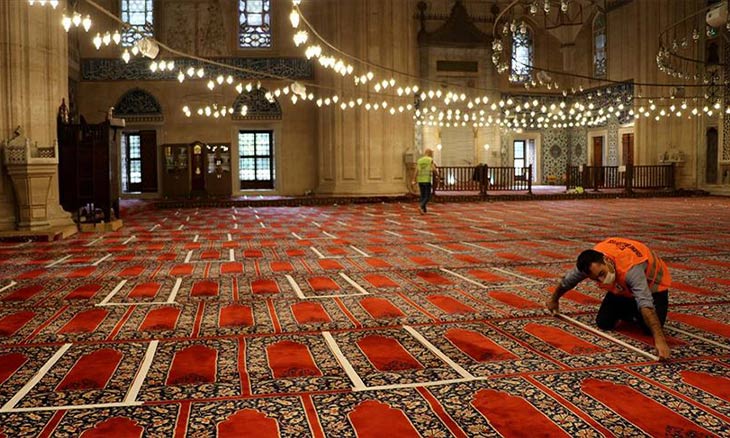 Urban preparations for outdoor prayers
The Diyanet urged the governor offices nationwide to turn schoolyards, soccer fields, street market lots, squares and meadows available to congregations if their mosque's court wasn't large enough.
Ali Gülden, the district Mufti for Ankara's neighborhood of Çankaya said that they would also make the lots and exercise areas of religious vocational high schools available to congregations.
"We've listed off about 1,500 mosque courts, school yards and open spaces [for outdoor prayers] and that number might approach 1,600," Gülden said.
The governor of the western town of Bursa also offered parks to congregations for outdoor prayers.
The western province of Edirne even placed signs on the floor of the historic Selimiye mosque, indicating where congregation members should place their prayer rugs.
Edirne Mufti Emrullah Üzüm noted that worshippers should have separate prayer rugs to use at home and at the mosque.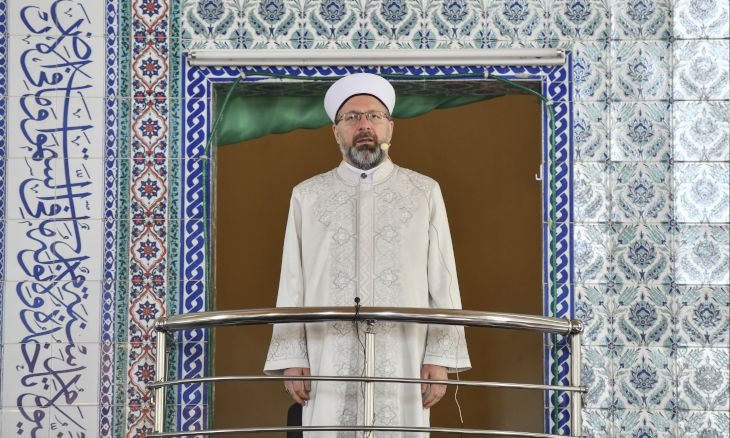 Turkey's top religious official tells worshipers to pay attention to hygiene amid coronavirus fears