Expert warns wrong use of masks could lead to second wave of COVID-19 infections in Turkey in only weeks
A Turkish professor noted that the faulty use of masks could lead to a spike in the number of COVID-19 cases. Noting that many people fail to cover their nose and mouth with their mask, the doctor said that a potential second wave could arrive in the second half of June.
Duvar English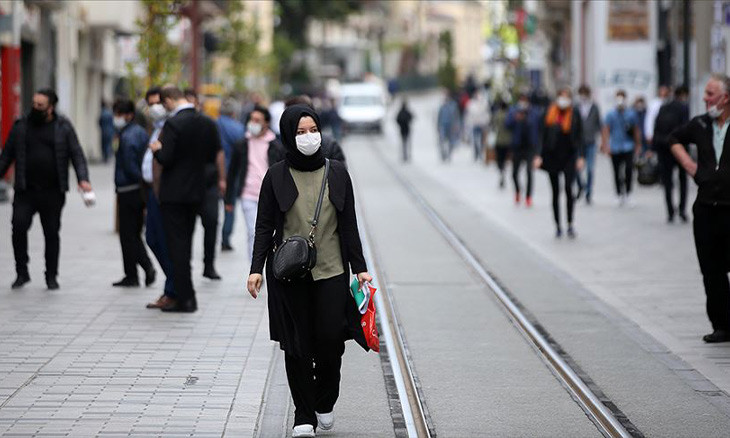 Citizens in 10 Turkish provinces mandated to wear surgical masks outside
Turkish doctor Prof. Mehmet Sait Buğdacı said that the wrong use of masks is common in Turkey, which he added could lead to a second wave of COVID-19 infections.
Although Turkey began its normalization process on June 1, the use of surgical or cloth masks is mandated in public places in 10 provinces.
Noting that masks are supposed to cover a person's nose and mouth to be effective, Buğdacı recommended using a plastic shield if possible, especially on public transportation.
"Often the nose is exposed, the mask will be pulled down to people's chins," Buğdacı said. "We've even seen people using masks to cover their eyes and sleep."
Buğdacı referred to a photo that Health Minister Fahrettin Koca shared, noting the importance of adhering to preventative measures.
Sıfır yeni vaka hedefine ulaşmak için, riske karşı uyanık olalım: Virüs, ağız ve burun yoluyla bulaşıyor. Ağız veya burun açık kalırsa, maske takmış ama gözümüzü gerçeğe kapatmış oluruz. Risk bu kadar mesafesizken uyarıları dinleyelim. pic.twitter.com/l6a5TQhtpV

— Dr. Fahrettin Koca (@drfahrettinkoca) June 4, 2020
Noting that the faulty use of masks could cause a second wave of infections, Buğdacı said that a spike in cases during the week of June 15 would be critical.
"If there are no new cases next week, we'll realize that the preventative measures have been sufficient," Buğdacı said. "We'll have an idea about a potential second wave."
The doctor added that if there isn't a spike in the number of new cases, the curfew on seniors and persons under 18 could be lifted.