Turkish Health Minister: We are not fast enough in controlling the spread of COVID-19
Turkish Health Minister Fahrettin Koca said on June 28 that society wasn't careful enough in its fight against COVID-19. Noting that the number of new cases each day was on a slow decrease, the minister said the country wasn't fast enough in controlling the spread of the virus. Turkey
Duvar English
Turkey's Health Minister Fahrettin Koca said that Turkish society isn't taking enough precautions amid a slow decrease in the number of new COVID-19 cases each day.
Yeni tanı konan kişi sayısında düne kıyasla 16, bir önceki güne kıyasla 40 azalma var. Bugün iyileşen toplam vaka sayımız, dünkünden 571 kişi düşük. Vaka sayılarını azaltmada yeterince hızlı, mücadelede tam tedbirli değiliz. Yaz, rehavete neden olmamalı. https://t.co/RVlhe7786O pic.twitter.com/zulRDmCbSn

— Dr. Fahrettin Koca (@drfahrettinkoca) June 28, 2020
"The number of people diagnosed is 16 less than yesterday, 40 less than the day before," Koca said.
The minister also noted that the number of people who had recovered on June 28 was 571 fewer than the day before.
"We aren't fast enough in decreasing the number of new cases, and we don't have all precautions in our fight. Summer shouldn't cause sluggishness."
Turkey observed some 1,356 new diagnoses on June 28, some 15 patients died and 1,413 recovered.
Turkey began its "normalization" process on June 1, re-opening businesses, resuming transportation operations and lifting curfews.
The number of new cases daily before June 1 were as low as the 800s.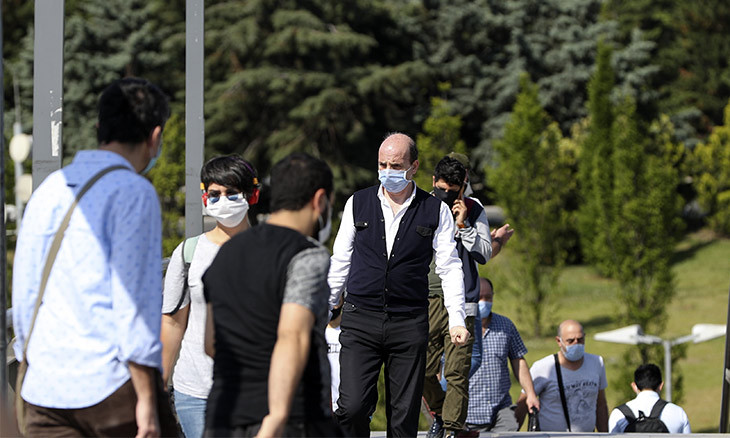 The lighter the precautions, the greater the threat, Turkish Health Minister warns