Turkey's daily COVID-19 cases drop below 1,000 for first time in a month
Turkey's daily new COVID-19 cases dropped below 1,000 for the first time in 33 days, Health Minister Fahrettin Koca said on July 14. Koca made the remarks as Turkey registered 992 new cases and 20 new fatalities from the virus.
Duvar English
Daily new COVID-19 cases in Turkey dropped below 1,000 for the first time since June 11, Health Minister Fahrettin Koca said on July 14, with 992 cases identified.
Koca said the total number of COVID-19 cases now stood at 214,993, while the death toll rose by 20 to 5,402.
"WE ARE UNDER 1,000 [new cases] AGAIN. For the first time in 33 days. The number of new cases, which was 987 on June 11, had risen to 1,195 on the following day. Right now, we don't know about tomorrow. [But] We know that we will see the results of today's measures in an average of seven days," Koca wrote on Twitter.
TEKRAR 1.000'İN ALTINDAYIZ. 33 gün sonra ilk kez. 11 Haziranda 987 olan yeni vaka sayısı ertesi gün 1.195'e çıkmıştı. Şu an yarını bilmiyoruz. Şimdi alacağımız tedbirlerin sonucunu ortalama 7 gün sonra göreceğimizi biliyoruz. Bugünü tekrar aramayalım. https://t.co/RVlhe7786O pic.twitter.com/SmeQuZYarl

— Dr. Fahrettin Koca (@drfahrettinkoca) July 14, 2020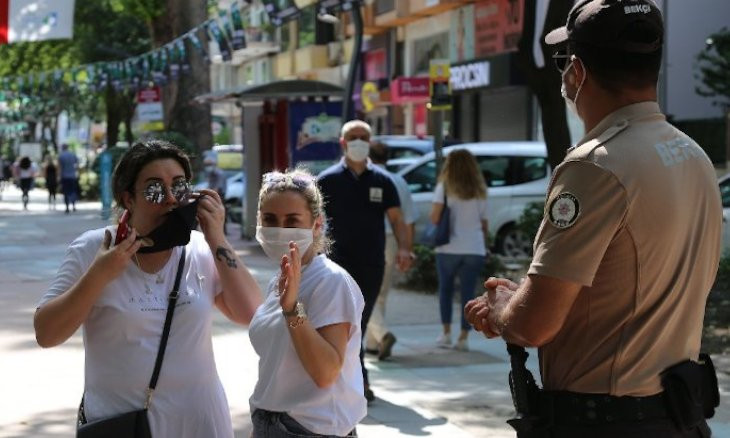 Turkish court cancels fine imposed on citizen for not wearing face mask
Daily cases hit a low of 786 on June 2 in Turkey but more than doubled to 1,592 two weeks later after Ankara eased measures against the spread of the virus.
At the start of June, Turkey opened restaurants and cafes, and lifted weekend stay-home orders and inter-city travel bans.
A subsequent doubling of daily coronavirus cases prompted President Recep Tayyip Erdoğan to warn the country had lost some ground in its battle with coronavirus.
As Turks poured out into streets, parks, malls and vacation spots last month, the government made face masks compulsory in several provinces. More measures could come even as officials have said there is no plan to slow momentum in the economy, which emerged in June from a near standstill since mid-March.