Ankara Medical Chamber says COVID-19 has sickened 943 healthcare workers so far
The Ankara Medical Chamber has said that the number of healthcare staff who have contracted the COVID-19 in the city has increased by 61 in the last eight days, reaching to a total of 943.
Duvar English
The Ankara Medical Chamber said on Sept. 24 that the number of healthcare personnel who have tested positive for the novel coronavirus in the city so far has reached 943.
Among these 943 personnel, five lost their lives, including three doctors, one dentist and one health worker.
⚠️ ? ⚠️ Ankara Tabip Odası Yönetim Kurulu tarafından ulaşılan ve teyit edilen Covid-19 (+) tanısı alan sağlık çalışanlarının sayısının 24 Eylül 2020 tarihi itibariyle 943'e yükseldiği bildirildi ❗️

? https://t.co/bZLciLtKMV

? #RaporCovid19
? #YaygınTest
? #Tükeniyoruz pic.twitter.com/6O2SkhIvGi

— Ankara Tabip Odası (@ankaratabipoda) September 24, 2020
The chamber had said in a statement on Sept. 16 that infection toll among healthcare staff stood at 882, so some 61 more personnel have tested positive for the virus in the last eight days.
The government announced early in September that Ankara is now the epicenter of Turkey's COVID-19 outbreak.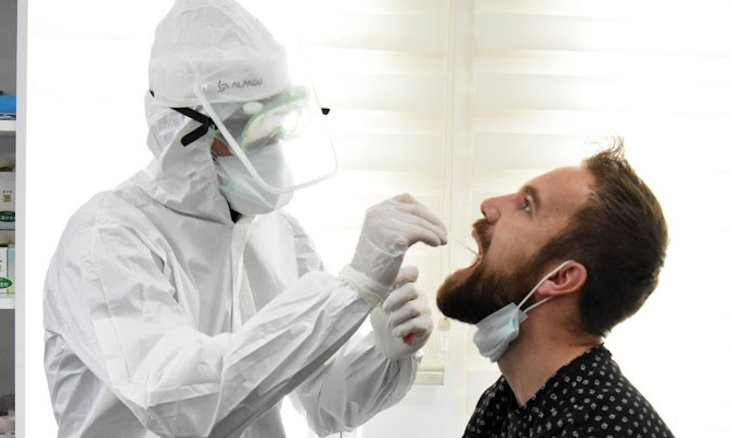 Turkish Health Ministry under scrutiny over 'not revealing actual number of coronavirus cases'
Surgingcoronavirus cases in the city are stretching hospitals to the limitand authorities need to impose a fresh lockdown to bring the virusunder control, doctors in the Turkish capital say.
The Turkish Medical Association (TTB) has said many times that Ankara doctors and other health workers are exhausted.
The mayors of Istanbul and Ankara have accused the government of playing down the scale of the pandemic, citing local information.
Turkey reports 74 deaths, 1,721 new cases
Meanwhile,Turkey on Sept. 24 registered 1,721 more cases of the COVID-19 and 74more fatalities from the virus.
Over113,310 additional coronavirus tests were conducted by healthprofessionals, bringing the total to 9.72 million, according to thedata released by the Health Ministry.
"Thenumber of patients in critical condition rose to 1,573," HealthMinister Fahrettin Koca said on Twitter.
Kocanoted that the pneumonia rate continued to decrease on Sept. 24,inching down to 6.6 percent.
"Let's stand with our health workers by complying with measures," he said, urging people to follow rules on hygiene, mask-wearing and social distance.
Ağır hasta sayımız 1.573'e ulaştı. Hastalarda zatürre oranı (%6.6) düşmeye devam ediyor. Bugün tespit edilmiş yeni hasta sayımız 1.721. Sağlıkçılarımız son derece özverili. Tedbirlere uyarak sağlık çalışanlarımızın yanında olalım. https://t.co/RVlhe7786O

— Dr. Fahrettin Koca (@drfahrettinkoca) September 24, 2020