Exclusion of Istanbul Mayor İmamoğlu from COVID-19 provincial meeting draws ire
The exclusion of Istanbul Mayor Ekrem İmamoğlu from a COVID-19 provincial meeting on Oct. 22 has drawn ire. The Istanbul Governor's Office later said that the meeting with Health Minister Fahrettin Koca "happened all of a sudden." İmamoğlu said in a statement on Oct. 23 that the authorities' failure to invite him to the meeting was a "great disrespect done to him," while the opposition CHP said the fight against the pandemic should not be politicized.
Duvar English
Theexclusion of Istanbul Mayor Ekrem İmamoğlu from a COVID-19 meetingthat Health Minister Fahrettin Koca conducted with Istanbul GovernorAli Yerlikaya, Istanbul Chief of Police Zafer Aktaş and IstanbulProvincial Health Director Kemal Memişoğlu on Oct. 22 has drawnire.
İmamoğlu reportedly found about the meeting once Koca shared a social media post about it late on Oct. 22.
"We have discussed the trend of the pandemic in Istanbul with Istanbul Gov. Ali Yerlikaya, Provincial Chief of Police Zafer Aktaş, our [health] deputy ministers, our provincial health director, our field coordinators and chief physicians. We have determined the measures that will be adopted in the face of increasing cases," Koca wrote on Twitter.
İSTANBUL Valisi Sn. Ali Yerlikaya, İl Emniyet Müdürü Sn. Zafer Aktaş, bakan yardımcılarımız, il sağlık müdürümüz, saha koordinatörlerimiz ve başhekimlerimizle birlikte, salgının İstanbul'daki seyrini masaya yatırdık. Devam eden artışa karşı alınacak tedbirleri kararlaştırdık. pic.twitter.com/cygH788oMe

— Dr. Fahrettin Koca (@drfahrettinkoca) October 22, 2020
İmamoğlu of the main opposition Republican People's Party (CHP) later commented on the incident saying that his exclusion from the meeting was "very disrespectful."
"I unfortunately did not know about the meeting. Almost one in every two pandemic cases in Turkey are in Istanbul. We live in such a critical city. There are some issue that are national...I consider the thing done yesterday as a great disrespect [done to me]," İmamoğlu said on Oct. 23, adding that people expect the authorities to give an account of such incidents.
The CHP similarly slammed İmamoğlu's exclusion from the meeting, saying this is a "scandal."
"Thisis a proof that not only are they unable to manage the country, butalso unable to manage a crisis situation," the CHP's officialTwitter account said.
The CHP said that the fight against the pandemic should not be politicized, adding: "The [Presidential] Palace rulership cannot take the vengeance of their election loss in Istanbul from Istanbul residents. There is nothing more important than our people's health."
Saray iktidarı, İstanbul'da yaşadığı seçim hezimetinin intikamını İstanbullular'dan alamaz. Halkımızın sağlığından daha önemli bir şey yoktur... Kibirli saray yöneticileri ve bu yanlışla adını kirleten @drfahrettinkoca sağlığı siyasallaştırma yanlışından derhal dönmelidir.

— CHP ?? (@herkesicinCHP) October 22, 2020
İmamoğlu,from the CHP, won the mayorship race twice last year against thecandidate of the ruling Justice and Development Party (AKP) -- one onMarch 31, 2019 and the other on the re-run election of June 23, 2019.
Askedwhy İmammoğlu was not invited to the COVID-19 meeting, the IstanbulGovernor's Office said that "it happened all of a sudden."
"IstanbulMayor Ekrem İmamoğlu normally participates in provincial pandemiccommittee meetings but today's meeting happened all of a sudden,"the Governor's Office said in a statement to Independent Turkish newsservice.
Later on Oct. 23, Minister Koca held a press meeting during which he said he plans a meeting with Mayor İmamoğlu to discuss the pandemic.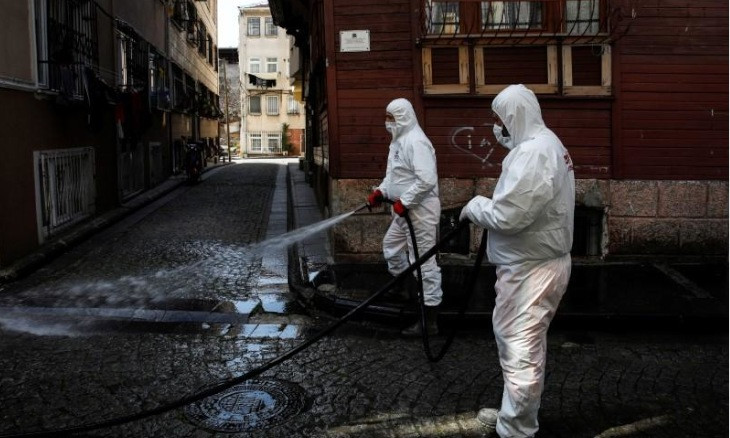 '143,000 coronavirus patients treated at home, 460,000 others under mandatory home quarantine'