'143,000 coronavirus patients treated at home, 460,000 others under mandatory home quarantine'
Turkey's top medical association has said that 143,000 coronavirus patients are currently treated at their homes, whereas 460,000 others have been placed under mandatory home quarantine. The Turkish Medical Association made the remarks based on the results of a survey conducted with family physicians across the country.
Serkan Alan / Duvar
Turkish Medical Association (TTB) has said there are currently 143,000 coronavirus patients who are being treated at their homes in Turkey, whereas 460,000 others are under mandatory home quarantine as they have come into contact with confirmed COVID-19 patients.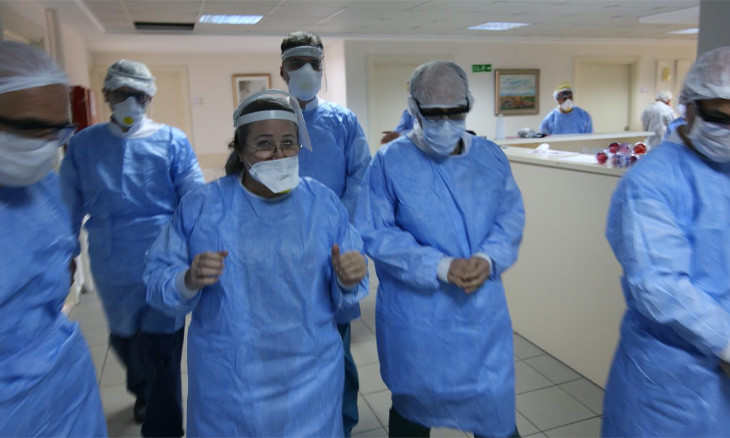 Istanbul University receiving twice as many COVID-19 patients as pandemic worsens
The figures were released by Dr. Emrah Kırımlı during an online press meeting. The figures were based on a survey conducted with family physicians across 75 provinces in Turkey.
Kırımlı said that some 14,373 coronavirus patients are visiting family physicians every day and there are concerns that this number might further increase in the upcoming days.
Kırımlı said that COVID-19 patients are being treated at their houses unless they show severe symptoms, such as serious shortness of breath or high fever.
"But symptoms such as severe pains, nausea and vomiting give the patients a hard time [who are treated at home]. Some of them have already other illnesses, so they do not know what they should do [once these symptoms show up]," said Kırımlı.
Turkish Health Minister backpedals on COVID-19 data release, says promised reveal was for WHO
"Monitoring the patients from their homes is not easy for us or them. The patients feel themselves left alone and abandoned, which push them to hopelessness," he said.
Health Minister Fahrettin Koca previously announced that the ministry draws a difference between COVID-19 "patients" and "cases" and only releases the data with regards to the number of "patients." Koca defined the "patients" as those who are symptomatic and said that "cases" include also those who do not show symptoms.
According to the Health Ministry's Oct. 22-dated coronavirus count chart, Turkey has so far registered 355,528 "patients," 310,027 of whom have recovered. According to this chart, there are 45,501 coronavirus "patients" in Turkey as of Oct. 22.
The Health Ministry also announced on Oct. 22 that the country confirmed 2,102 more COVID-19 patients over the past 24 hours. The virus-linked death toll in the country reached 9,584 with 71 new fatalities reported.
Minister Koca urged the public to comply with health measures and keep wearing masks.
"The most important challenge for our health care professionals is to treat seriously ill patients and reduce their numbers. Our part is far easier. Support the struggle [against virus] by complying with the precautions, especially by wearing the mask," he said on Twitter.
Bugün tespit edilen 2.102 yeni hastamız var. Ağır hasta sayımız 1.599. Sağlık çalışanlarımız için en önemli mücadele alanı ağır hastaları tedavi ederek sayılarını azaltmak Bize düşen çok daha kolay. Başta maske ile tedbirlere uyarak mücadeleye destek verin https://t.co/RVlhe7786O

— Dr. Fahrettin Koca (@drfahrettinkoca) October 22, 2020
Wearing masks is compulsory in all public areas and outdoors in the country.