Walls of Istanbul's ancient Galata Tower torn down during 'renovation'
Main opposition Istanbul Municipality revealed that the Culture Ministry's contract workers had been destroying walls of ancient Galata Tower. The historic building had been taken away from the municipality last 2019, and forced to be evacuated in April.
Duvar English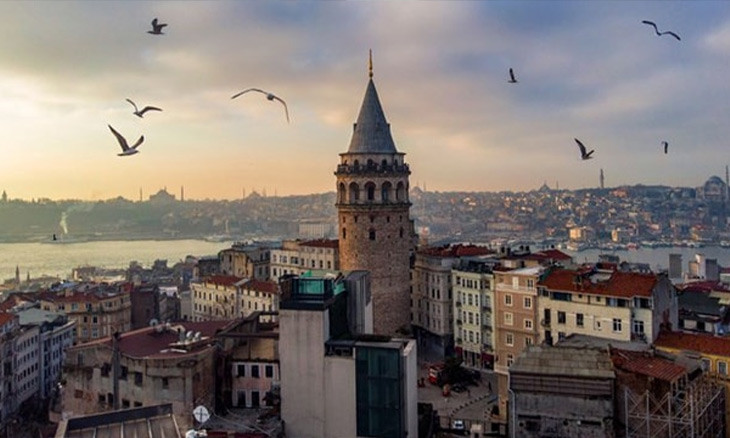 Istanbul's iconic Galata Tower to be turned into a museum
An official from main opposition Istanbul Municipality (IBB) revealed destruction of ancient walls in Istanbul's iconic Galata Tower on Aug. 12, noting that municipal officials were sent to the scene to stop construction immediately.
IBB Cultural Heritage Director Mahir Polat said that he urges authorities to respond to the destruction immediately and shared a video of workers drilling into the ancient walls in the tower.
İstanbul'un en önemli tarihi eserlerinden Galata Kulesi içerisinde yapılan akıl almaz uygulamaları acilen yetkili kurumların dikkatine sunuyorum.

Suç niteliğinde uygulamaların derhal durdurulması ve tespiti için İBB Kültür Varlıkları Dairesi birimleri olay yerine nakledilmiştir. pic.twitter.com/VVQ2n9MJR2

— Mahir Polat (@mhrpolat) August 12, 2020
The director followed up with another tweet saying that IBB officials weren't allowed on the construction site to observe and halt the work.
"I urge the authorities of this renovation to urgently stop the destruction and to stop preventing our team from observing the site," Polat said.
IBB Spokesman Murat Ongun said that the municipality was going to make official complaints about the authorities of the construction.
The tower was run by IBB until May 2019, when ownership and management was transferred to a subsidiary of the Culture and Tourism Ministry.
"These images from the supposed restoration the Culture and Tourism Ministry is conducting are regretful," Ongun said.
Galata Kulesi'nde Kültür ve Turizm Bakanlığı Vakıflar Genel Müdürlüğü tarafından yapılan restorasyon görünümlü faaliyetlerden yansıyan bu görüntüler içimizi yaktı. İBB olarak sıralı tüm sorumlular hakkında suç duyurusunda bulunuyoruz.

pic.twitter.com/7IlYsHbS7Y

— Murat Ongun (@Mrt_Ongun) August 12, 2020
Culture Minister Mehmet Nuri Ersoy said in a tweet a few hours later that that the workers were removing the sections which were put on the wall "later on and which were damaging the Galata Tower."
"Regarding the techniques used in the restoration, the necessary sanctions will be undertaken against the relevant contractor firm," Ersoy also wrote in his tweet.
Sosyal medyada "Galata Kulesi'nin duvarları yıkılıyor" şeklindeki iddialar asılsızdır. Yıkılan kısımlar sonradan yapılan, Galata Kulesi'ne zarar veren kısımlardır.

Restorasyonda kullanılan yöntemler konusunda ise ilgili firmaya gerekli yaptırım uygulanacaktır.#GalataKulesi

— Mehmet Nuri Ersoy (@MehmetNuriErsoy) August 12, 2020
Ersoy's deputy Ahmet Misbah Demircan also commented on the issue on Aug. 12 saying that they do not approve of the removal of plaster from the walls through drilling. "The necessary intervention has been undertaken and we have drawn the contractor's attention [to the issue]," Demircan wrote on Twitter.
An appeal was made to the transfer of Galata Tower's ownership to the Culture Ministry, which resulted in an injunction, but IBB was forced to evacuate the ancient structure in April.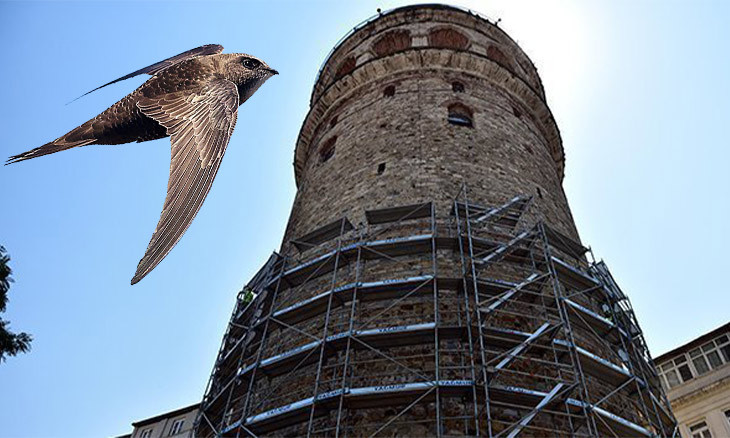 Istanbul's Galata Tower renovation put on pause for common swift babies