From Renaissance art to oblivion: Women in Uşak fight for survival of 'Turkish rugs'
A women's company in the western province of Uşak work to protect an art they inherited from their mothers, the endangered technique of weaving that produces "Turkish rugs," as they are known globally. Represented in Renaissance paintings, the Uşak rugs were once a symbol of wealth and prestige.
Osman Çaklı
Known worldwide as "Turkish carpets" and depicted in Renaissance art, handmade rugs from the western province of Uşak are facing extinction as an art, but the women in Dokur Evi ("weave house" in Turkish) work to protect an art they inherited.
Studied by art specialists for its different patterns and motifs, and the meanings behind them, the Uşak rug is no longer mass produced, but the women in Dokur Evi think that their work has increased the art's visibility.
"Women here learned this art from their mothers and their grandmothers at a young age, and we get to benefit from their knowledge," said Ayşe Ceren Uçar, textile engineer for Dokur Evi for the past nine years.
More than 90 percent of Dokur Evi employees used to be unemployed, Uçar added, while employee Şükran Göktuna said that the unique weaving technique used to make Uşak rugs is "labor-intensive and requires patience, but is just as rewarding."
Employee Hacer Budak learned to weave rugs as an apprentice to her mother up until she was 15, and said that Dokur Evi's technique is identical to the original methods with the exception of the use of a spinner.
"Everything else is the exact same. The natural dye, the shop set up, the weave..."
Budak said that it was difficult for the culture of Uşak rugs to be maintained in the age of technology.
"Besides, the new generation is so impatient. [Uşak rugs] will be a thing of the past after us," Budak said.
Once known as a symbol of wealth and prestige, Uşak rugs are best known for a "closed weave" technique, textile engineer Uçar said, as the method makes the end product very durable.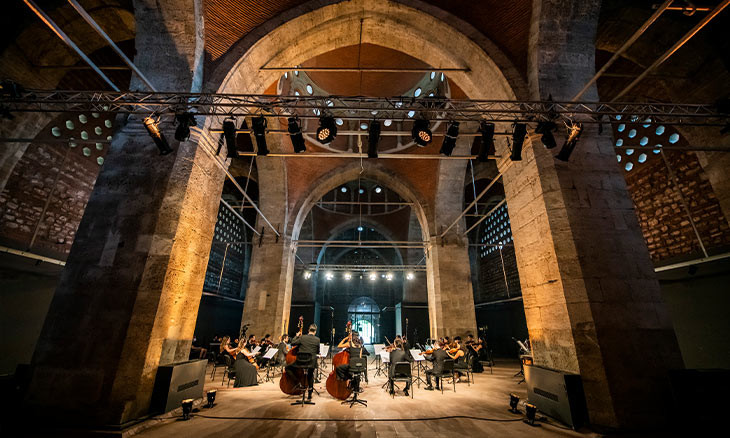 Beethoven-centered Istanbul Music Festival to stream pre-recorded performances in historic spots