Demonstrations in protest of massive electricity price hikes spread around Turkey
Thousands of citizens marched on Feb. 6 in the provinces of İzmir, Mardin and Diyarbakır to protest the massive price hikes in electricity, calling on the government to resign. The protest in Mardin was intervened by the police and ended with several citizens being detained.
Duvar English
Thousands of citizens throughout Turkey have been protesting against massive price hikes in electricity. Citizens in the Aegean province of İzmir and the southeastern provinces of Mardin and Diyarbakır took to the streets to show their reaction against exorbitant electricity bills.
On Feb. 6, several citizens gathered in Mardin's Kızıltepe district, calling for the resignation of President Recep Tayyip Erdoğan's government and slamming the electricity company Dicle Electiricy (DEDAŞ). They shouted slogans of "Tayyip resign," "State resign," "DEDAŞ resign," and "Damn DEDAŞ," and demanded that the price hikes be canceled.
The crowd's march was intervened by the police, and several people were detained. At one point, the police stopped the crowd with tear gas and pressurized water.
In Diyarbakır's Silvan district, a similar protest took place, with thousands of people marching towards DEDAŞ building. Afterwards, the crowd marched towards the district governor's office, where they held a statement.
The İzmir branch of the Workers' Party of Turkey (TİP) also held a press statement, in protest of the massive electricity price hikes. Members of the party held a statement in front of the Gediz Electricity Distribution company, holding a banner reading "The [presidential] palace is getting richer; we are the ones paying its price."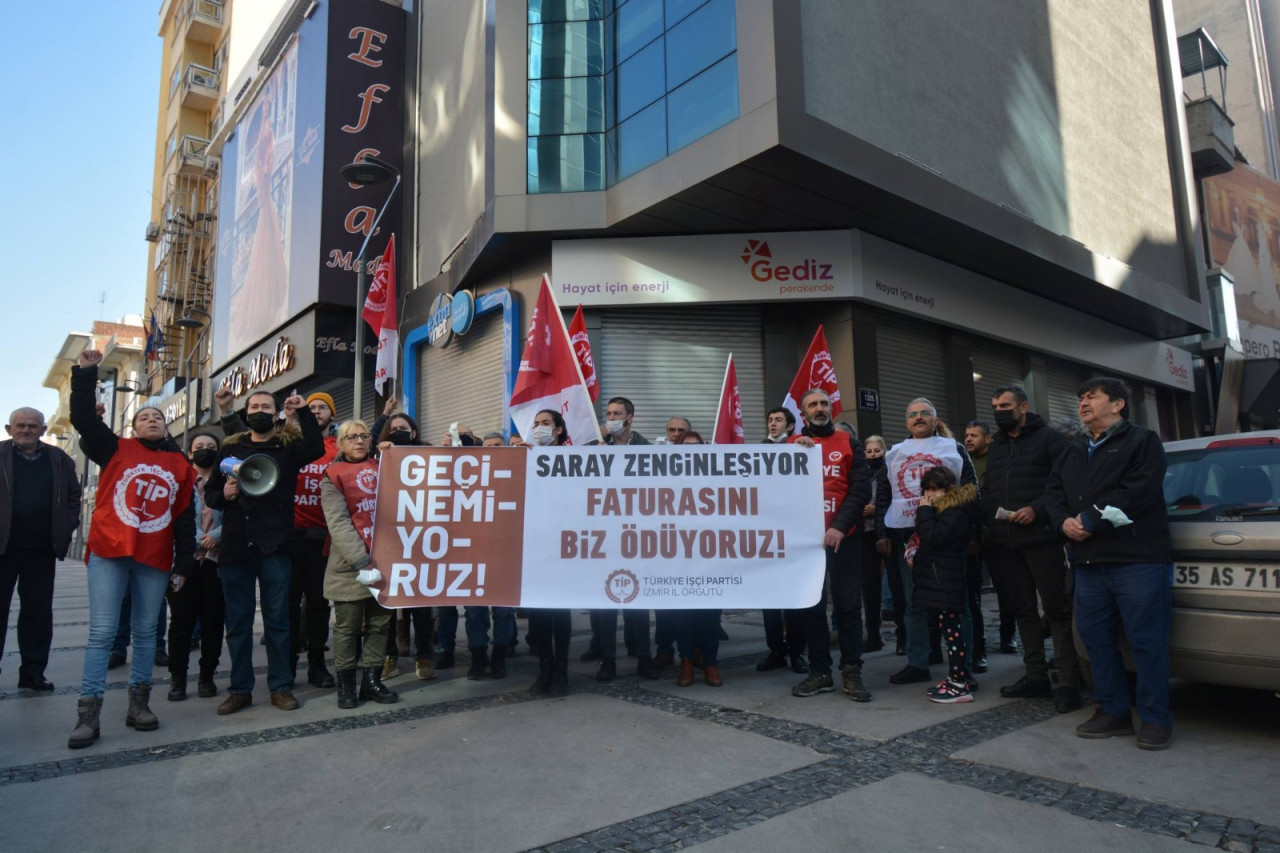 "The more organized we are, the more powerful we are. We will stand next to each other and overcome the robbers and looters. Those waging a war on people will lose," the statement said. Afterwards, members of the party burned their electricity bills.
On Jan. 1, Turkey raised electricity prices by around 50 percent for lower-demand households and by more than 100 percent for high-demand commercial users. Prices were also increased for many other items amid a deepening economic crisis and a soaring inflation rate.