Turkey's reaction shows 'how right Akıncı is,' says spokesman
Turkish Cypriot President Akıncı's spokesman Burcu said that after Turkish Foreign Minister Çavuşoğlu went as far as branding Akıncı a "supporter of terrorism" over his remarks on the prospect of annexation by Turkey, there have been death threats against the Turkish Cypriot leader even on television programs in Turkey. "What happened recently has once again show how right our President is," said Burcu in a written statement on Feb. 11.
Duvar English
Turkish Cypriot President Mustafa Akıncı's spokesperson Barış Burcu has said the Turkish government's condemnation of Akıncı's comments that the prospect of Crimea-style annexation with Turkey was "horrible" has once again "shown how right our President is."
"What happened recently has once again show how right our President is, who has always defended the necessity of establishing an equalitarian relationship with Turkey," said Burcu in a written statement released on Feb. 11.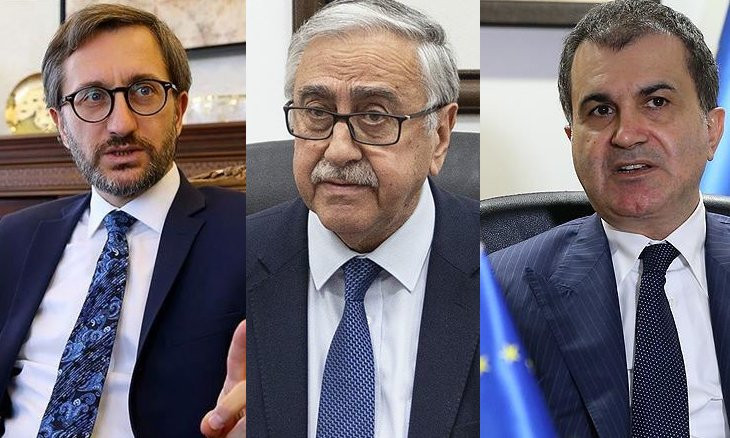 Ankara slams Turkish Cypriot leader's 'Crimea-style annexation' remarks
Speaking to The Guardian in an interview published last week, Akıncı warned that the island of Cyprus faces permanent partition of its Greek and Turkish communities unless an agreement is swiftly reached involving an "equitable" federal solution.
If not found, Turkish Cyprus would grow increasingly dependent on Ankara, and could end up being swallowed up, as a de facto Turkish province, Akıncı said, adding that the prospect of a Crimea-style annexation was "horrible."
Akıncı's remarks were slammed by several officials of Turkey's ruling Justice and Development Party (AKP), who urged him to apologize for "disrespecting" the country. Turkish Foreign Minister Mevlüt Çavuşoğlu even accused Akıncı of "supporting terrorism" through his statements.
"Why is Akıncı attacking Turkey for no reason? Why does he make anti-Turkey statements while Turkey is fighting terrorism? He is supporting terrorism [through his statements]," Çavuşoğlu said during a press conference on Feb. 10.
Burcu said that various Turkish media outlets, finding the courage from Turkish officials' remarks, has started to insult Akıncı and even utter death threats against him.
"After Turkish Foreign Minister's going so far as to brand our President as a 'terror supporter,' TV presenters on Turkish televisions became so relaxed as to utter explicit death threats against our President. Insults and threats have reached a shameful dimension," said Burcu.
Burcu also argued that that the published interview was a shorter version of what the Turkish Cypriot leader had said while many people reacted with bias and took the opportunity to insult him. To show the criticism was not right, Akıncı's office published the full interview, Burcu said, adding that the ideas he expressed were sincere and seek to benefit both Turkish Cypriots and Turkey.
He added that Akıncı "stands behind these views and will continue to do so."
"Our honored President does not desire a hierarchical relationship with Turkey, but instead an equalitarian and amicable one. His stance regarding this issue is very clear and appeals to his people with this vision."
Turkish Cypriots who hope for the reunification of the divided island have voiced their support for Akıncı, whereas right-wing nationalist groups have sided with Ankara.