Turkish gov't faces backlash in international arena for converting Hagia Sophia into mosque
Turkey's conversion of iconic Hagia Sophia into a mosque has prompted criticism in the international arena. The United States, the European Union, Greece, UNESCO and Russian Orthodox Church were among those to express concern about Ankara's move.
Duvar English
Turkey's move to convert iconic Hagia Sophia into a mosque has received widespread criticism in the international arena.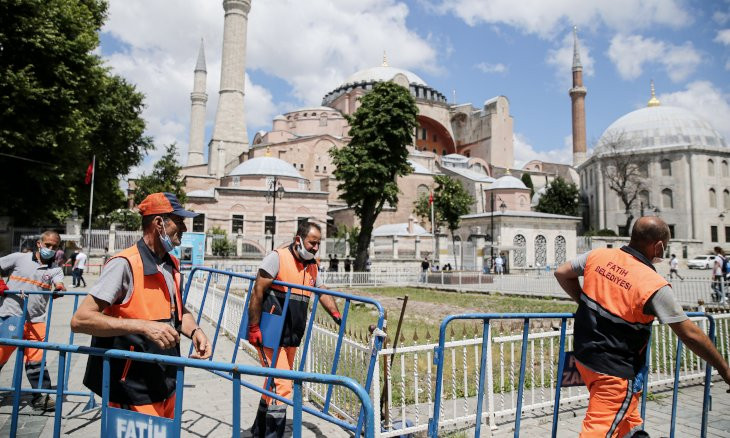 Erdoğan signs decree opening Istanbul's Hagia Sophia to worship as mosque
United States
The U.S. State Department on July 10 said it was "disappointed" by the Turkish government's decision to change the status of the huge sixth-century building,
"We are disappointed by the decision by the government of Turkey to change the status of the Hagia Sophia... We understand the Turkish Government remains committed to maintaining access to the Hagia Sophia for all visitors, and look forward to hearing its plans for continued stewardship of the Hagia Sophia to ensure it remains accessible without impediment for all," U.S. State Department Spokesperson Morgan Ortagus said.
European Union
EU foreign policy chief Josep Borrell released a statement on July 10, saying: "The ruling by the Turkish Council of State to overturn one of modern Turkey's landmark decisions and President Erdoğan's decision to place the monument under the management of the Religious Affairs Presidency is regrettable."
Greece
Greek Prime Minister Kyriakos Mitsotakis said he condemned Ankara's move "in the most intense manner."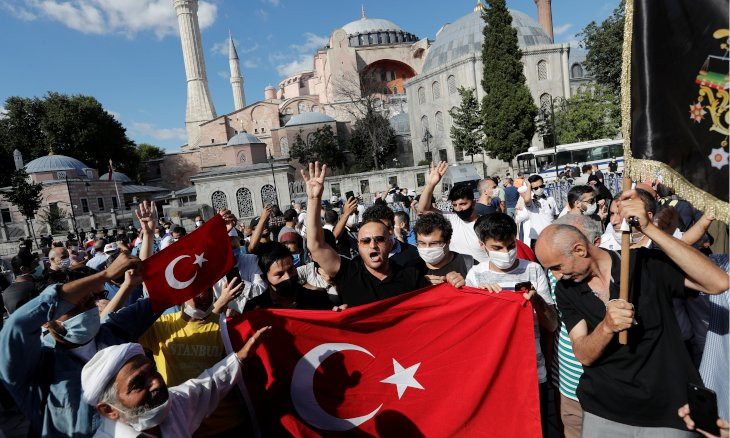 44 pct of Turks believe conversion of Hagia Sophia an attempt to divert attention from economic crisis
"Greece condemns in the most intense manner the decision of Turkey to convert Hagia Sophia into a mosque. This is a choice which offends all those who also recognize the monument as a World Heritage Site. And of course it does not only affect relations between Turkey and Greece, but its relations with the European Union," Mitsotakis's office said in a written statement.
Former Greek foreign minister Dora Bakoyannis and Mitsotakis's sister tweeted that Erdoğan had "crossed the Rubicon" with its decision, effectively moving itself way from the Western world.
UNESCO
UNESCO said on July 10 that it deeply regretted Turkey's decision and its World Heritage Committee would review the iconic sixth-century structure's status.
"It is regrettable that the Turkish decision was not the subject of dialog nor notification beforehand," the United Nation's cultural body said in a statement.
"UNESCO calls on the Turkish authorities to open a dialog without delay in order to avoid a step back from the universal value of this exceptional heritage whose preservation will be reviewed by the World Heritage Committee in its next session," it said.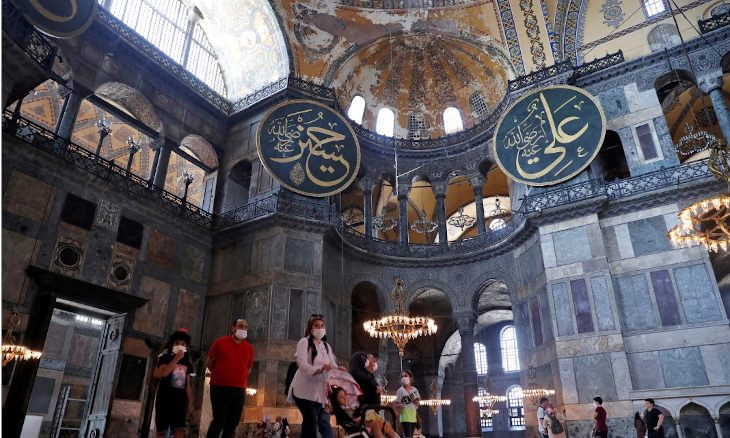 Changes to Hagia Sophia could trigger heritage review, says UNESCO
Russian Orthodox Church
The Russian Orthodox Church said it regretted that the court did not take its concerns into account when making its ruling.
"It is a real shame that the concerns of the Russian Orthodox Church and other Orthodox churches were not heard. This decision, alas, is not aimed at reconciling existing differences, but on the contrary, may lead to even greater divisions, as Patriarch Kirill said in his statement on July 6," Vladimir Legoida, a Russian Orthodox Church official, was quoted as saying by the TASS news agency.
Turkish President Recep Tayyip Erdoğan on July 10 declared the iconic structure open to Muslim prayer as a mosque after the Council of State — the highest administrative court in the country — ruled that the ancient building's conversion to a museum by modern Turkey's founding statesman was illegal.
Erdoğan made his announcement just an hour after the court ruling was revealed, brushing aside international warnings not to change the status of the nearly 1,500-year-old monument that is revered by Christians and Muslims alike.
International media outlets say Erdoğan seeking to consolidate support among nationalist voters
Turkey's move was also covered extensively by several international media outlets, as they said that tensions with neighboring Greece could be further escalated.
CNN International said that Turkish-Greek relations are already "tense due to geopolitical tensions in the Eastern Mediterranean, including the long-running dispute over Cyprus and around migrants crossing the border between the countries."
"Many analysts say Erdoğan's move could be intended to consolidate his voters as the country deals with a shrinking economy and rising unemployment," it also wrote.
New York Times wrote that Hagia Sophia's conversion "is likely to provoke an international furor," while Bloomerg said Erdoğan "is seeking to consolidate his support among Turkey's nationalist voters, who are being wooed by newly formed rival parties."
"The president is seeking to consolidate his support among Turkey's nationalist voters, who are being wooed by newly formed rival parties," Bloomberg further noted.
Meanwhile, as Erdoğan formally reconverted the sixth-century structure into a mosque, hundreds of Islamist supporters chanted "God is Great!" in front of the ancient building.