Kremlin: Erdoğan gave assurance to Putin that Christian relics at Hagia Sophia will be preserved
Erdoğan pledged to Putin during a telephone conversation that everyone wishing to attend the iconic Hagia Sophia will be admitted there, and the Christian relics at the ancient structure will be preserved, the Kremlin said on July 13.
Duvar English
Turkish President Recep Tayyip Erdoğan gave his assurance to Russian President Vladimir Putin that the safety of items sacred to Christians at Istanbul's iconic Hagia Sophia will be assured, the Kremlin said in a statement on July 13.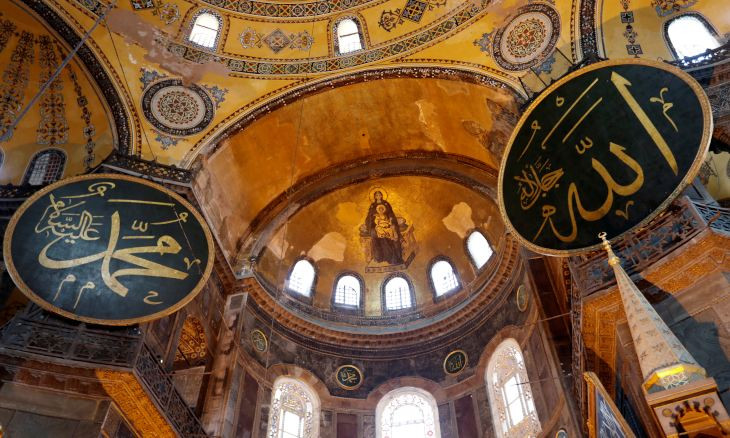 Mosaics, frescoes in Hagia Sophia 'to be covered up with laser lights'
Duringthe two leaders' phone conversation, Putin drew the attentionof Erdoğan to the considerable public outcryin Russia over the decision to convert Hagia Sophia, theKremlin said.
Erdoğan told Putin that access to the sixth-century structure would be guaranteed for all wishing to visit it, including foreign nationals, and the safety of the Christian relics would be assured.
The Kremlin said that the phone conversation occurred with the initiative of the Turkish side.
Erdoğan's July 10 decision to convert the iconic structure from a museum into a mosque drew concerns on the fate of the icons, mosaics and frescoes inside it. Daily Hürriyet reported on July 11 that laser lights will cover up the mosaics and frescoes found in the ancient structure.
Russian Deputy Foreign Minister Sergey Vershinin said on July 13 that changing the status of Hagia Sophia was Turkey's internal affair.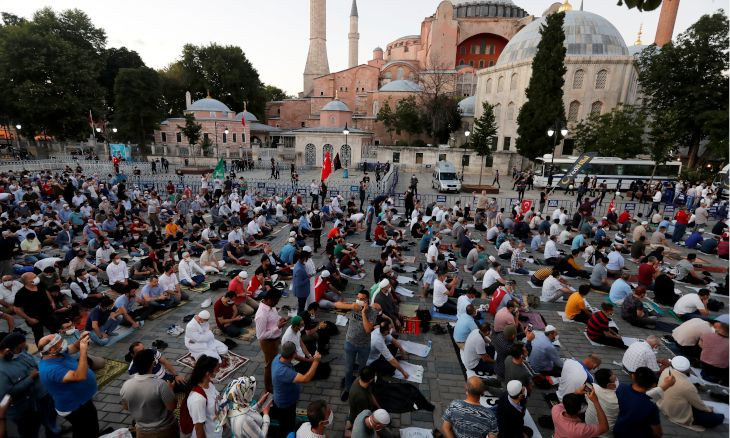 Hagia Sophia to open for worship on July 24, says Erdoğan
Russia is of the view that no one should interfere in the decision, he said in an interview with Sputnik radio.
"We assume that we are talking about Turkey's internal affairs, in which, of course, neither we nor others should interfere. At the same time we pay attention to its significance as an object of world culture and civilization," he said.
The Church in Russia, home to the world's largest Orthodox Christian community, on July 10 expressed regret that Turkey's Court of Cassation had not taken its concerns into account when annulling a 1934 Cabinet decision that had changed the Hagia Sophia into a museum.
"It is a real shame that the concerns of the Russian Orthodox Church and other Orthodox churches were not heard. This decision, alas, is not aimed at reconciling existing differences, but on the contrary, may lead to even greater divisions, as Patriarch Kirill said in his statement on July 6," Vladimir Legoida, a Russian Orthodox Church official, was quoted as saying by the TASS news agency, on July 10.