Turkish Interior Ministry says it warned Austria on Vienna shooter before
Turkish Interior Ministry said in a statement that it had shared intelligence with Austrian authorities about the gunman who last week went on a rampage in the center of Vienna. The ministry said that the attacker was arrested in Hatay in 2018 with suspected links to ISIL and was later deported to Austria.
Duvar English
Turkey's Interior Ministry said on Nov. 8 that it had shared in-depth information with Austrian authorities about the attacker responsible for the recent gun attack in Vienna.
The attacker, Austrian national Kujtim Fejzulai, was monitored via security surveillance on Sept 1, 2018, when he arrived at the Istanbul Atatürk Airport from Vienna, Turkish National Police said in a statement.
It said that joint investigation by intelligence and counter-terror teams had revealed the attacker's attempt to join ISIL by illegally crossing into Syria from Turkey's southern province of Hatay.
Viyana saldırısını gerçekleştiren teröristin Türkiye'den sınır dışı edildiği ortaya çıktı.

Ayrıntılı bilgi için; https://t.co/hcmBzNlczj pic.twitter.com/6R9i8pWVws

— Türk Polis Teşkilatı (@EmniyetGM) November 8, 2020
Fejzulai was arrested in Hatay on Sept. 18, 2018, and after legal procedures, was deported to Austria on Jan. 10, 2019 by Hatay's Directorate General of Migration Management.
Turkish authorities said that they had shared the information detailing Fejzulai's activities and attempts to join ISIL with Austrian authorities.
The statement said that Franz Ruf, Austria's director-general for public security, had also acknowledged these developments.
At least four people died and 22 others were wounded in the attack in Vienna on the night of Nov. 2.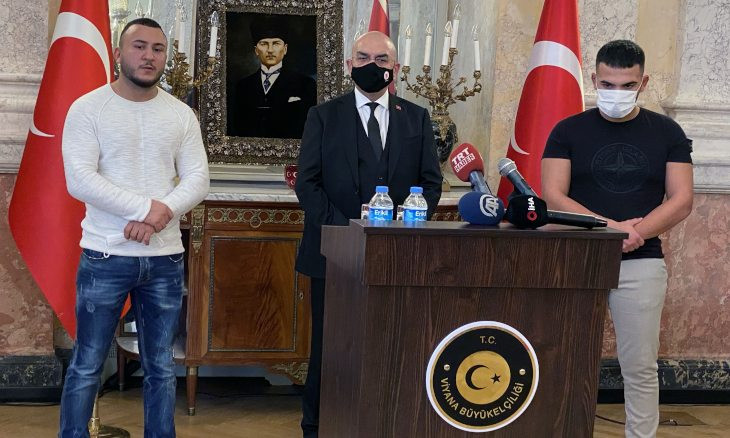 Turkish government praises 'two heroes' who helped victims during Vienna attack