Investigation launched into attack on Istanbul cemevi
Unknown assailants have broken into Istanbul's Pir Sultan Abdal Cemevi, spraying threats on its walls and ground such as "It is not over" and "Die." Authorities on Jan. 20 announced that an investigation was launched into the incident.
Duvar English
Istanbulchief public prosecutor's office has launched an investigation intoan attack on a cemevi, an Alevi house of worship, in Istanbul, mediaoutlets reported on Jan. 20.
Unknown assailants entered Pir Sultan Abdal Cemevi in the Sultanbeyli district late on Jan. 18 after breaking its doors and windows. They sprayed death threats on the walls and ground, such as "It is not over" and Die." They also stole the money in the amount of 300 Turkish Liras from the charity box in the cemevi.
Thehead of the cemevi, Erdal Aksoy, told the Turkish media that theyfound out about the attack when the cemevi officials visited thebuilding the next day. "The investigation is looking into whetherthis attack results from a robbery or is a provocation due to therecent political tensions," Aksoy said.
He said the threats written on the walls are a "message" that such attacks will continue to happen, therefore urging Alevis to stand in unity and solidarity against such incidents.
The attack was first announced to the public by main opposition Republican People's Party (CHP) Sultanbeyli district chair Hayati Bozkaya on Twitter. "We condemn those who committed this treacherous attack. We express our condolences to the cemevi management and our Alevi citizens," Bokaya said on Jan. 19.
Dün gece Yavuz Selim Mahallesinde bulunan Pir Sultan Abdal Cemevinin, kapılarını kırarak içeri girip, boyalarla ölüm tehditleri ve bitmedi tarzında yazılar yazılmıştır. Bu kalleşçe saldırıyı yapanları kınıyoruz. Cemevi yönetimine ve alevi vatandaşlarımıza geçmiş olsun diyoruz. pic.twitter.com/gvtyvq3iRz

— Hayati BOZKAYA ? #EvdeTut (@Hayatibozkaya1) January 19, 2020
Istanbul Governor's Office also released a statement regarding the incident, saying that police forces were dispatched to the scene of the attack on Jan. 19. "We strongly condemn this atrocious action," it said.
Alevismake up an estimated 15-25 percent of Turkey'spopulation, the second main religious group after Sunni Islam.Despite the fundamental differences in religious practices betweenthe two groups, the government to-date refuses to acknowledgeAlevi cemevi as the legitimate place of worship and togrant cemevis the same financial support as mosques. Instead,Turkey claims that cemevi is a cultural entity.
On Jan. 16, the Istanbul Municipal Council voted a motion calling to designate the city's 93 cemevis as "official places of worship."
The main CHP and İYİ (Good) Party members of the council voted in favor of the motion, but the councillors of the ruling Justice and Development Party (AKP) and its right-wing ally Nationalist Movement Party (MHP) – who hold the majority in the council – voted it down.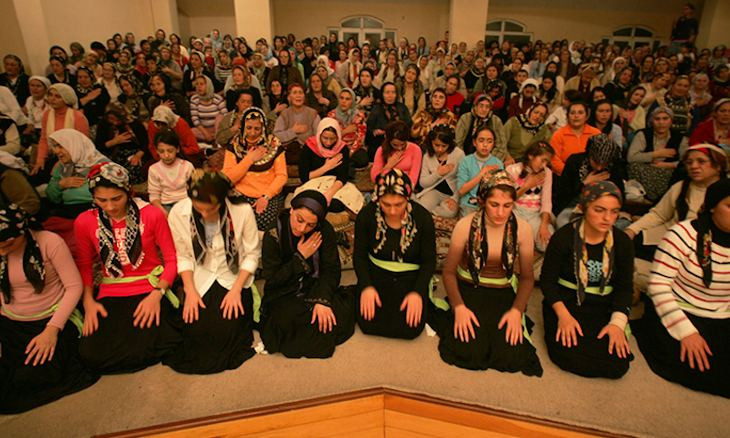 AKP, MHP councillors vote down proposal to recognize cemevis as places of worship