Istanbul's May Day under COVID-19 measures ends up with detentions, police confrontation, a destroyed wreath
Istanbul police detained the chair and 25 members of one of Turkey's largest labor unions on the morning of May 1, International Workers' Day also known as May Day. The confrontation took place as police blocked the march of Chair Arzu Çerkezoğlu and a group of representatives to Istanbul's Taksim Square, the site of the 1977 Workers' Day massacre and the traditional address for May 1 demonstrations. The group were released in the afternoon of May 1 after giving official statements.
Duvar English
The chair of the Confederation of Progressive Trade Unions of Turkey (DİSK) Arzu Çerkezoğlu was detained along with members when police formed a blockade around the headquarters on the morning of May 1.
The group was released in the afternoon of May 1 after they gave official statements to the police.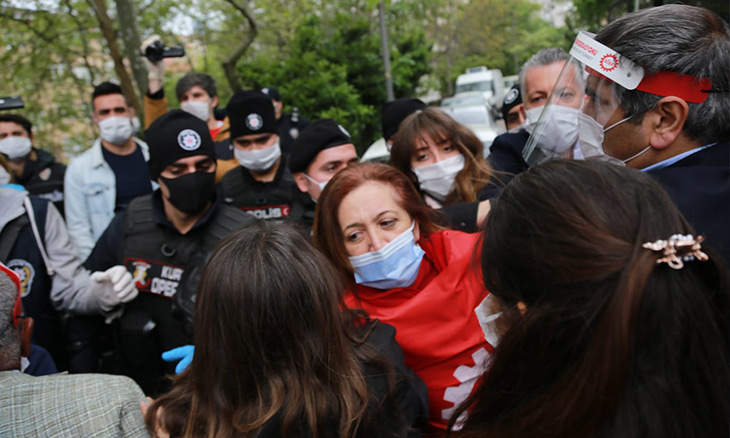 Çerkezoğlu was detained with 25 workers and union officials when the group wanted to march to Istanbul's central Taksim Square to drop off flowers at the sight of the 1977 Workers' Day massacre when 34 people were killed by anonymous gunfire.
Police noted the curfew that aims to slow the spread of COVID-19 as the reason why the workers' march was blocked.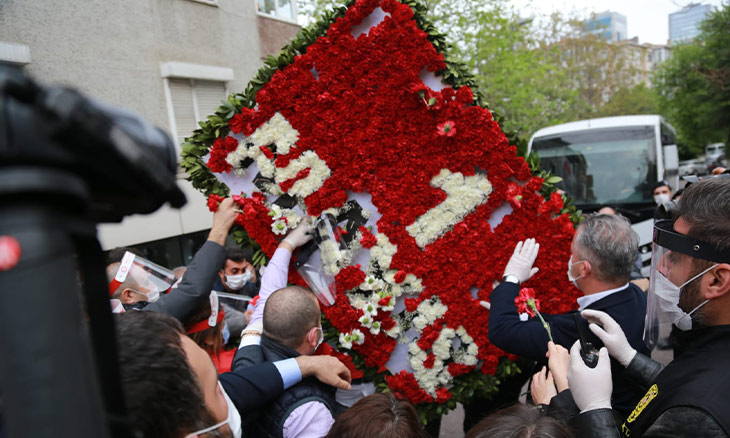 "We are detained! There are comrades all over Turkey working today, which doesn't disrupt social life, but workers' May Day celebration apparently would! You can't ban May 1!" Çerkezoğlu tweeted.
In a Facebook post, DISK noted that the wreath their representatives were carrying was destroyed.
DİSK Genel Başkanı ve Genel Sekreterinin de aralarında olduğu DİSK'liler gözaltına alındı! #1Mayıs çelengi parçalandı! pic.twitter.com/krFqUlKNlv

— DİSK (@diskinsesi) May 1, 2020
The group that police detained included a representative of each branch of labor who would hold a symbolic Workers' Day celebration in Taksim.
Istanbul governor: Detainees released
The Istanbul Governor's Office said that Çerkezoğlu and the union members who were detained with her were released after they gave official statements.
The governor's office said that DISK hadn't made an official request to march to Taksim Square May 1, and that the desired march was blocked because it violated social distancing measures.
"[The group who wanted to march] were told that they could take their personal vehicles to Taksim Square like other unions were doing, or that they would be provided with a vehicle. But the group insisted on wanting to march and brawled with police officers," the governor's statement said.
Meanwhile, DISK Deputy Chair Remzi Çalışkan said in an official statement that the governor's suggestion to take personal vehicles to Taksim Square was an imposition on the unions.
"In our negotiations with the governor's office and the Interior Ministry, their insistence continued that we comply with the government's prohibitive philosophy and a circus they were running."
Çalışkan said that DISK had notified the governor's office that they would march on May 1, and criticized the government's claims that a march would disrupt social life.
"Is a labor representatives' march a disruption of social life, or is it a disruption to force thousands of workers to continue operations in an illegal and unjust manner?"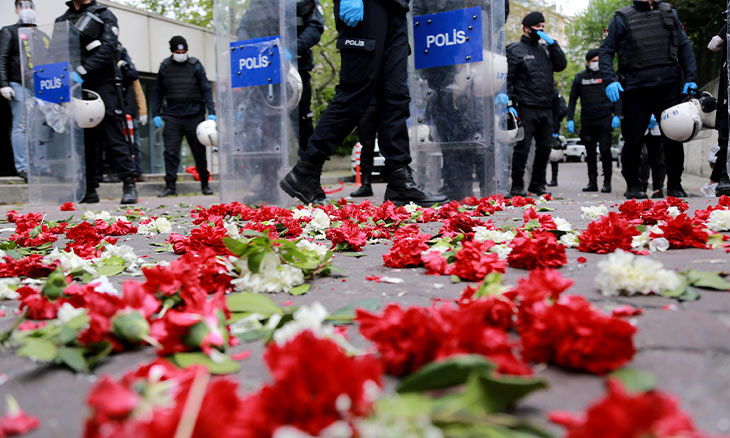 Meanwhile, the wreath that DISK wanted to carry to Taksim Square that got destroyed in confrontation with the police made it to its final destination.
A group of deputies from three different political parties carried the wreath to its intended destination of Taksim Square.
DİSK'in parçalanan çelengini yerine götürüyoruz. #1Mayıs https://t.co/rx7F12LVqw

— Sera Kadıgil (@serakadigil) May 1, 2020
The group included Ali Şeker and Serra Kadıgil from main opposition Republican People's Party (CHP), pro-Kurdish People's Democratic Party Ahmet Şık, Oya Ersoy, Musa Piroğlu and Züleyha Gülüm, Erkan Baş and Barış Atay from Turkey Worker's Party (TİP).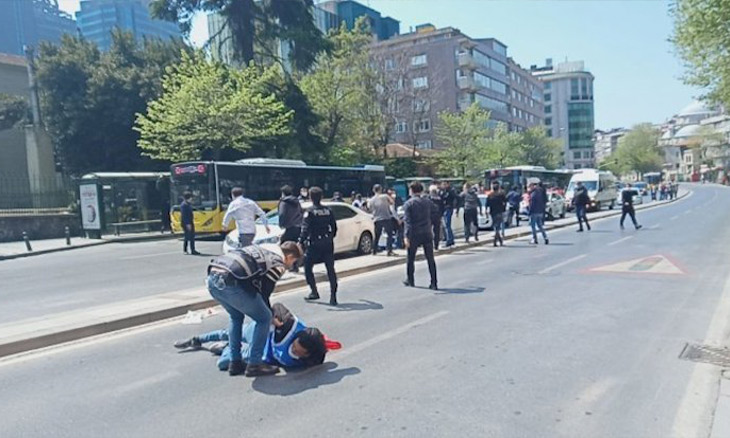 Another group detained
A smaller group of deputies who wanted to walk to Taksim Square were detained by police.
The group including deputies from United Revolutionary Party (Birleşik Devrimci Parti), Solidarity Union (Mücadele Birliği) and Oppressed's Socialist Party (ESP) were cut off by police as they chanted and marched to Taksim Square with a wreath.
The group carried a banner that read "Long live May 1, long live socialism."
The police also prevented journalists from documenting the detention.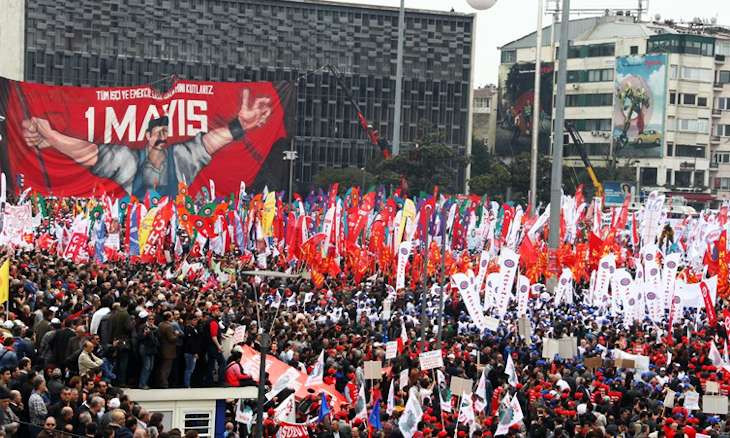 Unions to celebrate May Day on social media, symbolic commemoration to be held in Taksim