Çeşme entertainment venue temporarily closed after assault claims against Ukrainian model
Turkish authorities on Aug. 3 ordered the closure of Çeşme's popular Momo Beach Club for 15 days as part of coronavirus measures after world-famous Ukrainian model Daria Kyryliuk said that she and her friends were attacked by the entertainment venue's security guards. Following Kyryliuk's statement, Turkish Culture Minister Nuri Ersoy had said that "no one will get away with this unacceptable hillbilly incident."
Duvar English
The governor's office of the Aegean province of İzmir ordered the closure of the entertainment venue Momo Beach in the resort town of Çeşme for 15 days as part of coronavirus measures, daily Habertürk reported late on Aug. 3. The authorities said that Momo Beach Club was one of the places that failed to implement the social distancing protocol.
The move came shortly after world-famous Ukrainian model Daria Kyryliuk said that she and her friends were attacked by the venue's security guards.
Kyryliuk wrote on her social media account that people should raise their voice against violence towards women and shared the global hashtags of #stoptheviolenceagainstwomen and #challengeaccepted which are now being used to bring attention to a women's rights campaign in Turkey.
"I don't wanna keep quiet and tell the story what happened to me, my boyfriend and our group. We were attacked by the security of Momo Beach (Çeşme, Turkey). Four girls were punched on the face (including me) and the guys were badly hurt. We gave police detailed reports. We should not turn a blind eye to what happened and stop the violence against women," she wrote on Aug. 2 on Instagram, also sharing a photo showing her face in the aftermath of the incident.
Several women from Turkey shared messages of support for Kyryliuk, condemning the incident.
Following the attack, the reason of which is unknown, Kyryliuk and her friends filed a criminal complaint at the Çeşme police station. Turkish media outlets reported that authorities detained a person regarding the incident and following their interrogation, the person was released.
Momo Beach officials released a statement denying their involvement in the incident. The entertainment venue said that a fight had broken out at their car park between "two different groups" and they had tried to break up this fight.
Culture Minister Mehmet Nuri Ersoy also condemned the incident on his Twitter account, saying: "I condemn this ugly attack that occurred on Friday night in Çeşme, which should never happen at a tourism place and especially against a woman. We will all see that no one will get away with this unacceptable hillbilly incident."
This is not the first time that Momo Beach Club officials are facing allegations of physical assault against a customer. Last year, waiters at the entertainment venue had allegedly thrown ice cubes at a woman customer and then beaten up a male customer who had warned them about this incident.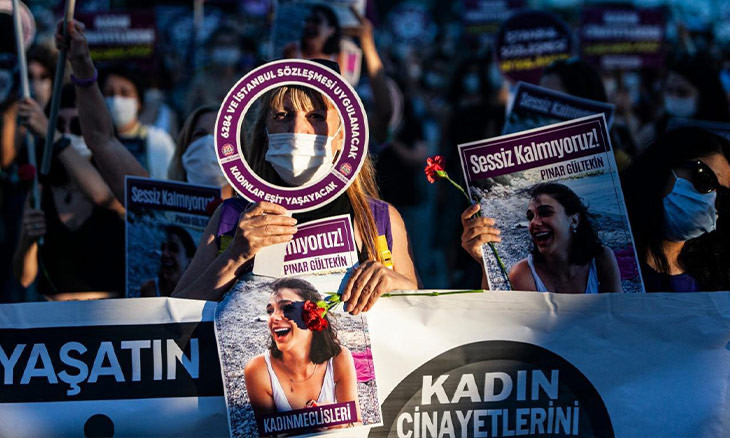 Women to organize mass rally in Kadıköy to protest proposals for recusal from the Istanbul Convention