Police prevent Ankara bombing victims' families from holding peace gathering
The Ankara governor's office did not allow the families of the Ankara 2015 bomb attack victims to hold a peace gathering in front of the city's main railway station. Police attacked those who attempted to hold the gathering and detained one person.
Serkan Alan / DUVAR
The 10 October Peace and Solidarity Association, which was founded by the families of the victims of the 2015 Ankara bombing, has called on citizens to gather in front of the Ankara train station to commemorate the deceased. The call came on Sept. 1, which is celebrated as "International Day of Peace" by some groups as it was on this day that Germany invaded Poland and World War II began.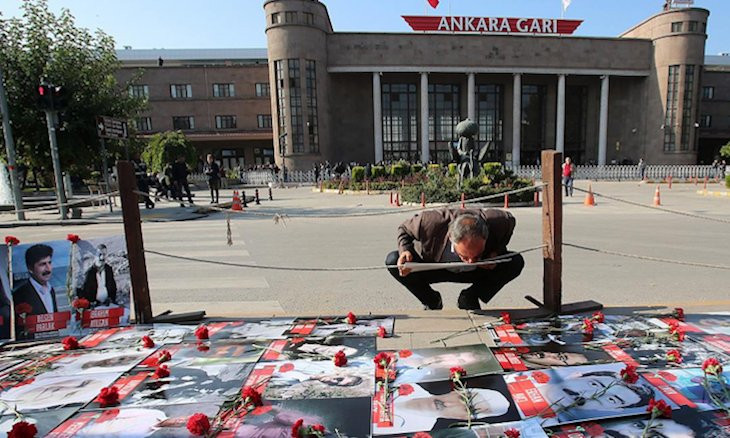 Ankara train station square to be redesigned to commemorate 2015 peace rally victims
The Ankara governor's office however did not allow the gathering to take place and stationed police forces in front of the train station.
The police officers attacked those who attempted to hold the commemoration ceremony and detained one person. The police also tried to prevent journalists from taking photographs at the scene of the incident.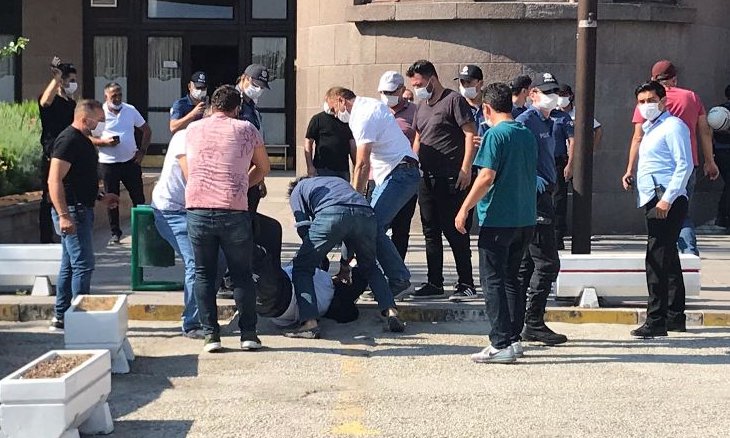 The Ankara bombing was carried out on Oct. 10, 2015 by ISIS and killed 103 people, with hundreds more injured. The attack occurred in central Ankara near the city's main railway station, where two bombs exploded at a "Labor, Peace and Democracy" rally that was organized and attended by a variety of leftist and pro-worker groups, including labor unions and the pro-Kurdish People's Democratic Party (HDP). The attacks were carried out by two young men affiliated with ISIS networks in Turkey.
The attack occurred after the peace process between the militant Kurdistan Workers' Party (PKK) and the government fell apart in the summer of 2015. It is believed that the brother of one of the Ankara suicide bombers was behind a bomb attack in the town of Suruç in the southeastern province of Urfa, which killed 33 people. The group targeted was a delegation of leftists who were planning to help rebuild the besieged Kurdish-held Syrian city of Kobane, which lies across the border from Suruç.
Nine suspects were sentenced to life for their involvement in the attack by an Ankara court in August of 2018.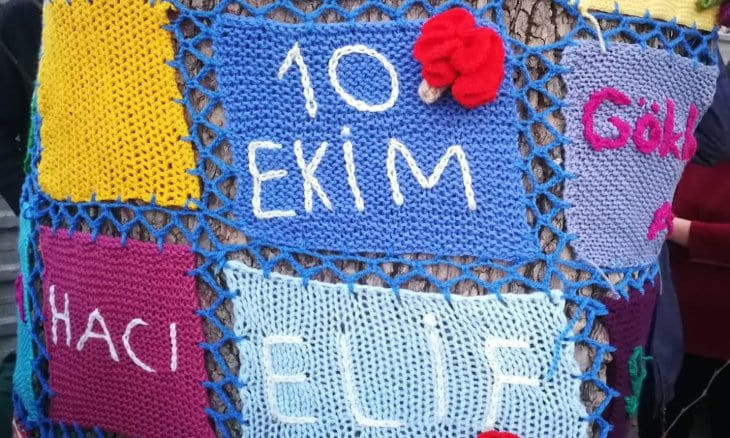 Group commemorates ISIS massacre victims with 'memorial trees' in Ankara