Locals, activists protest 'illegal' wind energy plant in Aegean İzmir
A group of locals and environmental activists protested kitchenware manufacturer Güral Porselen for continuing construction on a wind energy plant in the area that protesters had successfully appealed in 2016. The company went into a local village with heavy machinery and cut down trees despite the cancellation of the project, locals said.
Duvar English
A group of locals and environmentalist activists protested the china producer Güral Porselen in the Aegean province of İzmir on Sept. 11, after they saw the firm building a wind energy plant despite the cancellation of the project by a court.
"We were shocked when we saw heavy machinery come into the Güvercinlik Plain in August because we had the Güral Porselen's project annulled in 2016," a press statement by the Çeşme Environmental Platform said.
The environmental group successfully appealed the construction project in court, partially on the grounds that the company hadn't even conducted an environmental impact assessment on the wind energy plant.
Following the start of construction in August, the environmental group sought information about the activity with multiple authorities, the press statement noted.
None of the local environmental authorities responded to the environmental group about the ongoing construction in August, and no environmental impact report had been prepared about the operation either.
"But heavy machinery still cut down out trees. They dug a large hole for the wind turbines, they built roads to carry the turbines. These were all built on land that's home to centuries-old churches, cisterns and gravesites, as well as farmland and archaeological sites," the group added.
Meanwhile, lawyer Şehrazat Mercan noted that the company was moving to complete construction before a lawsuit was opened into the operation.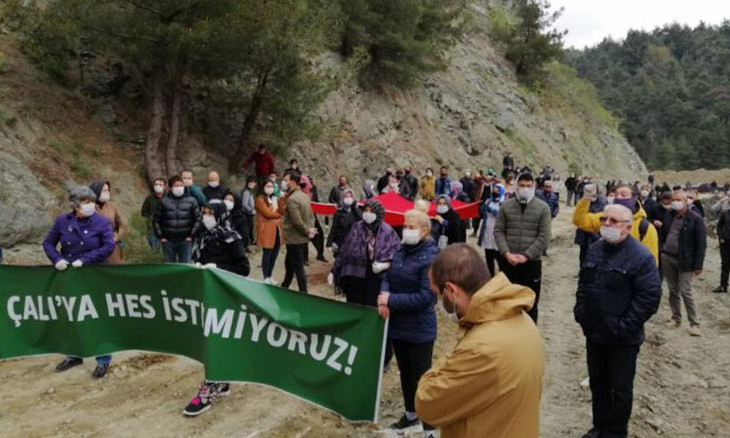 Western Turkey town locals fight against power plant construction amid COVID-19 isolation