Car convoy stages demonstration in support of Azerbaijan near Armenian Patriarchate in Istanbul
A convoy of honking cars covered in Azerbaijani flags was seen driving very near the Armenian Patriarchate in Istanbul's Kumkapı quarter on Sept. 28. Journalist Rober Koptaş said that he believes this demonstration is an "intimidation" against Armenian migrants in Kumkapı -- where most of the Armenians from Armenia reside.
Duvar English
A convoy of cars flying Azerbaijan flags on Sept. 28 staged a demonstration in Istanbul's Kumkapı quarter in the Fatih district. The convoy was seen passing very near the Armenian Patriarchate. The Armenian immigrants live mainly in Kumkapı, one of the historical quarters of the Armenians "native" of Istanbul.
Journalist Rober Koptaş released a statement regarding the protest, saying: "Patriarchate is in Kumkapı, that is true, but more importantly several Armenian migrants live there. I believe that this is mostly an intimidation against them. Very dangerous! Those people's safety of life should be ensured and anything bad happening should be prevented."
patrikhane kumkapı'da, doğru ama ondan daha önemlisi, orada çok sayıda ermenistanlı göçmen yaşıyor. bu yapılan daha çok onlara verilmiş bir gözdağı gibi görünüyor bana. çok tehlikeli! o insanların can güvenliği mutlaka sağlanmalı ve kötü bir şey yaşanmasının önüne geçilmeli. https://t.co/8FHpGnLJ5v

— rober koptaş (@roberkoptas) September 28, 2020
Peoples' Democratic Party (HDP) deputy Garo Paylan has similarly slammed the demonstration being held near the Armenian Patriarchate, calling on authorities to take the necessary precautions.
"It is a provocation that such a demonstration is allowed on the street where the Armenian Patriarchate is located. I call on the government to take the necessary precautions with regards our Patriarchate and institutions. The result of hate speeches is hate crimes. End the politics of hate!" he wrote on Twitter.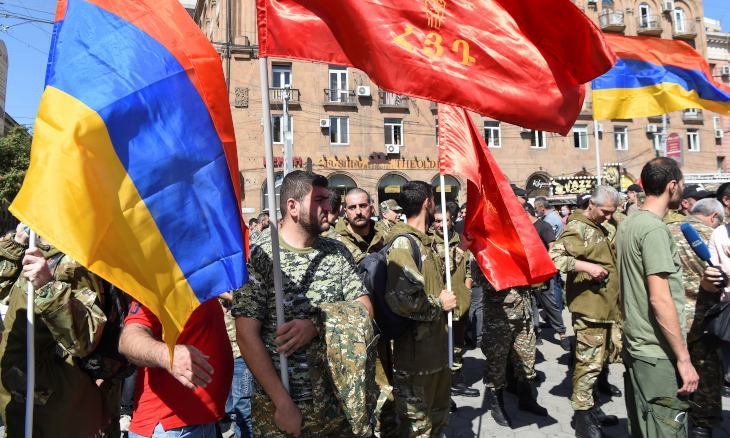 Armenia accuses Turkey of providing direct military support to Azerbaijan
The demonstration came after fighting escalated sharply on Sept. 28 between Azerbaijan and its ethnic Armenian mountain enclave of Nagorno-Karabakh. The two sides pounded each other with rockets and artillery in the fiercest round of the decades-old conflict in more than a quarter of a century.
Turkey has said it will support Azerbaijan in the clashes. It sharply criticized Armenia and indicated that Yerevan was an obstacle to peace.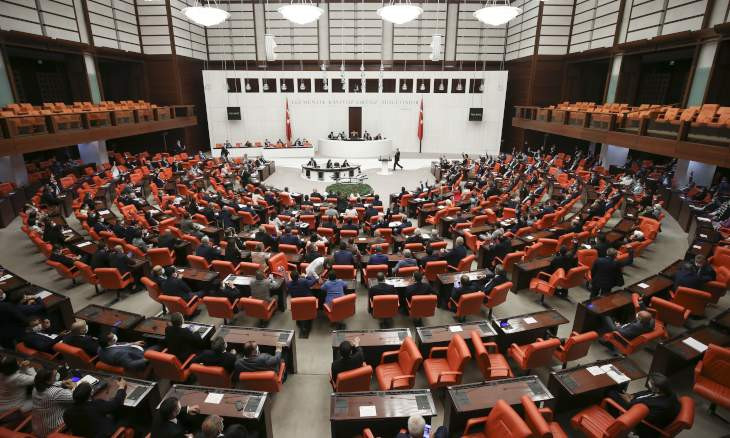 Four Turkish parties issue joint statement condemning Armenia over Nagorno-Karabakh conflict
Meanwhile, ruling Justice and Development Party (AKP) spokesperson Ömer Çelik said on Sept. 28 that the government will not let Armenian citizens of Turkey to be "threatened" in any platform.
"Turkey is a safe country. Turkey is a state of law. The Turkish Republic does not allow discrimination between its citizens," Çelik wrote in a series of tweets.
Türkiye Cumhuriyeti'nin vatandaşlarının bir kısmını tehdit ya da taciz edenlerin yaptığı provokasyondur. Bu ülkeye kötülük etmektir. Türkiye güvenli bir ülkedir. Türkiye bir hukuk devletidir. Türkiye Cumhuriyeti, vatandaşları arasında ayrımcılığa izin vermez.

— Ömer Çelik (@omerrcelik) September 28, 2020