Youth who died in İzmir quake leave behind heartbreaking stories
A 17-year-old who died in the devastating earthquake of Oct. 30 in İzmir was revealed to be the top-scoring contender in this year's national entrance exam for high school. Arda Baran Demir was in İzmir to attend high school on a scholarship.
Duvar English
A 17-year-old named Arda Baran Demir from the eastern province of Dersim who scored highest on the national high school entrance exam died in the earthquake that hit İzmir on Oct. 30.
Demir had arrived in the Aegean province to receive his high school education on an all-expenses scholarship thanks to his outstanding success in the middle school entrance exams (TEOG).
The teenager had responded correctly to 119 out of some 120 questions on the national exam, main opposition Republican People's Party (CHP) Dersim Deputy Ali Mustafa Çelik said.
TEOG Sınavında, Türkiye birincisi olan Tunceli-Çemişgezek Payamdüzü Köyünden 17 yaşındaki Arda Baran Demir, İzmir depreminde ne yazık ki hayatını kaybetti.
Hepimizi derin acıya boğan Arda canımıza Allah'tan rahmet, ailesine ve tüm sevenlerine başsağlığı ve sabır diliyorum. pic.twitter.com/gk675RztBi

— Ali Mustafa Çelik (@alimustafacelik) October 31, 2020
Meanwhile, a young man named Ali Kaygusuz who died in the quake is remembered by a tweet he shared in January, following the 6.8-magnitude earthquake that hit the southeastern province of Elazığ.
Kaygusuz' tweet was targeted at the government's fundraising campaign following the natural disaster, which had created controversy as the government is supposed to have funds for earthquake relief that is an accumulation of taxes.
"If you're begging people for money three minutes after the earthquake, citizens will inevitably ask where their taxes went... And you will answer. Traitors," Kaygusuz wrote on Jan. 25.
sen deprem olduğundan 3 dk sonra para dileniyorsan, vatandaş da elbette 20 yıldır ödediği deprem vergisinin nereye gittiğini soracak.. sen de eşek gibi hesabını vereceksin
Hainsiniz

— Ali Kayğusuz (@Alicgn) January 24, 2020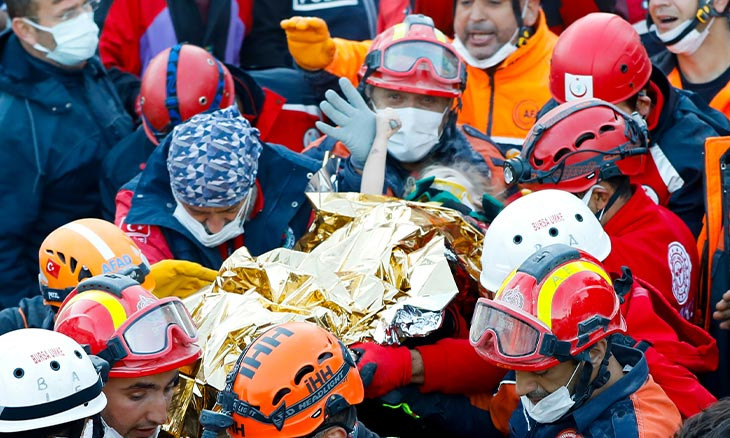 Turkey rejoices miraculous rescue of toddler 65 hours after İzmir quake