'Capitalism at its best': Sale of mug displaying toddler's rescue after İzmir quake causes uproar
The sale of a mug displaying the rescue of a toddler after the Oct. 30 earthquake in Izmir caused uproar on social media, bringing the Turkish word for "capitalism" up on Twitter's trending topics. A photo of three-year-old Elif Perinçek clasping the thumb of the firefighter who rescued her after 65 hours became a symbol of hope nationwide.
Duvar English
One of Turkey's largest online shopping sites, Trendyol, was slammed for the sale of a mug that displayed a shot from the rescue of a toddler from under the rubble following the devastating İzmir earthquake of Oct. 30.
Three-year-old Elif Perinçek was rescued from the ruins some 65 hours after the earthquake hit, springing hope nationwide with a photo where she was seen clasping the thumb of the firefighter who found her.
The mug on Trendyol displayed a drawing of the child's hand holding onto the firefighter's thumb with the words "never lose hope" written alongside it.
Screenshots of the product circulated on social media and created uproar among users, as many people slammed the efforts to use a tragedy for commercial gain, making the Turkish word for "capitalism" a trending topic on Twitter.
Trendyol proceeded to remove the product from their website, and blocked sales of the vendor who placed the mug on the website, they said in a Nov. 5 statement.
"It's unacceptable for us to have a product on our website that creates sensitivity in the public," the website said.
November 5, 2020
Trendyol was also slammed publicly for ordering their employees to continue working following the devastating earthquake.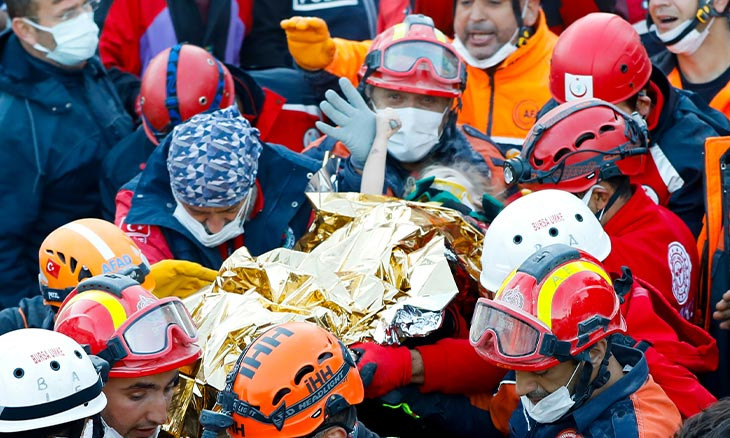 Turkey rejoices miraculous rescue of toddler 65 hours after İzmir quake