1.4b liras, almost all of the fund established to boost internet access in Turkey, disappears
A jaw dropping 95 percent of a fund established to develop Turkey's internet infrastructure has disappeared, a main opposition deputy said. Some 1.5 billion liras were collected for the fund in 2019, but 1.4 billion of that has vanished, Republican People's Party (CHP) deputy Murat Emir said.
Duvar English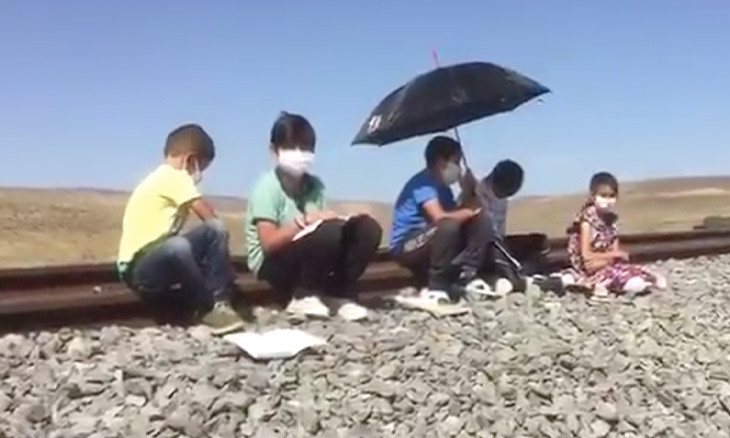 Students in eastern Turkey walk miles to access internet necessary to attend remote education
Turkey's Universal Services Fund, which was established to increase internet access throughout the country, collected 1.5 billion Turkish Liras in 2019, but it is unclear where and how 1.4 billion liras of the money was spent, said main opposition Republican People's Party (CHP) Ankara deputy Murat Emir.
"While thousands of children from all over Turkey are being deprived of their right to education since they do not have access to the internet, there is no trace of 95 percent of the money collected from GSM operators, while the remaining five percent was used to build the television tower on Istanbul's Çamlıca hill," Emir said.
In a parliamentary inquiry submitted to Minister of Transport and Infrastructure Adil Karaismailoğlu, Emir asked how the money from the fund, which was established in 2005, was being spent.
"It is estimated that 11 billion lira has been collected in this fund since 2005. However, in the past several years, apart from some stations being established in rural areas, there has not been a statement made to the public regarding where this money was spent," Emir wrote in his inquiry.
During a period when thousands of children do not have access to an internet or a computer and cannot participate in online education, Emir emphasized that the money from the fund needs to go to help meet the needs of the Education Ministry.